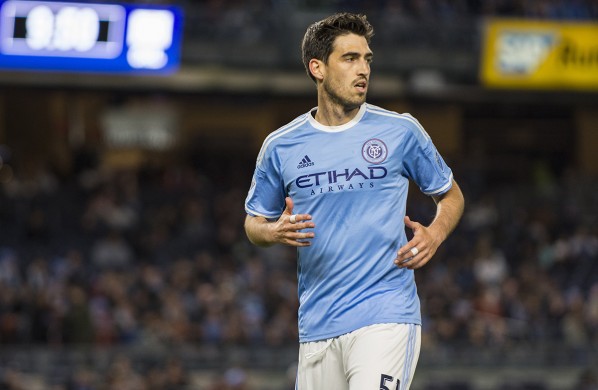 Just a few days after losing DP midfielder Frank Lampard, New York City FC must cope with another big midfield loss.
Key defensive midfielder Andoni Iraola will retire, NYCFC announced on Thursday. The 34-year old Spain international ended his year-and-a-half tenure with MLS having made 40 appearances for NYCFC and playing a key role in the team's year two turnaround.
"I would like to thank everyone inside and outside of the club who has made me feel at home from the very first moment," Iraola stated. "I would especially like to thank my teammates who I have learned from until the last day but also all of the coaches, medical personnel, sporting staff and everyone inside the office who always help to make our lives easier.
"I would also like to thank our fans for their constant support, especially the support they give us when we least deserve it. I feel very privileged to have lived this experience – ever since the beginning of this club which will continue to grow."
Iraola calls it quits on a 16-year career that saw him largely ply his trade as an effective attacking fullback for Athletic Bilbao, but his New York relocation saw him take on another shift as well. After struggling at right back in first-year coach Jason Kreis' system, Iraola made the shift to defensive midfielder under second-year manager Patrick Vieira, who will surely miss the Spaniard's impact on the field.
"Andoni has been a fantastic servant to this football club and it's been a pleasure to have coached such a dedicated and talented player," Vieira stated. "He is somebody who does not covet the limelight but is content to do his job quietly to the highest standards, making those around him play better as a result. I was aware of his talents when he played in La Liga with Athletic but to have worked in close quarters over the past year has given me an even greater appreciation for what he brings to his team.
"Andoni always led by example and set the tone for some of our best victories this year – all of the guys love him and we will miss him a lot."