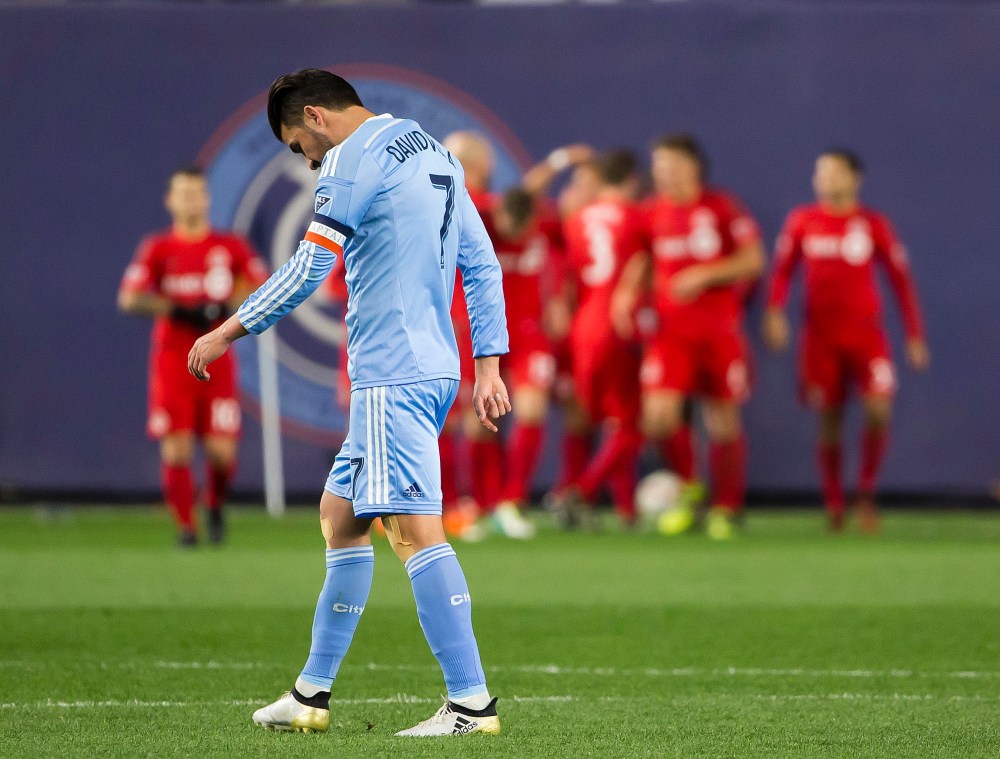 NEW YORK — Something had to give.
In a battle between New York City FC's high-octane offense and Toronto FC's smothering defense, one team's strength was going to nullify the other's, and it turned out to be the latter that prevailed in convincing fashion.
NYCFC, who led the league with 62 goals during the regular season, not only struggled against Toronto's press during their Eastern Conference semifinals tilt, but was held scoreless in both legs en route to getting eliminated on a 7-0 aggregate total after Sunday's 5-0 defeat at Yankee Stadium.
"It's not one thing or two things, it's not about to concede a lot of goals or to score a lot of goals, everything was bad," said David Villa, who finished second in the Golden Boot race with 23 goals. "We played against a better team than us in this round. They played better than us and there's nothing more to say."
Implementing a full-team press from the get-go in both matches, Toronto head coach Greg Vanney managed to suffocate the City offense all over the pitch, forcing Patrick Vieira's men to take chances on long balls that often failed to generate threatening chances.
"I thought we did a good job with our initial pressure on every one of their players," Vanney said. " When they picked up the ball, they had very little time and we were able to close them quickly and get pressure to the ball. It was very difficult them, in my opinion, to really connect with each other in a clean way, because everybody was being harassed every time they had the ball."
That type of pressure had a massive impact on the City offense, which generally started its buildup from the backfield.
"We always made it difficult, and that takes a real team commitment from (Sebastian Giovinco) and Jozy  (Altidore) at the top to all the guys in the back," Vanney said. "It showed how hard they were willing to close and to recover when we needed to recover. So many times when balls got behind us, guys were very quick to double back down on things and just made things difficult for (NYCFC) and that was our objective, especially when we came here in this type of field, we knew the spaces were going to be even tighter. And if we could get pressure, hopefully we can turn them over in some good spots and create some transition."
Case in point was Toronto's first goal of the night, which all but sealed the deal in just the sixth minute of the contest.
After pressure from Jonathan Osorio forced NYCFC rookie Jack Harrison to turn the ball over in his team's own half to Altidore, Giovinco was on the receiving end of Altidore's pass at the edge of the box, where he turned and fired a low shot past goalkeeper Eirik Johansen for the first of his three goals on the evening.
"They were able to get behind the ball and pretty much the whole team defended," City forward Khiry Shelton said. "We got caught playing two versus one or three versus one and it wasn't fun at all."
A penalty kick goal by Giovinco in the 20th minute and another goal from Altidore 10 minutes after that took away all the suspense for the rest of the match.
"We took risks, but they had two very good forwards," said NYCFC midfielder Andoni Iraola. "We were defending, especially at the beginning, two v. two versus (Giovinco and Altidore), and they made the difference."