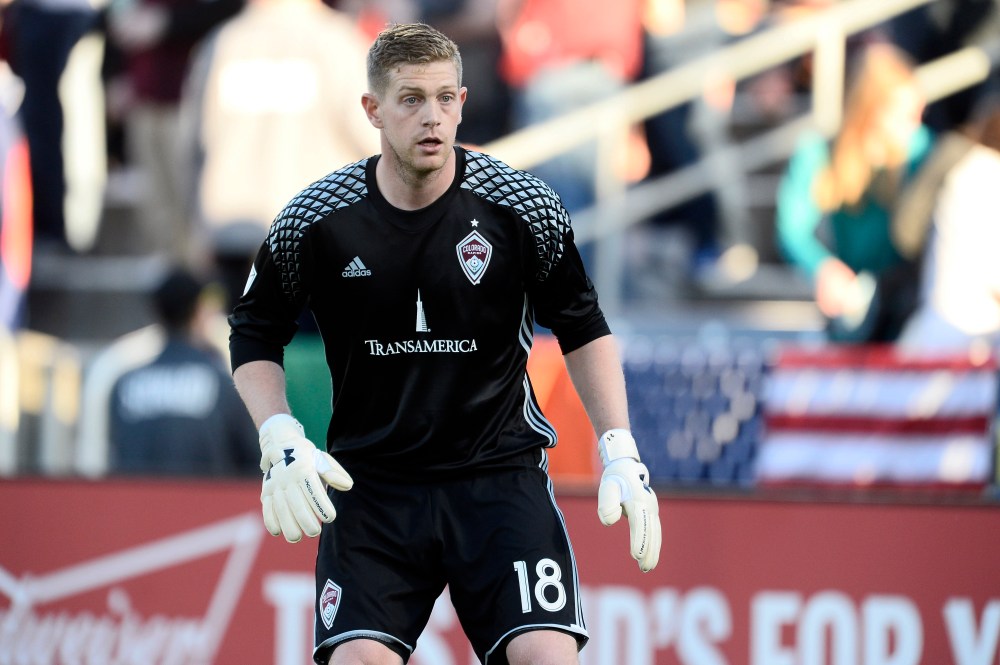 For the past five months, Zac MacMath prepared for moments like this. It may not have happened the way he would've preferred, but he is more than confident to step back into the spotlight on a big stage.
MacMath will make just his second start for the Colorado Rapids since June 22 when he minds the net on Tuesday against the Seattle Sounders in the first leg of their Western Conference Final tilt. The decision came when it was confirmed that Tim Howard was going to miss the remainder of the season due to a right adductor injury he suffered last Friday in the U.S. Men's National Team's 2-1 loss to Mexico.
"It's been a long time since I've gotten a chance to play, I'm very excited," MacMath said. "Obviously, it's an unfortunate injury that happened with Tim, but I'm ready to step up and help the team move toward our main goal of getting to the MLS Cup Final and raising the trophy at the end of the year.
"I texted Tim that night after the game and he told me it didn't look good," MacMath added. "We were waiting for the MRI the next day and then obviously when I came into practice I pretty much knew then that he was going to be out for quite a long time."
The 25-year-old goalkeeper will hope his first appearance for the Rapids since Sept. 3 will turn out better than that 2-0 loss he and the Rapids suffered on the road against the New England Revolution. Fortunately for MacMath, he will have plenty of time to prepare, but the Rapids goalkeeper says he still expects some adjustment to the speed of Tuesday's game, especially in postseason play.
It hasn't been easy for the No. 5 overall pick in the 2011 MLS SuperDraft to play second fiddle to Howard this season. Prior to Howard's arrival from Everton in July, MacMath had helped the Rapids post a 9-3-5 record while giving up just 13 goals in 17 games — six of them shutouts — for a 0.76 goals-against average that was the second best in the league.
Macmath's approach toward the situation, though, helped ease Mastroeni's dilemma, all while showing him something other than a top-notch player.
"There's a lot more to it than just changing a player that was at the top of his game for an American legend," Rapids head coach Pablo Mastroeni said. "Obviously from my standpoint, it was a very difficult decision to make, one that, as a coach, you don't like to make. Having said that, it's a part of professional sports and you have to make decisions that sometimes aren't always the easiest, and may or may not always be the best for the group, but I felt bad.
"It takes a man to be able to take that kind of information, given his performances, and not sulk, not throw his toy, not run out of the room and slam the door, but to look at someone in the face and go, 'OK, this is your decision, alright. I'm a teammate, I'm a team player and I've got to respect that. I don't necessarily agree with it, but I respect it and I'm going to go out every day and I'm going to prove to myself that I'm worthy of being a starter on this team.' And I think that's what he's done. It's about attitude, it's about mentality, it's about earning the right to be on the field."
And when Macmath takes the field again, he will face a team he holds a 3-2-1 career record against — two of them shutouts — and a team that he and the Rapids have beaten twice already this season.
"The one thing that we set out at the beginning of the year is to be a complete team," Mastroeni said. "I think throughout the course of the year, there have been big players missing. Jermaine Jones missed the first six games and then he missed four months, Tim Howard didn't come in until July, (Shkëlzen) Gashi went away with Euros; Kevin Doyle was out for eight weeks with an injury to his lower leg and the group just keep moving forward. I think the first 34 games of the regular were a fantastic dress rehearsal for us.
"A guy like Zac coming into goal, he's familiar with the backline, familiar with the group, he's a great teammate of Tim's, so this is not about individuals, this is about a collective effort in finding a way to beat a great Seattle team in two legs."
The switch at the goalkeeper position at this junction of the season is not something either Mastroeni and MacMath anticipated, but given how both of them have handled the situation all season long, it's certainly one they are prepared for.
"It's unbelievable that this situation happened," Mastroeni said, "but what's more unbelievable to me is that Zac is going to step in between the pipes full of confidence, full of belief and read for one of the greatest opportunities that any goalkeeper can want in his career."