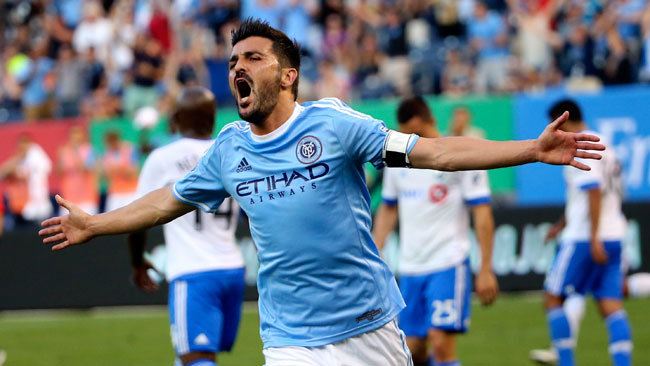 Already down, 2-0, to Toronto FC after the first leg of their Eastern Conference semifinal, New York City FC can breathe a sigh of relief after avoiding further bad news.
According to Sports Illustrated, star forward and captain David Villa will reportedly not face a suspension from the MLS Disciplinary Committee for his kick to the back of Toronto FC midfielder Armando Cooper. The DisCo was reportedly unanimous that Villa's kick deserved a red card. However, the vote was not unanimous when deciding on if the offense was an egregious danger to player safety.
Villa lashed out with his right leg on the way to the ground in an incident that also involved an elbow from Cooper in the other direction. There was a brief tussle on the field between players from each club, but ultimately no action was taken by referree Silviu Petrescu.
The news clears Villa to take part in the second leg of the tie, with NYCFC down two goals and needing a minimum of two to keep their hopes alive in their first playoff run.
The second match takes place at 6:30 P.M. on Sunday at Yankee Stadium.