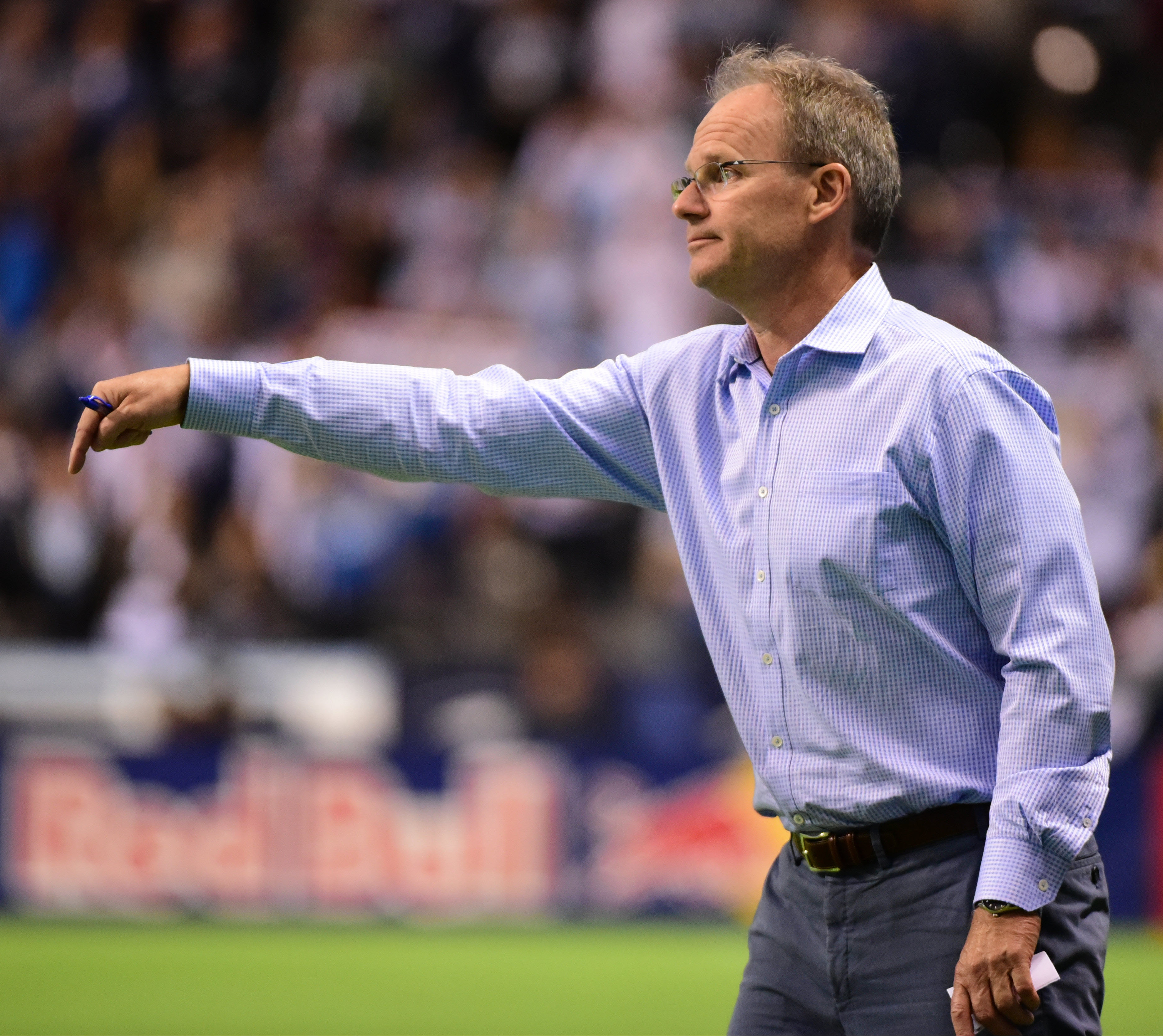 SEATTLE– Chalk one up for prizing results over glamour, for going about your business with humility and forever deflecting credit for a job well done.
Chalk one up for the hometown guy.
On Wednesday night, the Seattle Sounders removed the interim tag from Brian Schmetzer's job title, handing one of the league's banner coaching gigs to a son of the Pacific Northwest whose history with the club dates back more than three decades.
Schmetzer, 54, perhaps seemed a long shot to permanently secure the position when first stepping into Sigi Schmid's shoes as interim head coach on July 26. The Sounders were coming off one of the ugliest losses in club history, falling 3-0 to Sporting Kansas City. Buried in ninth place in the Western Conference, they had posted a 1-5-1 record in their previous seven league matches. Stories of low morale swirled. Talk abounded of a discontented star in Clint Dempsey.
Getting back to respectability seemed a challenge. The playoffs a pipe dream.
It looked likely that the Sounders, one of the league's marquee clubs since joining MLS in 2009, would ride out the regular season and pursue a marquee head coach, a name fitting for an organization that has always talked about leaving a footprint on the global soccer stage.
But in the end, the local fellow who had never coached in a top-tier league gave ownership little choice.
The Sounders rocketed up the standings under Schmetzer and midseason signing Nicolas Lodeiro, posting an 8-2-4 record down the stretch. Seattle not only qualified for the playoffs, but secured fourth place in the West. Most of this was accomplished without Dempsey, sidelined with an irregular heartbeat since late August. A knockout-round win over Sporting Kansas City and a 3-0 blowout of FC Dallas in the first leg of the conference semifinals has the team on the cusp of returning to the Western Conference finals for the third time in five years.
It has been, in short, one of the most remarkable turnarounds in MLS history.
Some of the credit certainly goes to Lodeiro, who instantly sparked the Seattle attack. But much credit goes to Schmetzer as well. Under his leadership the Sounders play a higher line and press higher, putting opposing teams under a pressure rarely seen in Schmid's eight-year tenure. Schmetzer has found a formation — a 4-2-3-1 that better protects the back four while freeing Lodeiro and rookie forward Jordan Morris to combine — and stuck with it. He has identified a starting lineup and stuck with it. That continuity has resulted in a team that looks far more composed, confident, and sure of what it is doing.
An assistant with the Sounders since 2008, Schmetzer first joined the original NASL Sounders in 1980 after graduating from Nathan Hale High School in Seattle. He played three seasons for the Sounders before plying his trade for a variety of indoor soccer teams in the mid-'80s. Schmetzer returned to coach the USL-1 Sounders from 2002 to 2008, posting a 100-57-41 record, winning two league championships, and earning the league's coach of the year award in 2002.