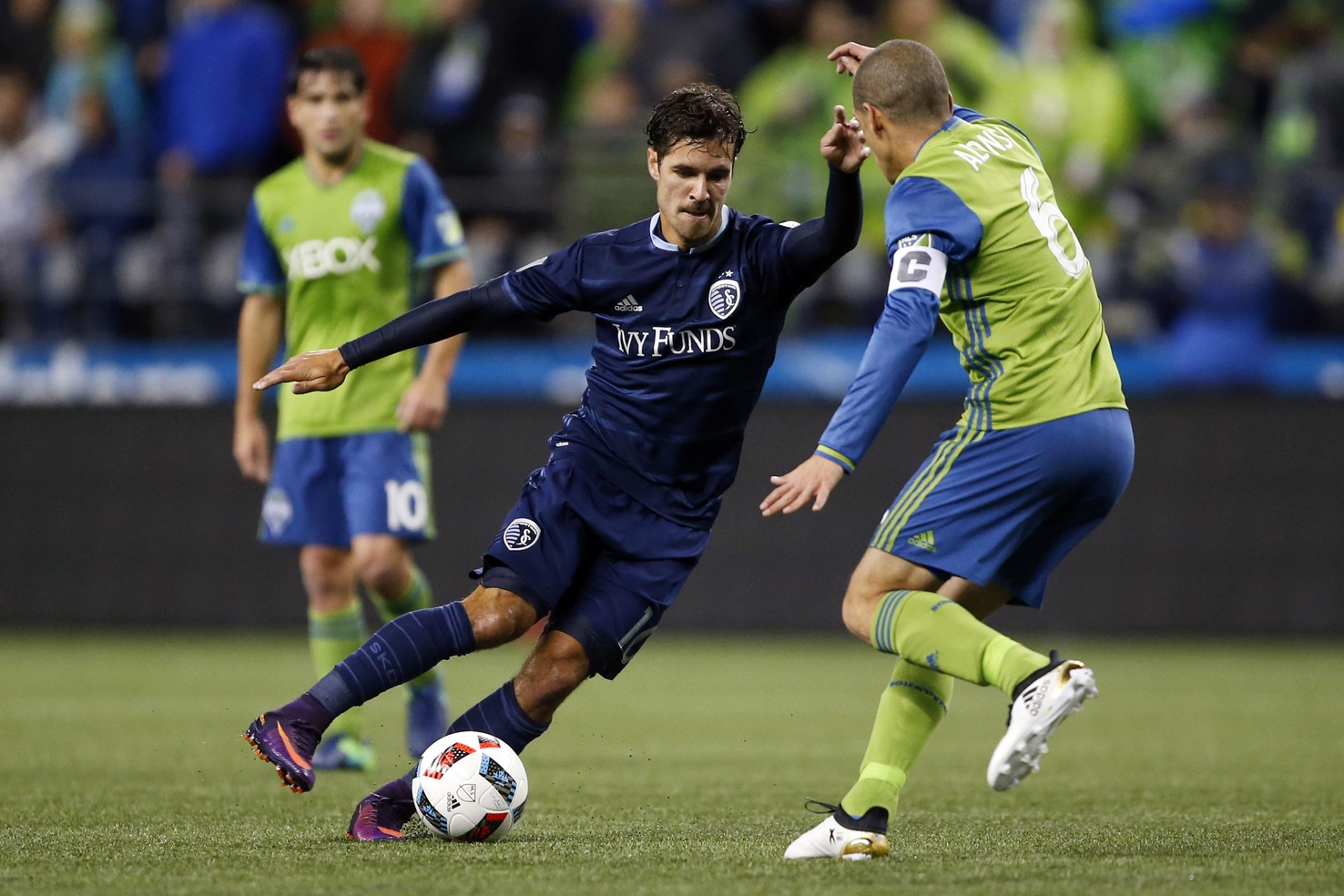 The Sporting Kansas City careers of Ike Opara and Benny Feilhaber have always been somewhat connected. Ahead of the 2014 MLS season, the two were traded to Sporting KC just one day apart, signaling the start of a new era for both players and the club for which they now played.
Four years later, the two are still connected, as Sporting KC locked up its core for the foreseeable future with a pair of contract extensions.
"It's a package deal. Wherever he goes, I go. If he retires, I retire, and vice-versa," Opara said with a smile. "I don't know if he knows that, but I just said it. We've been good friends since we came to this team. We came together and we signed pretty much the same day in 2013. We pretty much re-signed again on the same day this offseason. It just worked out that way. He's one of my better friends on this team and I'm looking forward to playing with him. He's a really talented player, and we'll see if he can build on the last game he played with us."
"It happened pretty quickly once it got going," Feilhaber added. "I'm very thankful for that. I think it's a great place to play here, for me, and I'm excited to play these next two seasons here."
While the two players' starts were very similar, their careers thus far have been vastly different, even if each has shown moments of brilliance throughout their stay.
Feilhaber emerged as an MVP candidate in 2015 following a pair of solid seasons, and the midfielder's successes continued into 2016. Feilhaber notched seven goals and 13 assists in 2016, while firmly establishing himself as one of the league's best playmakers.
That fact was never more evident than last month's playoff loss to the Seattle Sounders. Feilhaber was at his fiery best throughout the match, although his efforts weren't enough to push the team through a 1-0 loss.
The process of keeping Feilhaber in Kansas City began over a year-and-a-half ago. The midfielder reportedly had offers in Israel throughout that lengthy negotiation process, but Feilhaber insists he's looking forward to the challenge of stepping up over the next two years with Sporting KC.
"It's very exciting. It's something that I've wanted to do for over a year now," Feilhaber said. "It's been the place where I've felt the most comfortable playing as a professional. It's the place where I've had the most success as an individual and as a team. I definitely wanted to stay here. I'm glad that part is over and done with and now I can focus on preparing myself for next year."
"(We want him to) continue to help us be successful and to play every game like he did in the last game against Seattle last year, because that was an incredible performance," added head coach Peter Vermes. :Those are the types of things he can bring to the table and I'd love to see that on a regular basis for sure."
Like Feilhaber, Vermes says Opara is a player that has bought into the Sporting KC culture, even if the road hasn't always been easy.
Throughout much of his Sporting KC stay, Opara has been plagued by injuries. Forced to watch from afar, Opara has been as dedicated as they come, Vermes said, as he mentally and physically battled back from major setbacks.
When he has been on the field, though, Opara has been a force. After playing just nine matches over the previous two seasons, Opara played 25 times in 2016, his highest game total since joining the league in 2010.
"I can finally take the offseason, my healthiest offseason, to regroup mentally and physically," Opara said. :I'm looking forward to next year and building on some of the things that I did and looking to get even better. It was a tough year, challenging in some aspects, but at the end of the day, I was excited by the things I did and the team moving forward."
Vermes says he believes that part of what makes an organization successful is consistency from within. Players and coaches need to remain together and on the same page, building a vital rapport and culture. With that set, the team can then add and subtract pieces as they see fit, supplementing that core with whatever it takes to push the team over the line.
Opara and Feilhaber will now be part of that core for several more seasons.
"Every offseason faces change. You never quite know what's going to happen," Opara said. "I'm looking forward to seeing who the group of guys are going to be. Hopefully we keep some of the core members and I'm sure we'll have some new faces. I'm excited to get that group together and make a run at MLS Cup. We've fallen short these last few years and that's what we all want. That's the ultimate goal."