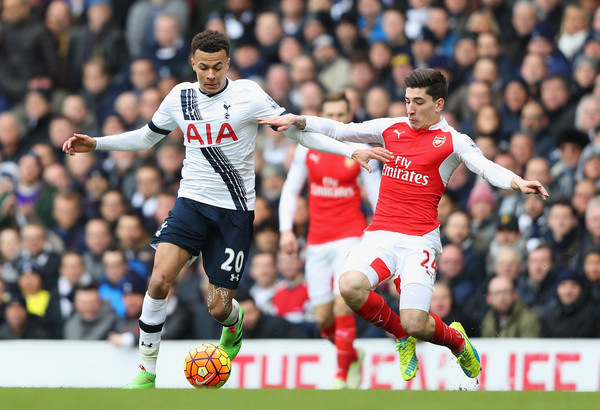 Emirates Stadium will serve as the center stage for European soccer this weekend as another edition of the North London derby will take place between Arsenal and Tottenham.
The rivalry has not seen much dominance in recent memory, as the previous 12 meetings have seen the Gunners and Spurs split eight matches while drawing the other four. The two sides, however, are coming into Sunday's contest in contrasting forms, with Arsene Wenger's men riding a 15-match unbeaten streak across all competitions and Mauricio Pochettino eyeing his first win in over a month.
The two sides are separated by three points in the English Premier League standings, but the table-leading Manchester City will hope to create some distance with a win at home against Middlesbrough. Chelsea and Everton, meanwhile, will provide another enticing contest at Stamford Bridge.
In Germany, two of the three undefeated teams in Bayern Munich and Hoffenheim will square off at Allianz Arena in a battle between the leading and third-place club in the Bundesliga. Also on the ledger will be a battle between fellow U.S. Men's National Team members Fabian Johnson and John Brooks when Hertha Berlin hosts Borussia Mönchengladbach.
The Italian Serie A will see Lazio pay a visit to rival Napoli while Juventus looks to continue its fine run against Chievo Verona. The Spanish La Liga, on the other hand, will have Sevilla-Barcelona as its marquee matchup for the weekend.
Here is a rundown of all the soccer action on TV this weekend:
FRIDAY
GERMAN BUNDESLIGA
3:30 p.m. — Fox Sports 2/Fox Sports Go/Fox Soccer 2Go — Hertha Berlin vs. Borussia Mönchengladbach
SPANISH LA LIGA
3:45 p.m. — beIN Sports en Español/beIN Sports Connect — Sporting Gijón vs. Málaga
ENGLISH FA CUP
3:55 p.m. — Fox Soccer Plus/Fox Soccer 2Go — Eastleigh vs. Swindon Town
ENGLISH LEAGUE CHAMPIONSHIP
3:45 p.m. — beIN Sports USA/beIN Sports Connect — Brentford vs. Fulham
MEXICAN LIGA MX
11 p.m. — Azteca America — Tijuana vs. Tigres UANL
NCAA MEN
6 p.m. — Pac-12 Network — Stanford vs. California
7 p.m. — SEC Network +/WatchESPN — South Carolina vs. Kentucky
8 p.m. — ACC Network/WatchESPN — Clemson vs. Florida State
SCOTTISH PREMIER LEAGUE
3:45 p.m. — Fox Soccer 2Go — Partick Thistle vs. Aberdeen
AUSTRALIAN A-LEAGUE
4:50 a.m. — ESPN3/WatchESPN — Brisbane Roar vs. Melbourne City
SATURDAY
ENGLISH PREMIER LEAGUE
11 a.m. — NBCSN/NBC Sports Live Extra/NBC Universo/Telemundo Deportes en Vivo — Manchester City vs. Middlesbrough
11 a.m. — NBC Sports Live Extra — Bournemouth vs. Sunderland
11 a.m. — NBC Sports Live Extra — Burnley vs. Crystal Palace
11 a.m. — NBC Sports Live Extra — West Ham United vs. Stoke City
1:30 p.m. — NBC/NBC Sports Live Extra/NBC Universo/Telemundo Deportes en Vivo — Chelsea vs. Everton
SPANISH LA LIGA
8 a.m. — beIN Sports en Español/beIN Sports Connect — Granada vs. Deportivo La Coruña
11:15 a.m. — beIN Sports USA/beIN Sports en Español/beIN Sports Connect — Real Sociedad vs. Atlético Madrid
1:30 p.m. — beIN Sports en Español/beIN Sports Connect — Osasuna vs. Deportivo Alavés
GERMAN BUNDESLIGA
10:30 a.m. — Fox Sports 2/Fox Sports Go/Fox Soccer 2Go — Bayern Munich vs. Hoffenheim
10:30 a.m. — Fox Deportes/Fox Soccer 2Go — Bayer Leverkusen vs. Darmstadt 98
10:30 a.m. — Fox Soccer Plus/Fox Soccer 2Go — Hamburg SV vs. Borussia Dortmund
10:30 a.m. — Fox Soccer 2Go — FC Ingolstadt vs. FC Augsburg
10:30 a.m. — Fox Soccer 2Go — Freiburg vs. VfL Wolfsburg
1:30 p.m. — Fox Sports 2/Fox Deportes/Fox Sports Go/Fox Soccer 2Go — Eintracht Frankfurt vs. Cologne
ENGLISH LEAGUE CHAMPIONSHIP
8:30 a.m. — beIN Sports USA/beIN Sports Connect — Wolverhampton Wanderers vs. Derby County
1:30 p.m. — beIN Sports USA/beIN Sports Connect — Bristol City vs. Brighton & Hove Albion
ENGLISH FA CUP
8:30 a.m. — Fox Soccer Plus/Fox Soccer 2Go — Merstham vs. Oxford United
11 a.m. — Fox Soccer 2Go — Bolton Wanderers vs. Grimsby Town
11 a.m. — Fox Soccer 2Go — Westfields vs. Curzon Ashton
ITALIAN SERIE A
1 p.m. — RAI Internazionale — Torino vs. Cagliari
3:45 p.m. — RAI Internazionale/beIN Sports en Español/beIN Sports Connect — Napoli vs. Lazio
MEXICAN LIGA MX
7 p.m. — Univision/Univision Deportes — Cruz Azul vs. Pachuca
7 p.m. — Galavision — Querétaro vs. Toluca
9 p.m. — Azteca America — Atlas vs. Club América
9:06 p.m. — Univision/Univision Deportes — Club León vs. Guadalajara
11 p.m. — ESPN Deportes/Univision Deportes — Necaxa vs. Puebla
NASL
7 p.m. — One World Sports — New York Cosmos vs. Rayo OKC
NCAA MEN
8 p.m. — ESPN3/WatchESPN — Evansville vs. Southern Illinois-Edwardsville
SUNDAY
ENGLISH PREMIER LEAGUE
7 a.m. — NBCSN/NBC Sports Live Extra/NBC Universo/Telemundo Deportes en Vivo — Arsenal vs. Tottenham
9:15 a.m. — NBC Sports Live Extra — Hull City vs. Southampton
9:15 a.m. — NBCSN/NBC Sports Live Extra/NBC Universo/Telemundo Deportes en Vivo — Liverpool vs. Watford
10 a.m. — NBC/Telemundo/NBC Sports Live Extra/Telemundo Deportes en Vivo — Swansea City vs. Manchester United
11:30 a.m. — NBCSN/NBC Sports Live Extra — Leicester City vs. West Bromwich Albion
SPANISH LA LIGA
6 a.m. — beIN Sports USA/beIN Sports en Español/beIN Sports Connect — Real Madrid vs. Leganés
10:15 a.m. — beIN Sports en Español/beIN Sports Connect — Espanyol vs. Athletico Bilbao
10:15 a.m. — beIN Sports en Español/beIN Sports Connect — Celta de Vigo vs. Valencia
12:30 p.m. — beIN Sports en Español/beIN Sports Connect — Villarreal vs. Real Betis
2:45 p.m. — beIN Sports USA/beIN Sports en Español/beIN Sports Connect — Sevilla vs. Barcelona
GERMAN BUNDESLIGA
9:30 a.m. — Fox Sports 1/Fox Deportes/Fox Sports Go/Fox Soccer 2Go — RB Leipzig vs. Mainz 05
11:30 a.m. — Fox Sports 2/Fox Sports Go/Fox Soccer 2Go — Schalke 04 vs. Werder Bremen
ITALIAN SERIE A
6:30 a.m. — RAI Internazionale — Pescara vs. Empoli
9 a.m. — beIN Sports USA/beIN Sports Connect — Chievo Verona vs. Juventus
Noon — beIN Sports USA/beIN Sports Connect — Inter Milan vs. Crotone
ENGLISH FA CUP
9 a.m. — Fox Soccer 2Go — Boreham Wood vs. Notts County
9 a.m. — Fox Soccer Plus/Fox Soccer 2Go — Morecambe vs. Coventry City
9 a.m. — Fox Soccer 2Go — Alfreton Town vs. Newport County
MAJOR LEAGUE SOCCER
2 p.m. — ESPN/ESPN Deportes/WatchESPN — Colorado Rapids vs. LA Galaxy
4 p.m. — ESPN/ESPN Deportes/WatchESPN — New York Red Bulls vs. Montreal Impact
6:30 p.m. — Fox Sports 1/Fox Deportes/Fox Sports Go/Fox Soccer 2Go — New York City FC vs. Toronto FC
9 p.m. — Fox Sports 1/Fox Deportes/Fox Sports Go/Fox Soccer 2Go — FC Dallas vs. Seattle Sounders
MEXICAN LIGA MX
1 p.m. — Univison/Univision Deportes — Pumas UNAM vs. Morelia
7 p.m. — Univision Deportes — Santos Laguna vs. Chiapas
NCAA MEN
4 p.m. — Pac-12 Network — UCLA vs. Oregon State
8 p.m. — Pac-12 Network — San Diego State vs. Washington
SCOTTISH PREMIER LEAGUE
7 a.m. — Fox Soccer Plus/Fox Soccer 2Go — Ross County vs. Rangers