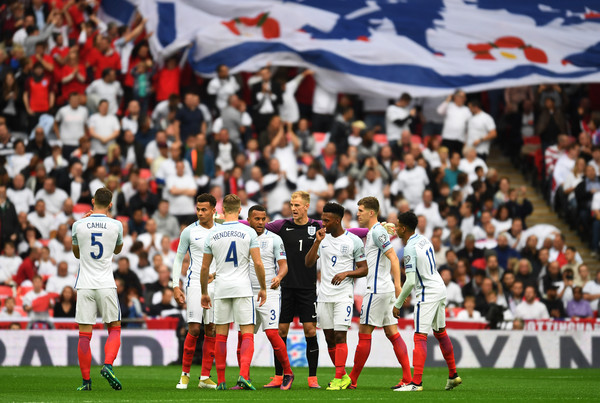 As another wave of the 2018 FIFA World Cup qualifying matches take place across the world this weekend, one coach looks to solidify his position at the help while another hopes to simply hang onto it.
Gareth Southgate will attempt to guide England to its second win in three matches under his management, but to do so would come at the expense of Gordon Strachan and Scotland on Friday. Southgate, who was put in charge for four matches following Sam Allardyce's unceremonious dismissal in late September, has helped the Three Lions beat Malta, 2-0, before drawing Slovenia, 0-0. Scotland, on the other hand, has won just three games in nine tries since January of 2015 under Strachan. The two sides' clash at Wembley Stadium will surely carry plenty of implication on both coaches' future.
Other European powerhouses like France and Germany will take on Sweden and San Marino, respectively, while Italy visits Liechtenstein and Spain hosts Macedonia. The most competitive match according to FIFA World Rankings, however, will be a clash between Croatia (No. 16) and Iceland (No. 21).
In CONCACAF action, apart from the highly anticipated match between the U.S. and Mexico, Honduras will be in action against Panama while Costa Rica travels to face Trinidad and Tobago.
On the women's side, the U.S. will host an international friendly against Romania, while the 2016 FIFA U-20 Women's World Cup will start in Papua New Guinea.
Back home in the states, the NASL season comes to a close with the championship match between the New York Cosmos and the Indy Eleven.
Here is a rundown of all the soccer action on TV this weekend:
FRIDAY
FIFA WORLD CUP QUALIFYING
Noon — Fox Sports Go/Fox Deportes/Fox Soccer Plus/Fox Soccer 2Go — Armenia vs. Montenegro
2 p.m. — beIN Sports Connect — Libya vs. Tunisia
2:45 p.m. — Fox Sports 1/Fox Sports Go/Fox Deportes/Fox Soccer 2Go —  England vs. Scotland
2:45 p.m. — ESPN2/WatchESPN/ESPN Deportes — France vs. Sweden
2:45 p.m. — ESPN/WatchESPN — Northern Ireland vs. Azerbaijan
2:45 p.m. — ESPN3/WatchESPN — Czech Republic vs. Norway
2:45 p.m. — UniMás/Univision Deportes/Fox Sports Go/Fox Soccer Plus/Fox Soccer 2Go — San Marino vs. Germany
2:45 p.m. — Fox Soccer 2Go — Denmark vs. Kazakhstan
2:45 p.m. — Fox Soccer 2Go — Romania vs. Poland
2:45 p.m. — Fox Soccer 2Go — Malta vs. Slovenia
2:45 p.m. — Fox Soccer 2Go — Slovakia vs. Lithuania
3:35 p.m. — beIN Sports USA/beIN Sports en Español/beIN Sports Connect/NBC Universo/Telemundo Deportes en Vivo — Honduras vs. Panama
6 p.m. — beIN Sports USA/beIN Sports en Español/beIN Sports Connect/NBC Universo/Telemundo Deportes en Vivo — Trinidad and Tobago vs. Costa Rica
7:45 p.m. — Fox Sports 1/Fox Sports Go/Fox Soccer 2Go/Univision/Univision Deportes — United States vs. Mexico
NCAA MEN
Noon — Big Ten Network — Maryland vs. Michigan State (Big Ten Tournament)
2:30 p.m. — Big Ten Network — Indiana vs. Wisconsin (Big Ten Tournament)
4 p.m. — Pac-12 Network — California vs. Stanford
SATURDAY
FIFA WORLD CUP QUALIFYING
8 a.m. — beIN Sports Connect — South Africa vs. Senegal
8 a.m. — beIN Sports Connect — Uganda vs. Congo
10 a.m. — beIN Sports USA/beIN Sports Connect — Cameroon vs. Zambia
11 a.m. — beIN Sports USA/beIN Sports Connect — Nigeria vs. Algeria
Noon — Fox Sports 2/Fox Sports Go/Fox Deportes/Fox Soccer 2Go — Croatia vs. Iceland
Noon — ESPN Deportes/WatchESPN/ESPN3 — Austria vs. Ireland
Noon — Fox Soccer Plus/Fox Soccer 2Go — Georgia vs. Moldova
Noon — ESPN3/WatchESPN — Turkey vs. Kosovo
Noon — beIN Sports Connect — Cape Verde Islands vs. Burkina Faso
1:30 p.m. — beIN Sports USA/beIN Sports Connect — Mali vs. Gabon
2:45 p.m. — Fox Sports 2/Fox Sports Go/Fox Soccer 2Go/UniMás/Univision Deportes — Liechtenstein vs. Italy
2:45 p.m. — ESPN3/WatchESPN — Wales vs. Serbia
2:45 p.m. — ESPN3/WatchESPN — Albania vs. Israel
2:45 p.m. — ESPN3/WatchESPN — Spain vs. Macedonia
2:45 p.m. — Fox Sports Go/Fox Deportes/Fox Soccer Plus/Fox Soccer 2Go — Ukraine vs. Finland
SPANISH SEGUNDA DIVISION
12:30 p.m. — beIN Sports en Español/beIN Sports Connect — Levante vs. Cádiz
AUSTRALIAN A-LEAGUE
1:35 a.m. — ESPN3/WatchESPN — Central Coast Mariners vs. Wellington Phoenix
3:50 a.m. — ESPN3/WatchESPN — Melbourne Victory vs. Western Sydney Wanderers
SUNDAY
FIFA WORLD CUP QUALIFYING
Noon — Fox Sports Go/Fox Deportes/Fox Soccer Plus/Fox Soccer 2Go — Bulgaria vs. Belarus
Noon — ESPN Deportes/ESPN3/WatchESPN — Luxembourg vs. Netherlands
Noon — ESPN3/WatchESPN — Hungary vs. Andorra
Noon — ESPN3/WatchESPN — Switzerland vs. Faroe Islands
Noon — ESPN3/WatchESPN — Cyprus vs. Gibraltar
12:30 p.m. — beIN Sports USA/beIN Sports Connect — Guinea vs. Congo DR
2:45 p.m. — Fox Sports 2/Fox Deportes/Fox Sports Go/Fox Soccer 2Go — Portugal vs. Latvia
2:45 p.m. — ESPN Deportes/ESPN3/WatchESPN — Belgium vs. Estonia
2:45 p.m. — Fox Sports Go/Fox Soccer Plus/Fox Soccer 2Go — Greece vs. Bosnia and Herzegovina
FIFA U-20 WOMEN'S WORLD CUP
Midnight — Fox Sports Go/Fox Soccer Plus/Fox Soccer 2Go/Telemundo Deportes en Vivo — Sweden vs. Korea DPR
1 a.m. — Fox Sports 2/Fox Sports Go/Fox Soccer 2Go/Telemundo Deportes en Vivo — Spain vs. Canada
4 a.m. — Fox Sports 1/Fox Sports Go/Fox Soccer 2Go/Telemundo Deportes en Vivo — Papua New Guinea vs. Brazil
4 a.m. — Fox Sports 2/Fox Sports Go/Fox Soccer 2Go/Telemundo Deportes en Vivo — Nigeria vs. Japan
INTERNATIONAL WOMEN'S FRIENDLY
9:30 p.m. — Fox Sports 1/Fox Sports Go — United States vs. Romania
NASL
7 p.m. — CBS Sports Network — New York Cosmos vs. Indy Eleven (Championship)
SPANISH SEGUNDA DIVISION
6 a.m. — beIN Sports Connect — Lugo vs. Rayo Vallecano
10 a.m. — beIN Sports en Español/beIN Sports Connect — Sevilla II vs. Almeria
Noon — beIN Sports en Español/beIN Sports Connect — UCAM Murcia vs. Girona
2 p.m. — beIN Sports en Español/beIN Sports Connect — Real Zaragoza vs. Mirandés