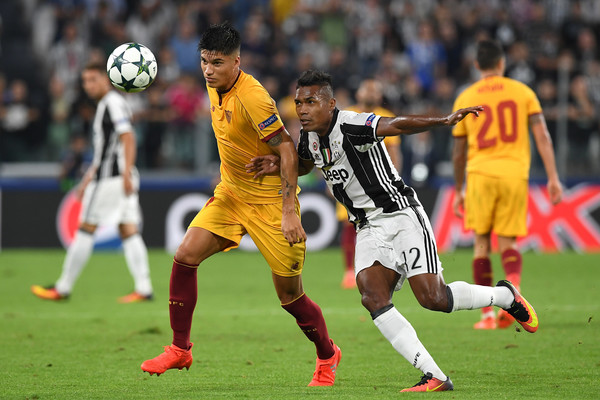 The UEFA Champions League returns to action, and several teams can lock up their spots in the knockout rounds with results on Tuesday afternoon.
Tuesday's schedule is headlined by a clash between reigning Europa League champions Sevilla and Italian powerhouse Juventus. The two sides have proven dominant in Group H play so far, but a short-handed Juve could fall back to the pack with a loss and a Lyon win over bottom-dwellers Dinamo Zagreb.
While Sevilla and Juventus are somewhat safe, Tottenham is in major danger entering Tuesday's match against a talented Monaco side. Spurs currently sit third in Group E standings, four points behind the first-place Ligue 1 club. A thrilling win over West Ham should provide a welcome confidence boost for the English club ahead of a meeting with an in-form Radamel Falcao.
Elsewhere, Cristiano Ronaldo takes on his boyhood club in Sporting CP, while Borussia Dortmund looks to build on a weekend win over Bayern Munich in a match that should feature plenty of the club's younger stars.
Here's a closer look at Tuesday's Champions League action:
GAMES TO WATCH
Sevilla (10 points) vs. Juventus (8 points), Tuesday, 2:45 p.m., ESPN 3/Fox Soccer 2 Go
Injuries of note: Juventus is beat up. Starting from the back, the team will miss centerbacks Andrea Barazagli and Mehdi Benatia, depriving the Italian champions of a starter in the former and his likely replacement in the latter. Meanwhile, fellow starter Georgio Chiellini will be absent from the heart of defense, at least to start, as the Italian hasn't been deemed 90-minutes fit. Forwards Paulo Dybala and Gonzalo Higuain are also set to miss out, forcing Juve to roll with a makeshift striking unit.
Key to the game: The Juventus defense is always among the best in the world, but manager Massimiliano Allegri will need to rely on a series of different faces on Tuesday. Star defender Leonardo Bonucci is ready to go, and pressure will be on 22-year-old Daniele Rugani to step in and fill the void left by a series of major absences. With that in mind, Juve will likely roll with four-at-the-back, putting even more pressure on Rugani to keep things composed.
Player to watch: Juan Cuadrado is electric when he's on his game, and he'll need to be on Tuesday. The Colombian is expected to start alongside Mario Mandzukic given the absence of several notable strikers. It's an unfamiliar position, but the idea of Cuadrado running at the Sevilla defense is an exciting one. Look for Cuadrado to challenge a stout Sevilla backline throughout Tuesday's clash.
Quote: "The first thing to make clear is that we want to take charge of the game, to impose ourselves," said Sevilla coach Jorge Sampaoli. "I haven't thought once that 'a point will do'. That's not our idea. We want to dominate them and win the match."
Sporting CP (3 points) vs. Real Madrid (8 points), Tuesday, 2:45 p.m., Fox Sports 2
Injuries of note: Real Madrid is dealing with injuries to several key regulars, especially in the midfield. German maestro Toni Kroos is set to miss out due to a foot injury, while Brazilian destroyer Casemiro's leg issues deprive the Real Madrid of the team's primary No. 6. Additional injuries incluce backup striker Alvaro Morata and starting centerback Pepe, leaving Zinedine Zidane with some shuffling to do.
Key to the game: Sporting CP gave Real Madrid a heck of a fight in the previous clash, and Real Madrid certainly won't be caught off guard again on Tuesday. With key midfield pieces out, the unit of Luka Modric, Isco and Matteo Kovacic will have to avoid giving the ball away in dangerous areas and allowing Sporting CP to hit on the counter. If the midfield keeps things composed, the Real Madrid defense should be more than strong enough to hold on to the draw needed to secure a berth in the knockout rounds.
Player to watch: Cristiano Ronaldo always remains Real Madrid's focal point, but Tueday's match should be a bit special for the Portuguese star. Facing off with his boyhood club, Ronaldo will certainly be motivated to put on a show, one much like his hat-trick performance against rivals Atletico Madrid over the weekend.
Quote: "We are up against the best team in the world," said Sporting CP manager Jorge Jesus. "They are second to none, but we are confident in our abilities. We have a dream, and that is to play as we did in Madrid and win."
Monaco (8 points) vs. Tottenham (4 points), Tuesday, 2:45 p.m., Fox Sports 1
Injuries of note: While Monaco will be without star playmaker Joao Moutinho, it's Tottenham that's dealing with a bad case of the injury bug. Starting defender Toby Alderweireldt looks set to miss out, as does full back Kyle Walker. Winger Erik Lamela is also dealing with an injury, depriving Tottenham of a creative option out wide.
Key to the game: A loss Tuesday would doom Tottenham, so look for the Premier League club to throw numbers forward when the time comes. Prior to this weekend's comeback against West Ham, Spurs hadn't scored from open play in seven games. Maybe this weekend's come-from-behind win was a bit of a launching point. Harry Kane and co. will sure need to hope so, as Tottenham will only go so far as their attack can take them.
Player to watch: Injuries have derailed Radamel Falcao for the past several seasons, but the Colombian striker is finally back in form. Facing a Spurs defense missing a pair of vital pieces, the Monaco striker could be poised to add to his recent streak that has seen five goals in three matches.
Quote: "It's a game we must win so we need to find a way to do that," said Tottenham boss Mauricio Pochettino. "We know Monaco well and they're a very good team. We need to be clever and follow our plan. Taking risks or not taking risks? Football is about balance."
Borussia Dortmund (9 points) vs. Legia Warsaw (1 point), Tuesday, 2:45 p.m., ESPN 3/Fox Soccer 2 Go
Injuries of note: Borussia Dortmund goalkeeper Roman Burki will certainly miss out with a broken hand, while Sven Bender is also set to miss Tuesday's match due to injury. Fullbacks Marcel Schmeltzer, Erik Durm and Raphaël Guerreiro are all questionable.
Key to the game: Dortmund manager Thomas Tuchel is almost certainly going to rotate his squad following an exhilarating win over rivals Bayern Munich over the weekend. Youngsters like Christian Pulisic, Ousmane Dembele and Felix Passlack are likely to be in the lineup, making it vital that the club's youth movement step up in what should be a match more difficult than it appears on paper.
Player to watch: He may not have much of an impact on Tuesday's match, but Marco Reus seems ready to rejoin the Dortmund squad. After missing most of the 2016 calendar year due to injury, Reus has targeted Tuesday's match for his comeback. His return brings both long-term and short-term hope to the Dortmund squad, one which is ready to welcome back its best player.
Quote: "We are already through to the next round and we will rotate some players and bring in fresh faces," Tuchel said. "We might have needed to do so even if we didn't have enough points."
CSKA Moscow (2 points) vs. Bayer Leverkusen (6 points), Tuesday, 12 p.m., ESPN 3
Leicester City (10 points) vs. Club Brugge (0 points), Tuesday, 2:45 p.m., ESPN 3/Fox Soccer 2 Go
Copenhagen (5 points) vs. Porto (7 points), Tuesday, 2:45 p.m., ESPN 3/Fox Soccer 2 Go
Dinamo Zagreb (0 points) vs. Olympique Lyon (4 points), Tuesday, 2:45 p.m., ESPN 3/Fox Soccer 2 Go