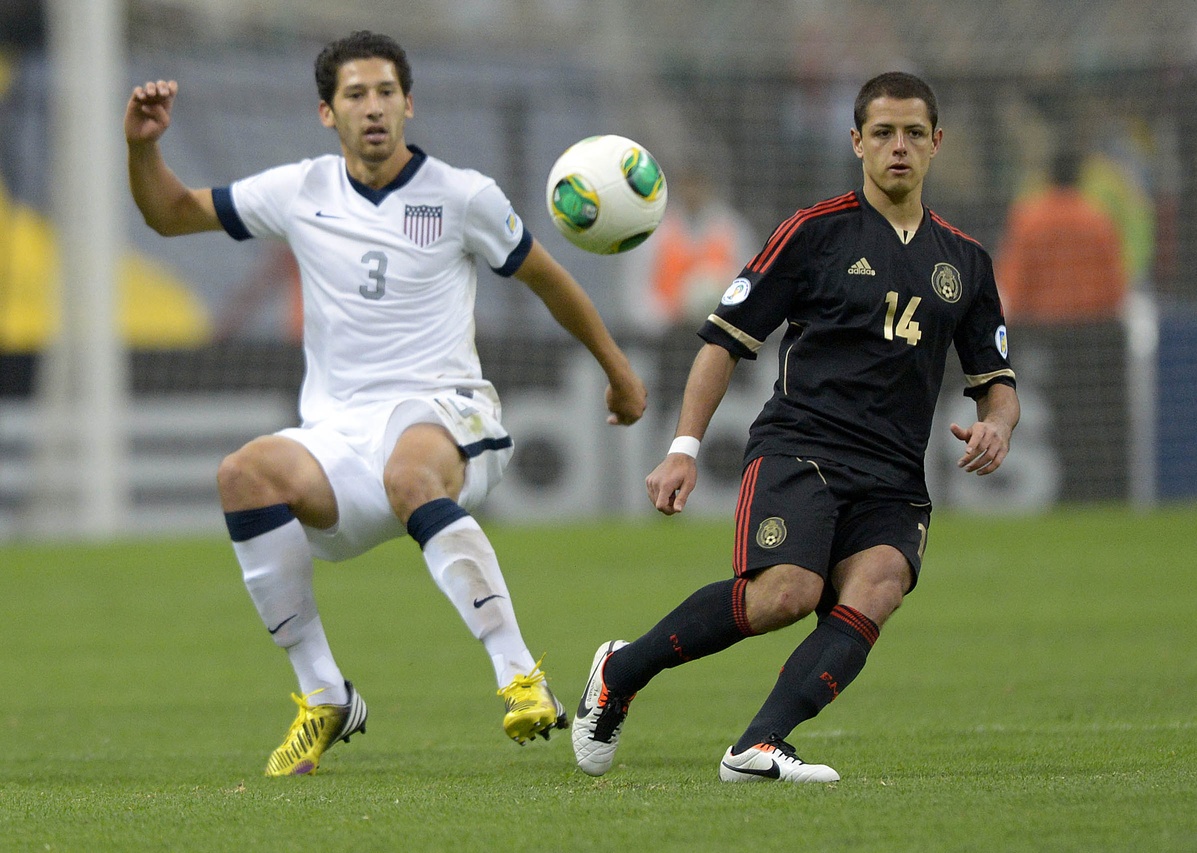 For members of the U.S. Men's National Team, Mexico is a whole different ballgame. Matches are intense and physical, boasting a new level of meanness unseen against other CONCACAF foes. It's a unique experience, one hard to comprehend for those that haven't experienced it first-hand.
With Friday's clash looming, just 11 of the 26 players on the USMNT roster have faced the event that is a clash with El Tri. The other 15, a mix of international newcomers and veterans, have yet to taste the experience that comes with facing the team's biggest rivals. The message to those 15? Don't let up for a single moment.
"They need to realize how big this game is, that we are playing such a big rival and that there is so much history," said Omar Gonzalez, who has faced El Tri at both Friday's venue, MAPFRE Stadium, and the famed Azteca. "Columbus is and has been such a big part of that history. It's important, from the moment you get here, to take it seriously. This is big for us, big for our fanbase and big for our future. A win here could put us on the right foot through qualifying. They really need to think about what this game entails and what it means for us and to take that seriously and enjoy the moment.
"Every single play matters," added Matt Besler. "Whether it's a throw-in or a goal kick or a corner kick, every single play matters. You have to be tuned in at all times and you have to give everything you possibly have for every second of the match."
Besler admits that he was a bit naive in his first clash with El Tri, a historic 0-0 draw at the Azteca back in 2013. The Sporting KC defender says that naivety worked out in his favor, as he was too blind to realize exactly what he was jumping into.
Of the current group, just nine players have experienced a USMNT-Mexico clash in Columbus. Just one, Michael Bradley, has scored more than one goal against El Tri, while Jozy Altidore, Jordan Morris, Michael Orozco and Bobby Wood have each contributed a finish against Mexico at some point in their career.
Lynden Gooch, one of the 11 newcomers to the rivalry, remembers Bradley's finishes well. The now-20-year-old Sunderland playmaker remembers coming home from school on Feb. 11, 2009 to watch Bradley bag a brace, earning the USMNT another memorable Dos a Cero win in Columbus.
Now, nearly eight years later, Gooch joins a group of young Americans set for an introduction. After making his USMNT debut in October friendlies, the Sunderland midfielder was just hoping to make enough of an impression to earn a spot on the roster heading into what should be a memorable event.
"Without a doubt, this is the biggest game as an American, playing against Mexico whether it's home or away," Gooch said. "Being involved in that and being able to play would be a great honor.
"We know the crowd is going to be on our side. They'll be our 12th man and it's going to be rocking. Obviously it's an intense rivalry. There's a big three points at stake and bragging rights as well."
Both Besler and Gonzalez said the tone has already been set just one day into camp. Head coach Jurgen Klinsmann took his squad aside and stressed just how intense this week was going to be. There's no room for error, not against El Tri.
With that in mind, it's up to the team's veterans, players like Besler and Gonzalez, to help prepare the newer faces. Friday's match is a monumental one, especially so early in the Hexagonal, and the U.S. is looking to begin World Cup qualifying on the right foot by first toppling the team's most hated rivals.
"Of course, this game always has that sense that the United States never wants to lose to Mexico and Mexico never wants to lose to the United States," Gonzalez said. "Those feelings are felt in both sides; and that's how it is.
"On Friday, there will be two very good teams, both with a lot of confidence. It's going to be a great game. We need to get there focused for the war that this game is, and be ready."