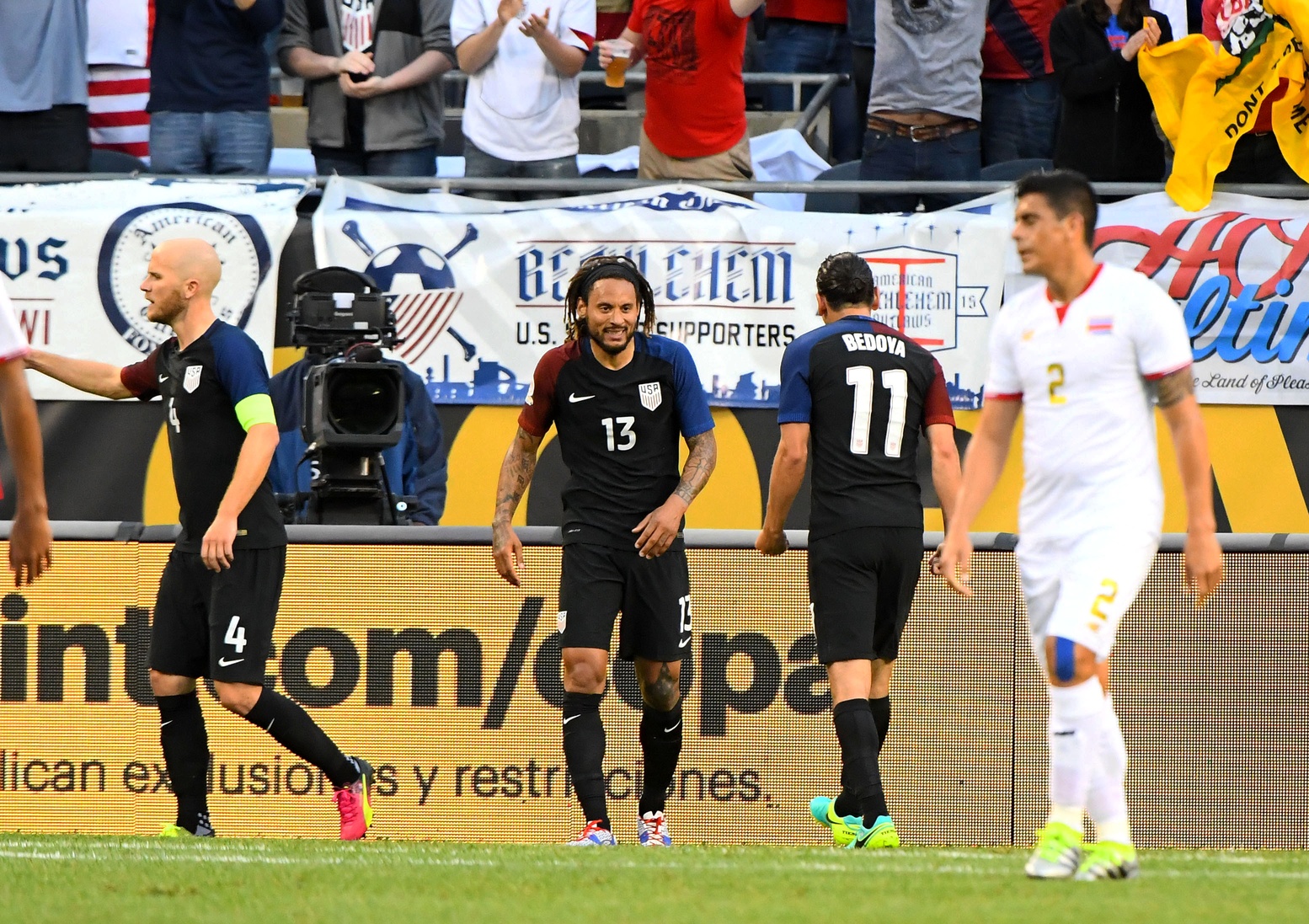 After falling against one of their traditional rivals, the U.S. Men's National Team now faces a chance to bounce back against a fellow CONCACAF contender.
The U.S. travels south for Tuesday night's clash with Costa Rica, a team that the U.S. has never defeated on the road. The match is the continuation of a viscous start to the Hexagonal phase, and a loss on Tuesday would see the U.S. dig an early hole in the 10-game World Cup qualifying marathon.
Entering the match, both teams have history on their side. The USMNT toppled Costa Rica, 4-0, at this past summer's Copa America, helping push Jurgen Klinsmann's side past a disapointing defeat to Colombia several days prior. Costa Rica, on the other end, has proven lethal on their home turf throughout the years and is riding high following a Hex-opening win over Trinidad & Tobago.
With that in mind, here's a look at several storylines to watch in Tuesday's clash:
LEARNING FROM THE COPA AMERICA
The U.S. was in a similar situation earlier this year. After losing to a contender, the U.S. needed a bounce-back effort against Costa Rica at this summer's Copa America. They got it, trouncing Los Ticos, 4-0, in what was far and away the USMNT's best performance of the Copa America and, quite possibly, the 2016 calendar year.
No one expects a 4-0 on Tuesday. Costa Rica is too good and San Jose is too difficult to play in. However, there are pieces of that game that are worth remembering heading into Tuesday's clash.
For Costa Rica, the lesson was to manage the press. Los Ticos came out with a ridiculously aggressive press in the June clash, and the USMNT promptly punished them for the folly of doing so without a true defensive midfielder. It was a bloodbath, one marshaled by Jermaine Jones and Clint Dempsey. The former could very well play a major part again on Tuesday, while the latter won't be there to help break down Costa Rica's five-at-the-back setup this time around.
Los Ticos won't make the same mistakes twice. Most teams don't. However, with starters Francisco Calvo and Christian Gamboa set to miss the match, the Ticos midfield will have to be particularly disciplined. Randall Azofeifa will likely provide cleanup from a deeper position, freeing Celso Borges to play in his preferred box-to-box role. That look should help contain the USMNT on Tuesday night while neutralizing the advantage the U.S. had at this summer's tournament.
UNLEASHING PULISIC
Christian Pulisic isn't the face of the USMNT quite yet. He's certainly getting there, though, as it appears that Klinsmann is more than ready to give Pulisic the reins going forward.
Against Mexico, Pulisic was given unquestioned freedom, as Klinsmann took the training wheels off of the Borussia Dortmund prodigy. Allowed to tuck in and drift out wide in equal measure, Pulisic was influential throughout Friday's match, even if his touch let him down several times early. There were growing pains, sure, but Pulisic looked very dangerous against a tough Mexico team.
Following the loss, Klinsmann says he expects to give Pulisic more freedom going forward, especially if the U.S. opts for more three-at-the-back looks. That particular system almost certainly isn't coming on Tuesday night, but Pulisic is likely to have a role a bit less rigid than in his prior USMNT appearances. If he is in fact deployed on the left, like he has in most USMNT appearances, Pulisic will certainly need to track back frequently, but will also likely drift inside to create for Bobby Wood and Jozy Altidore up top.
The Christian Pulisic Era is coming, if it isn't already here. With that in mind, Pulisic is set to become a bigger focal point of the USMNT attack as he grows from newcomer to centerpiece.
CONTAINING CAMBELL AND RUIZ
There were few positive takeaways from Costa Rica's Copa America defeat to the U.S., but no Tico was as disappointing as Joel Campbell.
The Sporting CP winger completed just 14 of 24 passes in June's clash and was promptly substituted at halftime. Fabian Johnson deserves major props for keeping Campbell at bay but, even when the on-loan Arsenal attacker drifted, the U.S. bullied him accordingly.
Bryan Ruiz was equally ineffective. Passing-wise, the veteran winger was certainly solid, at least as far as accuracy is concerned. However, Ruiz never truly appeared as dangerous as usual, an achievement the USMNT deserved credit for.
Fullbacks will once again be vital on Tuesday, for several reasons. They will certainly need to monitor the duo of Ruiz and and Campbell, while also getting far enough forward to keep Costa Rica's wingbacks honest. It's a tough task, but there's recent history and, at least in this respect, it's on the USMNT's side.
SURVIVING ON THE ROAD
Throughout Jurgen Klinsmann's tenure, the USMNT has not managed road qualifiers well. Since Klinsmann took the reigns, the U.S. is just 1-3-1 in trip to Central America, with that singular win coming against Panama in a match now remembered for the San Zusi moment.
Regardless of the difficulties that come with traveling south, that stat is pretty shocking. The most recent defeat, a loss to Guatemala earlier this year, was among the worst in USMNT history. Generally, the U.S. does not appear to be prepared for matches like Tuesday's.
Costa Rica, in particular, has long proved to be a relative Bogyeland for the USMNT. The U.S. has never won on the road against Los Ticos and has only earned a singular point from the nine total qualifiers. Costa Rica is certainly a perennial CONCACAF contender, but streaks like that are fairly unprecedented in the current soccer landscape.
Knowing the past struggles, the U.S. will need to play with a blend of both confidence and intelligence. No, they cannot afford to bunker and pray for a point, but they also can't go on a kamikaze mission to make up for lost points against Mexico. There's a difference between playing with urgency and pressing, and the U.S. will need to straddle that line on Tuesday if they want to earn a historic road result.