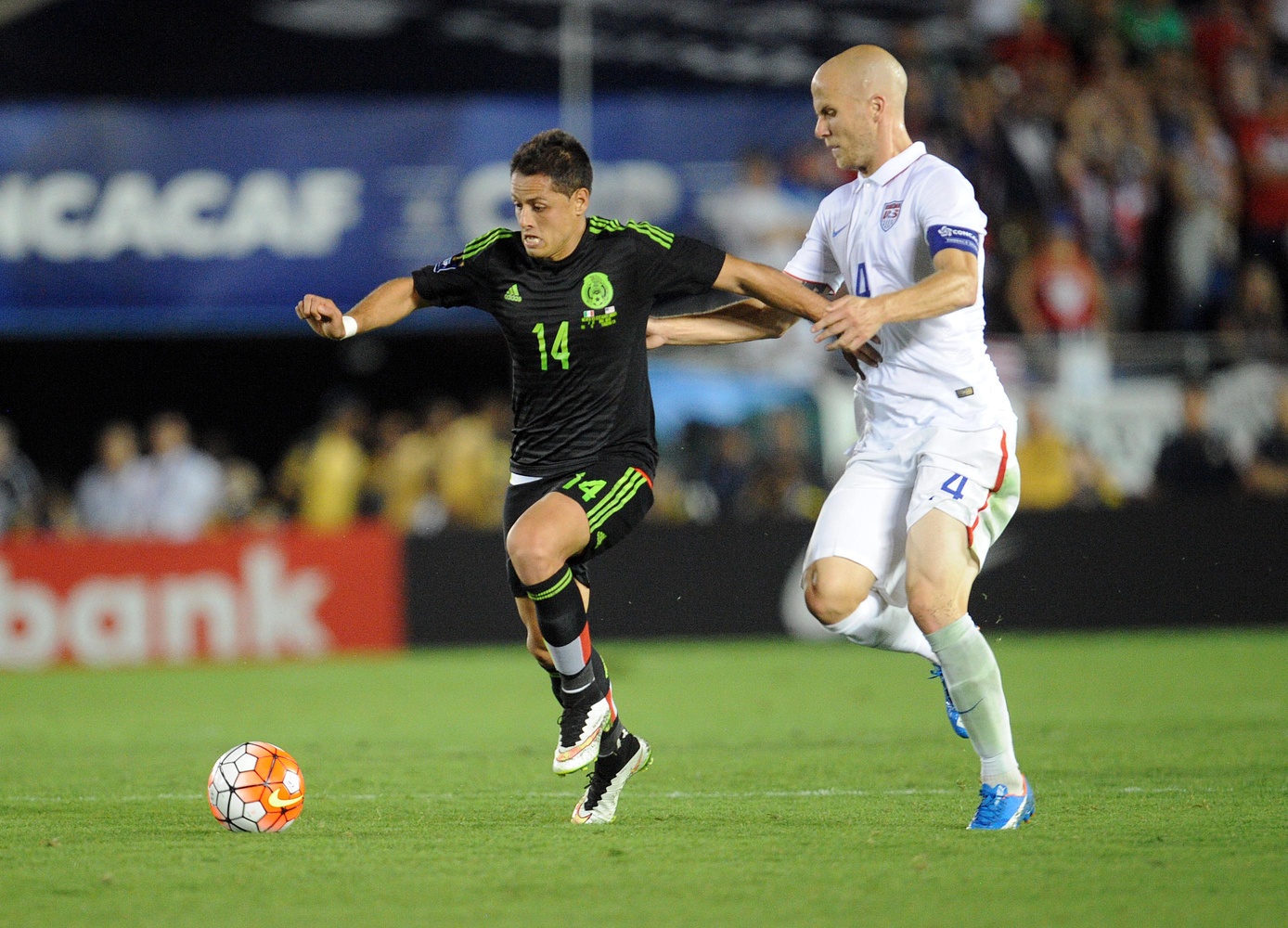 Collisions between the U.S. Men's National Team and Mexico are always unique. They're physical. They're emotional. They're intense.
On Friday, the USMNT and El Tri collide for the latest chapter of their rivalry in a match that should prove as a launching pad towards the 2018 World Cup.
The two sides open the Hex on Friday night in Columbus, and both enter with unique squads that appear to be trending in the right way. USMNT regulars Jozy Altidore, Michael Bradley and Christian Pulisic are in fine form, while Mexico appears to be ready to counter with a strong three-at-the-back set that has proven effective in recent months.
With that in mind, there are several key matchups to watch, several battles that must be won by either side. Here's a closer look at what to watch for when the U.S. takes on Mexico:
CONTAINING 'CHICHARITO'
Javier 'Chicharito' Hernandez remains CONCACAF's best forward option, and the U.S. Men's National Team will not have the luxury of countering his abilities with their top centerback pairing.
Geoff Cameron isn't walking through the door any time soon, depriving the USMNT of their go-to centerback starter. His partner, John Brooks, is healthy enough for his first clash with Mexico. The Hertha Berlin defender has seen Hernandez before in Bundesliga play, but Friday's clash will be a very new experience for the 23-year-old defender.
He will certainly need some help. Keeping Hernandez at bay as not a one-man job, making it vital that the centerback partnership is on the same page throughout. The Mexican striker always seems to pop up in the right areas at the right time, making it vital that the two centerbacks keep an even line and keep their wits about them. One small misstep could be the difference, especially in a game like USMNT-Mexico.
Brooks has played with both Steve Birnbaum and Omar Gonzalez, Cameron's likely replacements. Whoever joins Brooks in central defense will have an important job, as stopping 'Chicharito' is the obvious key to stunting a talented Mexican attack.
FULLBACK A FOCAL POINT
DeAndre Yedlin is back in form. After earning a public vocal lashing from Klinsmann last camp, the Newcastle fullback is thriving on the club level and should certainly start Friday. With that being said, both Yedlin and Fabian Johnson face colossal tasks: containing Mexico's wingers.
Yedlin will be attacked and attacked by Jesus Corona. The Porto winger is not as fast as Yedlin when it comes to pure sprints, but he is certainly as quick as they come when actually on the ball. 'Tecatito' has quick feet and spectacular control of the ball, giving Yedlin quite a challenge on the right side of the USMNT defense. For years, Yedlin's defensive instincts have been called into question, but they will need to be strong on Friday night. Yedlin cannot get caught and must be prepared to play a physical game to unsettle the talented Mexican winger.
Johnson, meanwhile, could face a number of tests. The Borussia Monchengladbach star could face any number of Mexican attackers, from Marco Fabian to Giovani dos Santos to the supremely pacey Hirving Lozano and Jurgen Damm. Out wide, Mexico has options, and Johnson will need to be ready for several different threats that would require several different gameplans.
Given Mexico's three-at-the-back system, it's important to win the wide battle, both on the attacking and defensive ends. If Yedlin and Johnson can hold their own and push Mexico's wide options back, the U.S. has a good chance at keeping Hernandez isolated and alone atop the attack.
ATTACKING THE BACK THREE
Mexico's formation is fluid. At times, it's a 3-4-3. At others, it looks like a 3-3-3-1. In moments of need, you could see five in defense. It's a unique setup, and one the USMNT must be prepared to attack.
Jurgen Klinsmann will be happy to see an in-form Jozy Altidore heading into Friday's clash. No matter who starts at centerback, Altidore will be a handful. A confident Altidore is a scary Altidore, and Mexico will no doubt be wary.
Altidore will need help. Bobby Wood has shown a knack for scoring in big games. Christian Pulisic, facing his first Mexico match, will look to pull one of the three out wide, opening up space for the strikers in the middle.
The key will be opening up that space. If Pulisic or his opposite winger can pull a centerback out wide, space opens up for Wood to dart through. If Altidore's physicality forces Mexico to tuck in and double team, there will be more room to gallop out wide against Mexico's wide midfielders.
Mexico's aim will be to swarm the two-man attack with a three-man defense, utilizing superior numbers to quiet the U.S. forward group. The key, then, will be to get numbers into the attack, spreading Mexico thin while forcing the midfield back to help. If the U.S. can do that, the goals will come.
BRADLEY, GUARDADO LOOK TO WIN THE MIDFIELD BATTLE
Michael Bradley and Andres Guardado are both versatile. On Friday, though, the two will play similar roles with a similar goal: winning the midfield battle.
Both Bradley and Guardado will likely sit deeper than their midfield partners. Bradley will likely be tasked with holding in the USMNT's now normal 4-4-2 formation, while Guardado will also sit a bit deeper in Mexico's 3-4-3. The two will be tasked with doing the dirty work defensively while also picking and choosing moments to inject their own creativity into the match.
They both face challenges. Guardado is tasked with containing either Sacha Kljestan or Jermaine Jones. The former, who is coming off of a poor performance in the MLS playoffs, is the more technically creative, while Jones would test Guardado physically despite only recently returning to the field.
On the other end, Bradley faces the likes of Hector Herrera, Giovani dos Santos or Marco Fabian, depending on how Mexico lines up. No matter who is on the other side, Bradley will be tasked with taking on a technically proficient midfielder that should challenge the TFC midfielder's underrated defensive abilities.
YOUNG STARS GET FIRST TASTE OF RIVALRY
The USMNT is getting younger. Several new faces are expected to be in the lineup, players that have yet to face a clash with Mexico. It's up to them to embrace the best of the rivalry while shying away from the worst.
Matt Besler said that he was a bit naive heading into his first Mexico match, and it turned out to be beneficial. He wasn't overwhelmed by what was ahead, but was simply excited at the idea of taking on El Tri. That must be the attitude for the U.S. Players must be excited, not overwhelmed, but what is more event than simple soccer game.
Of the 26 call ups, just 10 have faced Mexico. Just four have scored against El Tri. John Brooks, expected to start in the heart of defense, has never even played a World Cup qualifier.
The key is composure. There will be moments where the game gets ugly. There will be moments where the Columbus crowd gets restless. There will be moments where the game goes wrong. However, in those moments, the young USMNT options will need to step up alongside a strong group of veteran leaders.