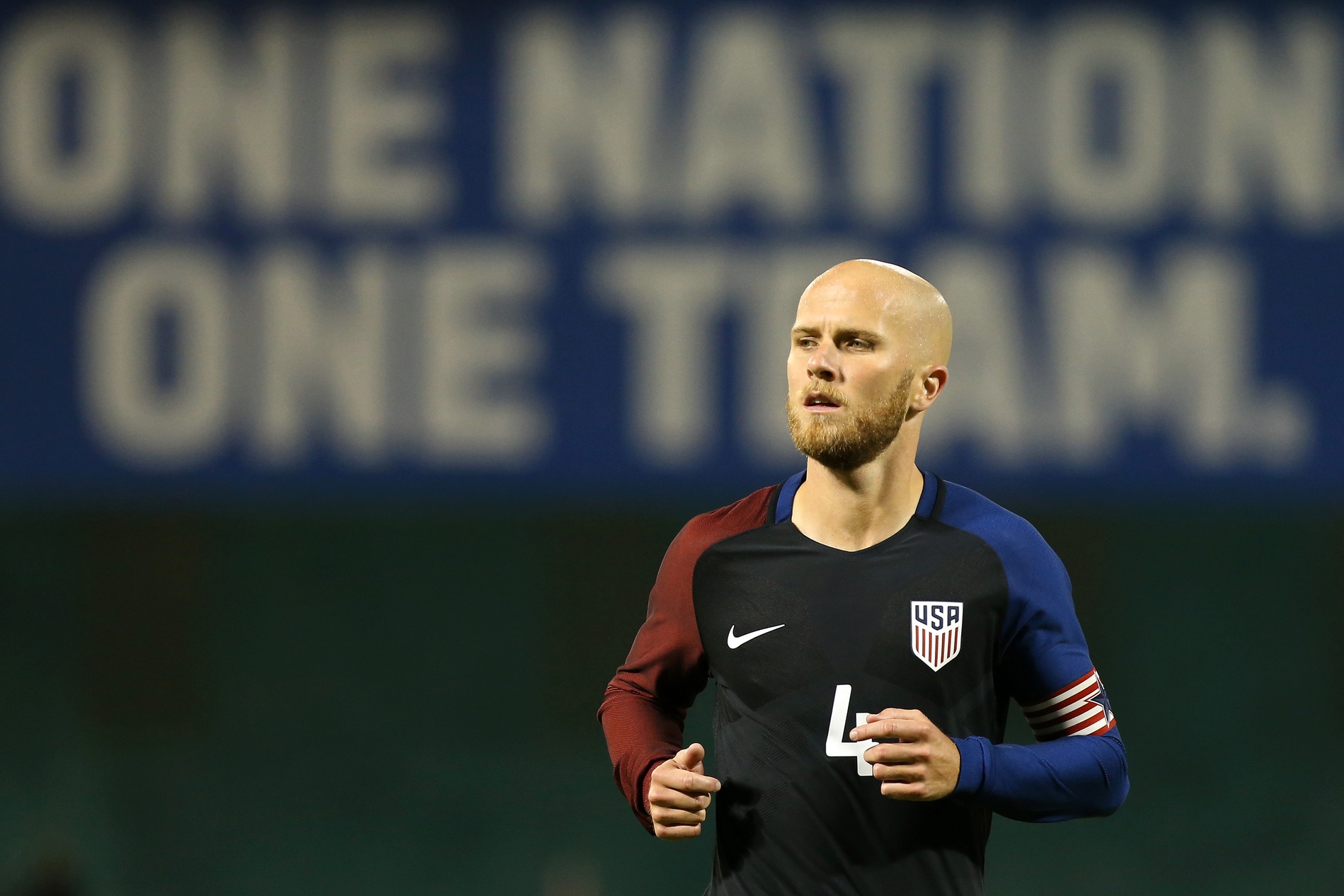 The time for experimenting and tinkering is over. There are no more moral victories, no more learning curves. The U.S. Men's National Team's Hexagonal path begins with a bang, and Jurgen Klinsmann's side will need to be ready for two of the toughest games they'll face in their pursuit of a spot in the 2018 World Cup.
Mexico looms large, as the USMNT hosts their traditional rival on Nov. 11 in the first match of the Hex. A visit to fellow powerhouse Costa Rica soon follows, giving the U.S. a vicious opening to the start of the latest stage of World Cup qualifying. There's little room for mistakes this month against two of the region's elite.
That said, a pair of wins would go a long way towards booking a spot in Russia, while a pair of defeats would serve as a humbling start to what always seems to be a roller coaster of a competition. Luckily for Klinsmann, the U.S. has access to a majority of the team's big guns, excluding regular forwards Clint Dempsey and Gyasi Zardes.
The question is how Klinsmann decides to use them. Does he call in a veteran group, one that has the experience of going at, and beating Mexico on the big stage? Does he go with a squad littered with youngsters, players with talent that could and should be vital when the calendar reaches the summer of 2018? Or does he go somewhere in the middle, looking to both the past and future for what is undoubtably the toughest stretch of the qualifying cycle?
Here's a look at the 23 players that could make up Klinsmann's roster for the upcoming Hexagonal matches:
GOALKEEPERS
Brad Guzan, Tim Howard, William Yarbrough
Outlook- Following Leon coach Javier Torrente's recent announcement, there's little mystery left over which goalkeepers will be named to the USMNT roster. However, the real mystery lies in who will actually be in goal when the action kicks off.
Torrente revealed on Wednesday that William Yarbrough has been called up by the U.S. ahead of the Hexagonal, and the Leon shot-stopper will all but certainly be joined by Tim Howard and Brad Guzan. While Yarbrough is likely there for experience and to provide valuable cover in case of a super-emergency, the real battle lies between the two veterans stationed in front of him.
Klinsmann has generally opted for Guzan throughout the past year, as the USMNT has been locked in a goalkeeping battle since Howard's return from an international hiatus. However, Howard continues to thrive with the Colorado Rapids while Guzan remains glued to the bench at Middlesbrough. The former is no doubt the man in-form while the latter, meanwhile, hasn't played a single game since August.
That leaves Klinsmann with a question: Does he go with the man with the hot hand, or stick with the goalkeeper that earned the No. 1 spot throughout a solid Copa America run?
Missed the Cut– David Bingham, Ethan Horvath
——————
DEFENDERS
Matt Besler, Steve Birnbaum, John Brooks, Geoff Cameron, Timmy Chandler, Omar Gonzalez, Fabian Johnson, DeAndre Yedlin
Outlook- Starting with the centerbacks, Geoff Cameron and John Brooks remain the go-to partnership, health withstanding. Brooks finally appears back to full health after some up-and-down moments to start the season, while Cameron should be clear to return from a knee injury in time for the Hex.
Matt Besler, Omar Gonzalez and Steve Birnbaum, therefor, are all competing for backup spots. Besler and Gonzalez have both shined against Mexico before, aiding their cause, while Birnbaum provides added versatility due to his ability to play fullback in a pinch. Then there's Michael Orozco, another utilityman and Klinsmann favorite, even if he didn't show well during his most recent friendly appearance. While Orozco can certainly jump into the mix as he has done many times throughout the past few years, look for Klinsmann to stick with the veteran duo while bringing along a potential future cornerstone in Birnbaum.
At fullback, DeAndre Yedlin has bounced back wonderfully, solidifying a spot at Newcastle following a series of shaky national team performances. Fabian Johnson, meanwhile, remains the best option at left back for the time being, especially given the task at hand. An in-form Timmy Chandler provides valuable cover at both positions, while Besler and Birnbaum could also hop in at fullback if needed.
Missed the Cut–Kellyn Acosta, Michael Orozco, Matt Miazga, Matt Hedges
——————–
MIDFIELDERS
Alejandro Bedoya, Michael Bradley, Perry Kitchen, Sacha Kljestan, Jermaine Jones, Christian Pulisic, Danny Williams
Outlook– The midfield contains several locks for the upcoming roster, but the position also contains some of the biggest question marks. Jermaine Jones is a player made for these types of games, but his injury issues and lack of recent game-time could make him a hindrance in what should be two fast-paced games. However, on his day, Jones still might just be the USMNT's best midfielder, making it a risk worth the potential reward if Jones is limited to substitute duty.
Paul Arriola and Lynden Gooch would both provide a solid presence off the bench, but the two could be passed over in favor of more experienced options like Jones and Alejandro Bedoya. It's a stance that makes sense for the upcoming slate of matches, and no one would be surprised to see the two lock a more regular role in the future.
Then there's the deeper position, one manned by Michael Bradley on most cases. While Bradley remains the primary No. 6 the U.S. needs depth and perhaps even a player to sit alongside Bradley if the team isn't gung-ho enough to roll with a Kljestan-Bradley partnership. Perry Kitchen remains the favorite, while Danny Williams provides a bit more cover for a team still looking to move on from an aging Kyle Beckerman.
That leaves Darlington Nagbe, who appears to be in the wilderness after reportedly turning down an October call-up. There's almost no chance the Portland Timbers midfielder is back in the squad this time around, as he has a mountain to climb to get himself back in Klinsmann's good graces.
Missed the Cut– Paul Arriola, Kyle Beckerman, Lynden Gooch, Darlington Nagbe
——————
FORWARDS
Jozy Altidore, Julian Green, Jordan Morris, Chris Wondolowski, Bobby Wood
Outlook- Jozy Altidore remains in spectacular form, while Bobby Wood is almost certain to partner him atop the USMNT attack. Wood remains all but a lock for a spot in the XI, even with his recent three-game suspension for an "elbow". Don't read into it too much, though, as Wood should be more than ready for the Hex.
The only person capable of unseating the Hamburg star is Jordan Morris. The Seattle Sounders star seems to get a bit better every time he takes the field, as evidenced by a series of strong playoff performances. He's still just a bit behind Wood and Altidore, but Morris should contribute in some fashion throughout the two games to start the Hex.
And then there's Julian Green, a player with perhaps the biggest spread of stone cold positives to match overwhelming negatives. It's hard to guage exactly how far Green has come. He seems to be on the precipice of taking that next step, but it's just so hard to tell given his lack of legitimate playing time. His recent goal could be the start of something big, or simply a byproduct of playing with one of the world's best teams. No matter, as Green should be one of Klinsmann's typical wild card selections to round out what suddenly looks like a weakened forward pool without the likes of Clint Dempsey and Gyasi Zardes.
Missed the Cut– Terrence Boyd, Juan Agudelo, Gyasi Zardes
—
What do you think of the roster? How would the above 23 players fare against Mexico and Costa Rica? Who would you call in?
Share your thoughts below.