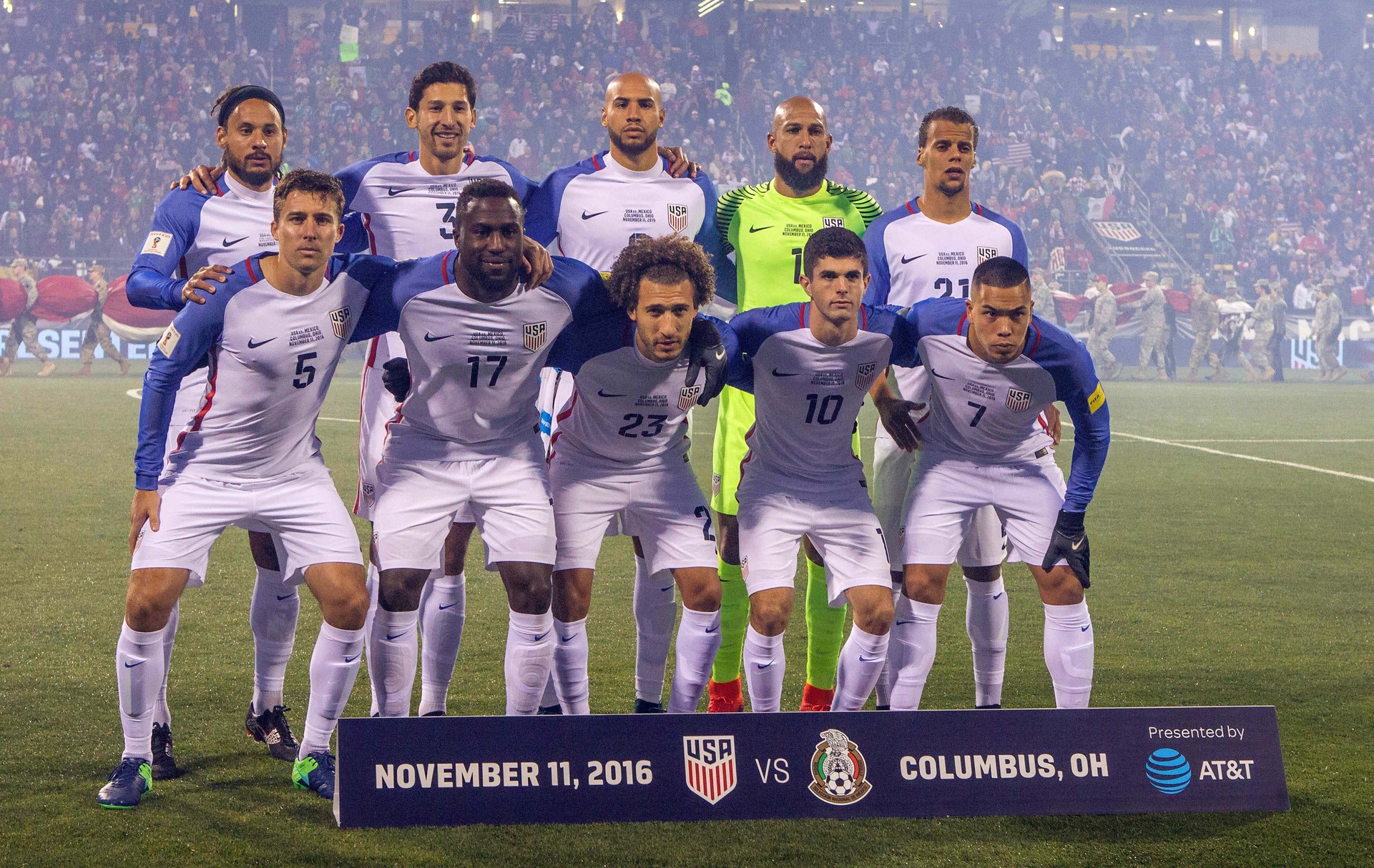 After falling to Mexico in the first match of the Hexagonal round, the U.S. Men's National Team is facing pressure heading into Tuesday's clash with Costa Rica. Another loss would see the U.S. fall further behind the pack early into the World Cup qualifying stage, while a win would all but erase the frustrations that came on Friday night.
With that in mind, Jurgen Klinsmann has several choices to make, especially after botching Friday night's tactical selections. Los Ticos are as tough as any team in CONCACAF, and Klinsmann will have to get his selections right if the USMNT doesn't want to start on the back foot.
Tim Howard is out, forcing Klinsmann into at least one change for Tuesday's clash as Brad Guzan is expected to join the starting XI. A formation switch will likely cause several others, as the U.S. looks to get back on track to close the international break.
Here's a look at a possible lineup Klinsmann could go for on Tuesday night:
————-Wood——Altidore———–
Pulisic—-Bradley—-Kljestan—-Bedoya
–Johnson–Brooks–Gonzalez–Yedlin–
———————Guzan———————
Some thoughts:
Let's start with tactics, especially after Friday's first half bloodbath. Two additional days of practice won't suddenly turn the USMNT into Italy, and trotting out the three-at-the-back formation should be a non-starter. Given the stakes, the opponent and the team's confidence following a frustrating loss, Klinsmann should stick with the tried and true.
That ideology should carry through to both tactics and player selection. Jozy Altidore and Bobby Wood cemented their spots as the USMNT's forward tandem on Friday night and it would be absolutely shocking to see anything other than their two names listed in the striker positions. Despite an up-and-down match, Michael Bradley also figures to be in the midfield with a vital role in keeping Costa Rica at bay.
Questions remain over Bradley's partner. On Friday, at least at the start, the partnership between Bradley and Jermaine Jones looked to be a disaster yet again. The two settled as the game wore on, but it's vital to remember just how bad that partnership has looked through years and years of tinkering. It still doesn't fully work, especially if Klinsmann is going to jam square pegs and round holes with formational changes.
One piece that certainly does fit is Sacha Kljestan, who has partnered Bradley several times in the past few months. The two tend to play off of the other's strengths and weaknesses very well and have always seemed to have the chemistry the Bradley/Jones combo lacks. Klinsmann should give Kljestan the start, especially given Jones' recent return from injury, while saving the Colorado Rapids midfielder for a second half energy edition.
Christian Pulisic shined in a more free role on Friday, and one would expect him to tuck in again on Tuesday night to create havoc for Costa Rica's back three. On the other side, questions remain, but Klinsmann has options. Julian Green and Lynden Gooch may be a bit too naive and wet behind the ears for a clash with Costa Rica, but veteran options like Alejandro Bedoya and Graham Zusi give Klinsmann several experienced choices.
Finally, there's a decision to be made at right back. Klinsmann hasn't been high on DeAndre Yedlin in recent months, but the Newcastle star could be useful weapon to keep Costa Rica honest. Still, given his recent comments, Klinsmann will likely go with Timmy Chandler, who will need to make the most of his chance after an inconsistent effort against Mexico.