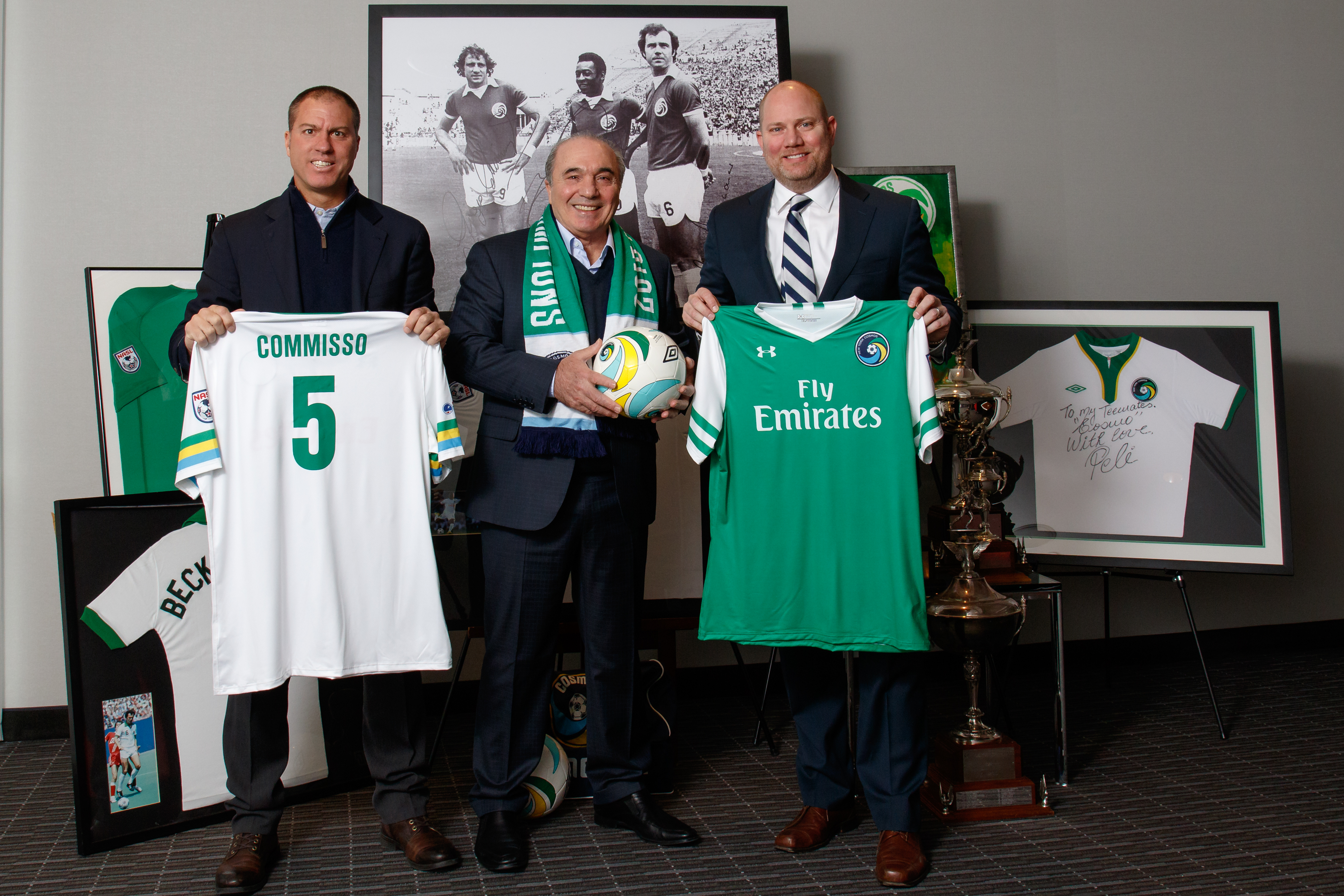 New York Cosmos COO Erik Stover puts it plainly: the club was in need of a savior. Players and staff had been left unpaid as the club headed towards a demise. For the second time in a lifetime, the Cosmos were dead in the water.
Then, that savior appeared, a guardian angel of sorts, helping the Cosmos commit to playing in 2017. However, there's plenty of work to be done to repair what is broken, both on and off the field.
The Cosmos announced on Tuesday that cable television businessman Rocco Commisso, Chairman and CEO of Mediacom Communications Corporation, has officially purchased a majority stake in the Cosmos, saving the club from total disaster. The news comes following months of uncertainty, unpaid wages and, ultimately, what appeared to be the club's demise.
Now, Commisso and co. are tasked with rebuilding the Cosmos from the ground up. Just three players, David Ochieng, Ryan Richter and Eric Calvillo, remain under contract while the club is currently without a home after spending its entire revival at Shuart Stadium. The challenges are great, and Commisso is adamant that he won't overpromise, but the new Cosmos owner is confident that the club is officially here to stay.
"I'm going to be very gradual. You will never hear me boast on something I don't know anything about and you'll never hear me overpromise on something I cannot deliver," Commisso said on a conference call Tuesday. "That's the history of my company and the history of me, Rocco, and I hope the fans appreciate what the new ownership can bring to the table.
"Everybody knows about the Cosmos, and that's the most favorable asset about this club for me," Commisso said. "I'm saving the club. I'm helping its reputation… Give me a chance, I say. Give me a chance and a little bit of time."
Commisso's takeover began several weeks back, and the deal could have been closed much sooner. As he prepared for the purchase, Commisso awaited word from U.S. Soccer on division decisions. If the NASL, and the Cosmos, were not recognized as Division 2, Commisso wasn't interested. The decision came and, with it, so did Commisso.
His first order of business? Payment. As the club sunk deeper and deeper into financial issues, both players and staff members were left unpaid as the NASL season wound down. Employees were placed on furlough as players went unpaid as the club looked set to disband following a 2016 NASL crown.
That issue is expected to revolved by Thursday at the latest.
"Let's make something clear, Rocco is not known for screwing anybody, alright? Rocco does not have that reputation and Rocco never had that reputation," Commisso said. "The first order of business is to take care of all of the business that we owe some money. You've heard it from me.
"Everbody needs to understand that the club was on the verge of not existing, not continuing. The Cosmos were done," Savarese said. "For this miracle to have happened, we're trying to make sure we do our best to rebuild."
Then there's the issue of the club's stadium situation. After departing Hofstra's Shuart Stadium, the Cosmos are currently without a home. Commisso says there have been negotiations with one or two possible venues, while Brooklyn's MCU Park and Columbia University's Rocco B. Commisso Soccer Stadium remain among the contenders.
As for the future, Commisso says he hopes to remain within the five boroughs. Still, he doesn't share the visions of grandeur held by previous owners. He knows a large-scale soccer-specific stadium is unlikely, as evidenced by the ongoing issues faced by New York City FC. Building a massive venue inside the city proper is virtually impossible, and Commisso isn't going to make promises he can't keep with regards to that effort.
One situation Commisso can foresee, though, is a shared stadium. The Cosmos owner referenced Italian soccer, clubs like Lazio and Roma, who share stadiums in major cities. He sees it as an option someday, one that could be addressed down the road.
For now, though, Commisso is focused on the here and now. According to head coach Giovani Savarese, the Cosmos aren't at step zero, they're at step -5, and they only have three months to build themselves back into what is expected to be an NASL powerhouse. Players need to be brought in, coaches need to be replaced and, perhaps most importantly, goodwill needs to recovered by a team that looked to have faltered for the second time.
Commisso speaks fondly of the original Cosmos. Italian-born, he remembers Giorgio Chinaglia plowing through NASL defenses. He remembers Pele and the impact that came with him. He remembers a team that was great, and for all the right reasons.
Still, Commisso says he can't make the Cosmos great immediately. No matter how much money he throws at the club, the Cosmos cannot reach that height in just four months. However, Commisso can help build a club from the ground up while creating something special in its own way.
"I'm getting into this situation with my eyes open," he added. "This is not an easy situation from a financial standpoint. Rarely do sports teams make money and, in the case of the Cosmos, even worse. We have to accept the fact that, in order to make the Cosmos successful again, we have to invest money and resources and take the losses… I have the experience and the connections to bring some of my love and passion for the game to the Cosmos."
"The last several months have been difficult for all of us," Stover said, "but we've found our savior, a savior for this club and I believe strongly that he is a savior that will keep the North American Soccer League going and will not just save us in this immediate time of urgency but in the future, that can help this league and our club grow."