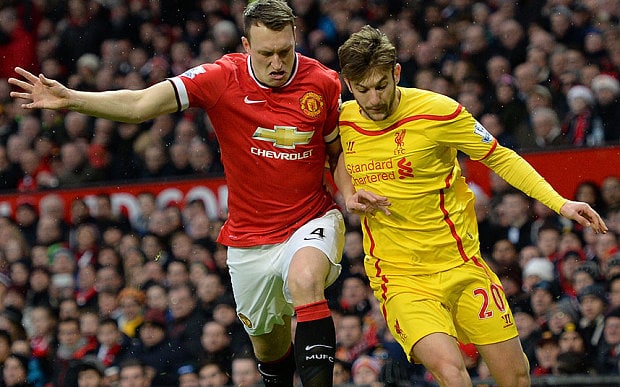 While the scale of the Manchester Derby may have surpassed it, there are few derbies with blood as bad as Manchester United and Liverpool.
The Red Devils and Reds go back at it once again, as the latter travel to Manchester four places and five points clear of their struggling rivals. Though Manchester United hasn't had the first half of the season that it hoped, it finds itself just a win away from the top four, and will be eager to claim those three points against Liverpool. The Reds, meanwhile, chase leader Chelsea as they sit five points back of the red-hot Blues.
Those Blues will seek to maintain their lead at five, regardless of results elsewhere, and perhaps grow it to as many as eight when they take on defending champions Leicester City. While nearly everyone could predict a more down-to-earth Leicester season after last year's magic, the crash has hit hard, with the Foxes sitting in 15th place, just six points clear of relegation.
Also on the table is a top-seven clash between Manchester City and Everton. City currently sit fourth in the table, seven points back of Chelsea and just one point clear of fifth place Arsenal. Everton sit just outside the top six, but have a huge gap of nine points between them and Manchester United ahead. Both will seek to seize a crucial three points.
Here's the full slate of this weekend's Premier League matches:
Manchester United vs. Liverpool (Sunday, 11:00 a.m. ET, NBCSN)
Injuries of Note: United will still be without Eric Bailly, who is with the Ivory Coast for the African Cup of Nations. The Red Devils will also likely miss Marcos Rojo. Liverpool enters without top scorer Sadio Mane and Joel Matip is likely to join him. Jordan Henderson should be available and the Reds may also be bolstered by the return of Philippe Coutinho.
Key to Game: Can United keep up with Liverpool's goal-scorers? Especially if Coutinho returns, Liverpool is a constant threat to score, as it leads the league with 48 goals through 20 matches. United, meanwhile, lags behind with just 31 goals so far. If the Reds jump ahead early, United could struggle to keep up.
Player to Watch: Wayne Rooney. The United captain enters the match tied with Sir Bobby Charlton's all-time goal scoring record and one more would push him to 250 in a spectacular fashion against United's long-time rivals.
Quote: "Sunday is a special match for us and a special match for the Manchester United fans." said United manager Jose Mourinho. "So my invitation is don't come to the theatre, come to play and come to play with us."
Everton vs. Manchester City (Sunday, 8:30 a.m. ET, NBCSN)
Injuries of Note: Each team has a laundry list of injuries. Everton will be without Muhamed Besic, Yannick Bolasie, Maarten Stekelenburg, Idrissa Gueye, James McCarthy, Bryan Oviedo, Matthew Pennington and Aiden McGeady. Manchester City is missing Ilkay Gundogan, Eric Mangala, Samir Nasri,and Fernandinho, who remains suspended.
Key to Game: Everton's defensive performance. Even with injuries, City remains dangerous in attack, but hobbled as it is, this may be Everton's best chance to buckle down and shut them out. Everton has struggled offensively and has played it close to the wire, with just a +5 goal differential. A clean sheet would go a long way to helping them earn a win on Sunday.
Player to Watch: Kevin de Bruyne is the man of the hour once again, as he'll need to continue his stellar play with so many teammates watching from the stands. He'll of course have help from Sergio Aguero, but de Bruyne remains the focal point of the City attack.
Quote: "There's mixed emotions. I've got a lot of friends there, I played a lot of games for Everton and a lot of my family has got friends there, so it's a big occasion for them, as it is for me." said City defender and former Everton player John Stones. "It will be strange to go back, as I'm sure it is for everyone the first time they go back to face their previous club."
Leicester City vs. Chelsea (Saturday, 12:30 p.m. ET, NBC Sports Live Extra)
Injuries of Note: Leicester will be missing its top player, as Riyad Mahrez and Algerian teammate Islam Slimani along with Daniel Amartey all away at the African Cup of Nations. Chelsea will be without John Terry due to red-card suspension, while left back Marcos Alonso is struggling with a leg injury.
Key to Game: Can Leicester City break through without star midfielder Riyad Mahrez? The Algerian is away for the African Cup of Nations and Leicester will need to find a way to break down the titanic defense of Chelsea, second best in the league with 15 goals allowed, or risk falling closer to the relegation zone.
Player to Watch: N'Golo Kante makes his return to King Power Stadium on Saturday, meeting the Foxes at home for the first time since his departure. While he'll likely get a very warm welcome from the fans to whom he helped provide a championship, he may also end up sending them home disappointed with some solid midfield play for the Blues.
Quote: "Claudio is a really great manager, a great man. I am proud to know him and sometimes to call him to speak. He did a great job last season and not only then." Chelsea manager Antonio Conte said of his counterpart."I knew him when he was coach in Italy, at Chelsea, at Valencia. He's a great coach and he deserves this [award]. He did a great job. I'm pleased for him."
"I am not surprised [at Leicester's position] because this league is very tough," added Conte. "I consider them a really good team with good players, strong players, players with talent and technique, a good mix. They have a great manager. It can happen in this league. Don't forget Chelsea last season."
Tottenham vs. West Brom (Saturday, 7:30 a.m. ET, NBCSN)
Swansea City vs. Arsenal (Saturday, 10:00 a.m. ET, NBCSN) 
West Ham vs. Crystal Palace (Saturday, 10:00 a.m. ET, NBC Sports Live Extra) 
Watford vs. Middlesbrough (Saturday, 10:00 a.m. ET, NBC Sports Live Extra) 
Sunderland vs. Stoke City (Saturday, 10:00 a.m. ET, NBC Sports Live Extra) 
Burnley vs. Southampton (Saturday, 10:00 a.m. ET, NBC Sports Live Extra) 
Hull City vs. Bournemouth (Saturday, 10:00 a.m. ET, NBC Sports Live Extra)