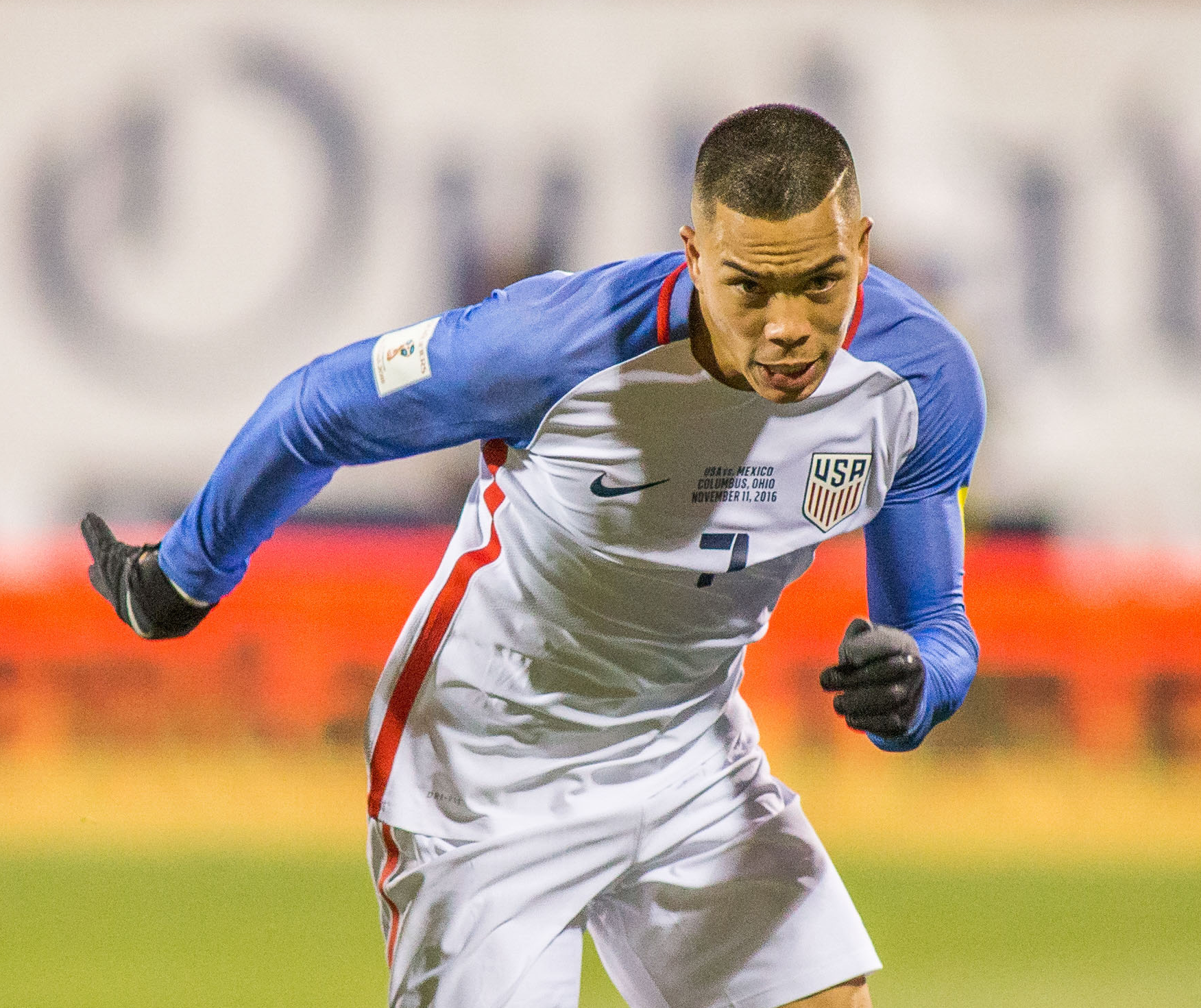 The calendar year 2016 was a memorable one for several top American soccer players, but no one put together a better campaign for both club and country than Bobby Wood.
After several years on the fringe of a regular U.S. Men's National Team role, Wood solidified his spot for his country throughout a fruitful 2016. Having made 14 appearances through his first three years as a senior international, Wood earned 15 caps in 2016, scoring four goals and adding two assists along the way to help seal honors as SBI American Soccer Player of the Year.
While the goalscoring numbers may not stand out in a major way, both the magnitude, Wood's continued work rate and ability to create chances provided a major lift throughout the year. After opening his 2016 account with a finish against Puerto Rico, Wood fired a goal in a vital 4-0 demolition of Costa Rica at the Copa American before a tally against St. Vincent & The Grenadines helped the U.S. all but seal a spot in the Hexagonal. His final tally came in a losing effort against Mexico, but the goal served as Wood's latest contribution against a big team.
On the club level, Wood started the year much like he ended 2015 as he continued to fire with Union Berlin. After scoring 10 goals in 12 games to end the 2. Bundesliga season, Wood sealed a move to first division side Hamburg, earning a major step up on the club level. Through the first half of the Bundesliga season, Wood scored six goals in 16 appearances in all competitions, becoming the most consistent scorer for a Hamburg team that is very much in need of goalscoring production.
Here's a closer look at the rest of the nominees for the award:
2. GEOFF CAMERON
Geoff Cameron has long been a utility man for both club and country, but the Stoke City regular found his footing as a centerback in 2016. With 12 international appearances, Cameron was a rock for his country, earning the distinction as the only player to start every World Cup qualifying and Copa America match for the USMNT.
Meanwhile, Cameron continued his run of consistency for Stoke City before an injury robbed him of the back end of 2016. In total, the defender started 19 matches for the Potters, helping the club finish ninth in the 2015-16 campaign.
3. CHRISTIAN PULISIC
Throughout his rise through the youth ranks, many associated with American soccer had high hopes for Christian Pulisic. In 2016, he exceeded each and every expectation thrust upon him.
In his first senior season, Pulisic made 21 appearances for Borussia Dortmund, contributing four goals for the Bundesliga powerhouse. His breakthrough, which came at just 17-years-old, saw Pulisic break several records for both his club and the Bundesliga as he solidified a consistent spot with a legitimate Champions League side.
His run with Dortmund earned him a spot with with the USMNT ahead of the Copa America. Throughout his USMNT run, Pulisic scored three goals in 11 senior appearances while solidifying a regular role heading into the second half of the 2018 World Cup qualifying cycle.
4. JOZY ALTIDORE
Injuries once again robbed Jozy Altidore of a major tournament appearance, but the Toronto FC starter was in electric form when he was able to take the field in 2016. Altidore scored six goals and provided two assists in just 10 USMNT appearances, including two goals in the final two World Cup qualifiers before the Hexagonal.
Altidore's late form with Toronto FC was most impressive, however, as he set a record with goals in five consecutive playoff matches. Altidore finished with 15 total goals in 28 games as he helped lead TFC to a berth in the MLS Cup final.
5. JOHN BROOKS
John Brooks' 2016 campaign will be remembered for his game-saving heroics against Paraguay, but the Hertha Berlin defender's efforts weren't just limited to that single Copa America effort. Throughout the Copa America, Brooks was one of the USMNT's top players while making 11 total appearances with the U.S.
Following the Copa America, though, Brooks experienced a major dip in form, as he struggled in the USMNT's losses to Costa Rica and Mexico. However, in Bundesliga play, Brooks continues to be a valuable contributor for Hertha Berlin, who currently sit third on the league table.