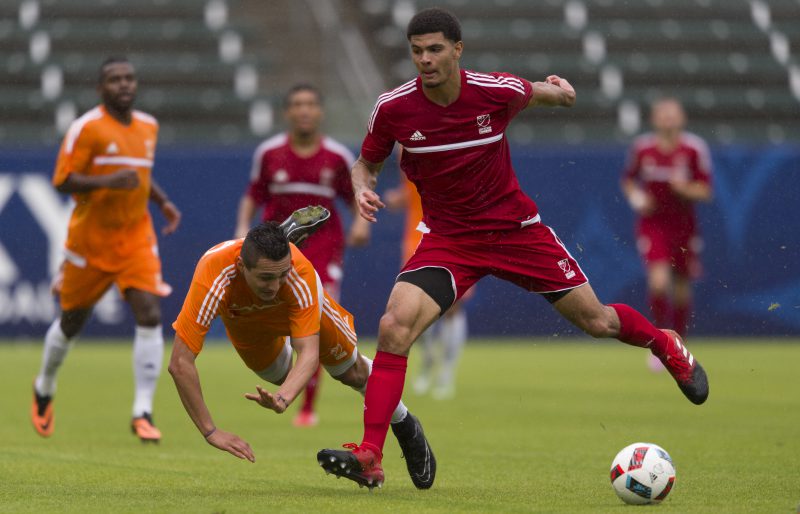 The first marquee event of 2017 in Major League Soccer takes place on Friday with the MLS SuperDraft in Los Angeles.
Expansion clubs Minnesota United and Atlanta United own the first and second-overall selections, respectively. Syracuse defender Miles Robinson, Duke forward Jeremy Ebobisse and UCLA's Abu Danladi are three of the top prospects in the draft, but there are plenty of other quality choices available.
SBI kept track of the 2016 college soccer season and the MLS Combine during the week, including big boards, mock drafts and individual player features.
Here is a rundown of all of SBI's 2017 MLS SuperDraft coverage:
SBI Final MLS Draft Big Board (READ)
SBI Final MLS Mock Draft (READ)
SBI MLS Draft Positional Rankings (READ)
SBI MLS Draft Player Profiles
Jacori Hayes has heard the doubts throughout his playing career, but the Wake Forest star is looking to continue to prove he can play above his size as he prepares for the MLS Draft. (READ)
Daniel Johnson has gone from West Ham to Maryland to Louisville to the MLS Combine, and he hopes to now push on to yet another stage of his career. (READ)
Versatile UCSB forward Nick DePuy is projected to go in the first round in Friday's MLS SuperDraft, but he's taken an interesting path up and down the field to get there. (READ)
After training with Everton, Monmouth goalkeeper Eric Klenofsky is ready for a challenge in Major League Soccer. (READ)
Lalas Abubakar's dream began on the fields of Kumasi, Ghana, and after taking an unlikely path to the pros, the former Ghana Under-20 defender is ready to compete in MLS. (READ)
North Carolina's Colton Storm is ready to bring his hard-nosed tackling mentality to MLS as one of the draft's top full back prospects. (READ)