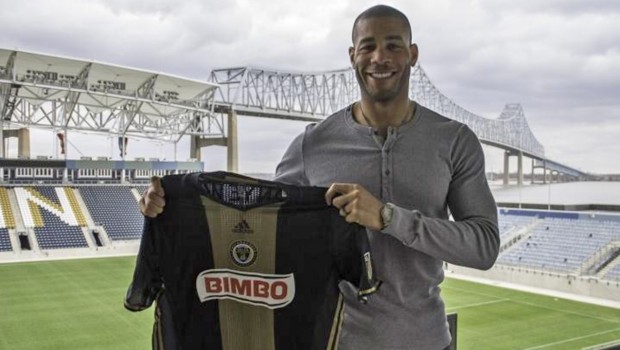 Oguchi Onewyu obviously heard and felt the criticism. After nearly two years away from the field, it was impossible not to. It was a two-year exile from the sport he loves, one which left many wondering if he had anything left to offer. For quite awhile, it appears that there wasn't much left, as trial after trial and tryout after tryout failed to produce the opportunity needed to reignite a stagnated career.
Now, after an extended absence from the game, Onyewu has returned, and he insists he still has one more push in him.
Onyewu signed with the Philadelphia Union on Monday, ending a long-term hiatus from the game. It's an absence that lasted nearly two full years, as Onyewu has not taken the field since Feb. 2015. The period that followed was an extreme low for the once-outstanding U.S. Men's National Team centerback, a period that looked like it could have been the end of his playing career.
Onewyu's journey began at Charlton with an injury in early 2015, one which left him debilitated for several months. By the start of 2016, the injury was healed, but Onyewu was without a club after being released by the club earlier that year. He opted for six more months of rehab and fitness, hoping to recapture the form of a player that once was a part of a famed AC Milan team. That summer, he looked at opportunities, which included stints with the New England Revolution, the New York Cosmos and Scottish side Rangers. None of them clicked.
Finally, nearly 21 full months after being released by Charlton, the opportunity came. It was a perfect fit for him, one which united him with some of his closest friends, players like Charlie Davies, Maurice Edu and Alejandro Bedoya. It was a club that felt like home, and one that could give him the chance to provide something meaningful both on the field and off of it.
"It's relief. It's joy. It's all of that," Onyewu said on Wednesday.  "It's more than that, though. It's having friends on the team, a team that wants you, a team that has you as part of their plans. It's a special thing. You should never take it for granted.
"It's not the easiest process to stay patient, and I think for anybody in terms of being a player but more so being man, you have to kind of take the situation as is and control the factors you can control. Sometimes you want to pull the hairs out of your head, but it's important to trust the process and trust in your ability to know that things are going to work out in the end regardless."
https://www.instagram.com/p/BP5xCNEFw4z/?taken-by=oguchionyewu5&hl=en
Onyewu says he always said that, if he was to come to MLS, it had to be on the East coast. NYCFC was temporarily an option following his time with Charlton, but his injury issues put an end to any possibility to a deal. In some ways, Onyewu says, he's thankful, as all of the setbacks helped him find his way to a new, better situation.
The Union, he says, is a project that makes sense to him. He's surrounded by young defenders, players like Josh Yaro, Ken Tribbett and Austin Trusty. They're players he can teach, players he can help. The Union are a young team with plenty of athleticism; they just need refinement.
However, make no mistake, Onyewu isn't being brought in as a glorified coach. He intends to play as often as possible, and with the grind that is the MLS schedule, he should get his chance. His biggest impact, he hopes, will be on the field, where he can actually lead alongside some of the team's promising young stars.
"What appealed to me was to have the opportunity and the occasion to play. That was my main goal," Onyewu said. "After that, it was told to me that this team is youthful and that they need a veteran's experience to aid them along and push them a long. When I was younger, I was always paired with a more experienced centerback when I played on any team in Europe. Whether it be Jorge Costa or (Ivica Dragutinović) or anybody. Nesta. There was always a good mix.
"For me, my role, and my responsibility maybe more so than my role, is to aid these players with my knowledge and experience," he added. "If that means coaching them or playing with them, so be it. Where I lack right now in terms of age and youth, I make up for in experience, and that's the flip side of what they have. We can perhaps complement each other."
Onyewu says he's remained in shape throughout his time away from the game. He wanted to be ready for any opportunity that popped up, and part of that was staying fit. He's always been a 90 minute player and, in his mind, he still is. When the time comes, he's ready to step onto the field and contribute, not just be a passenger that only makes sporadic contributions.
Still, Onyewu can't debate the facts. At 34, he's no longer the same player that marauded around the USMNT backline through two World Cups. He's no longer the same player that shined for Standard Liege before joining AC Milan at his peak.
But he believes he is a player that can contribute to the Philadelphia Union right now. He doesn't look around and see young players ready to overtake him. Rather, he sees teammates that he's excited to work with.
It's a new chapter for the 34-year-old centerback, and it's been a long time coming. He's ready to take that chapter in stride and finally get back to the field after what felt like an eternity away.
"I don't see my age as any fault or negative side," he said. "I think there are a lot of players in this league that are older than me that nobody actually speaks about. There are players on the national team that are older than me that nobody speaks about. For them to kind of focus in on my age, I think that's quite ignorant and ignoring everyone else around me. If you want to focus on my injury, that's one thing, but age is not going to be a factor for me.
"If the question is do I have some more left in my tank, I definitely do, and you're going to see that this season. Every moment I'm on the field, I'm going to give it 110 percent. Whether I play for one year or I play for three years or four years, that's impossible for me to predict. There's a lot of other factors whether that be injury or whether that be family issues or whatever. Right now, I'm just taking the occasion and I'm thankful to everyone that's supported me to this point that I'm able to play again. "