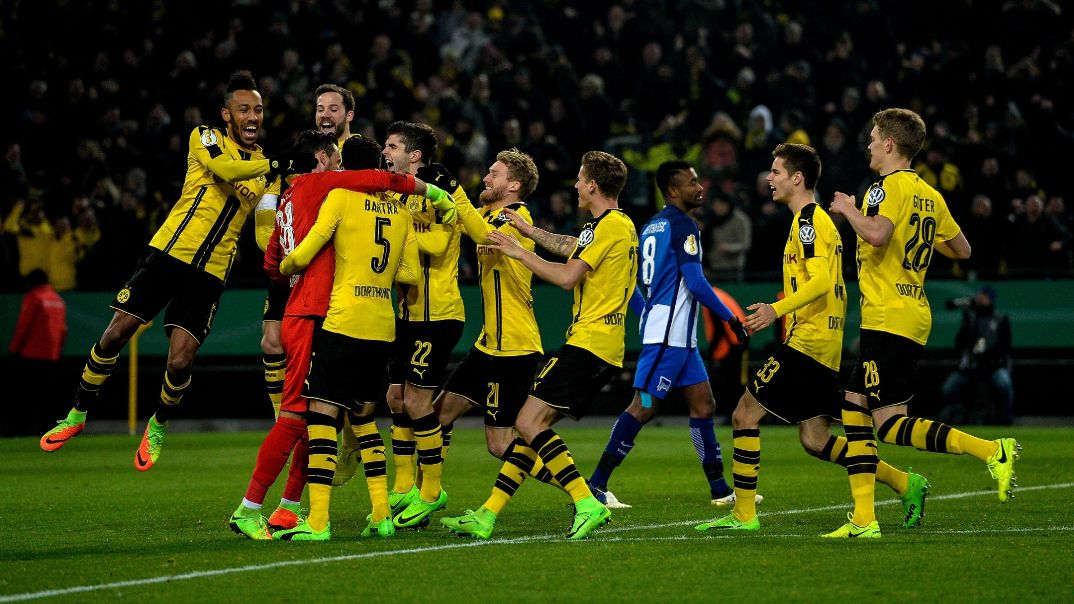 One clash between Americans Abroad came to penalty kicks, and it was the youngest member of the U.S. Men's National Team who helped his side get there.
Christian Pulisic and Borussia Dortmund came out on top on Wednesday afternoon, toppling John Brooks' Hertha Berlin, 3-2, in penalty kicks following a 1-1 draw. While Pulisic saw his kick from the spot saved by Hertha Berlin keeper Rune Jarstein, he did assist Marco Reus on the equalizing goal, finding the star German for a 47th-minute equalizer to cancel out a Salomon Kalou opener.
Timmy Chandler's clash was a bit more straight-forward as he too snagged an assist in a 2-1 win over Hannover. Chandler's helper came on the equalizing goal in the 62nd minute, just before Frankfurt took the lead four minutes later to seal a quarterfinal berth.
As for Andrew Wooten, the American forward was able to find a moment of personal success amidst a tough afternoon for his team. Facing off with Bundesliga side Schalke, Sandhausen was crushed, 4-1, with Wooten scoring the game's lone goal. The finish was Wooten's eighth in 11 games as his side bows out of the German Cup.
Following Wednesday's matches, Chandler joins Bobby Wood and Fabian Johnson in the tournement's quarterfinal stage, which is set to be held on Feb. 28 and March 1.
Here's a closer look at Wednesday's Americans Abroad:
Christian Pulisic entered the match in the 45th minute and provided AN ASSIST in Borussia Dortmund's penalty kick win over Hertha Berlin. John Brooks started and played all 90 minutes.
https://twitter.com/VinesBVB/status/829434456704434176
Timmy Chandler played 90 minutes and provided AN ASSIST in Eintracht Frankfurt's 2-1 win over Hannover
http://www.dailymotion.com/video/x5b23qu_taleb-tawatha-goal-hd-hannover-1-1-eintracht-frankfurt-08-02-2017-hd_sport
Andrew Wooted played 90 minutes and scored A GOAL in Sandhausen's 4-1 loss to Schalke.
http://www.dailymotion.com/video/x5b1r7u