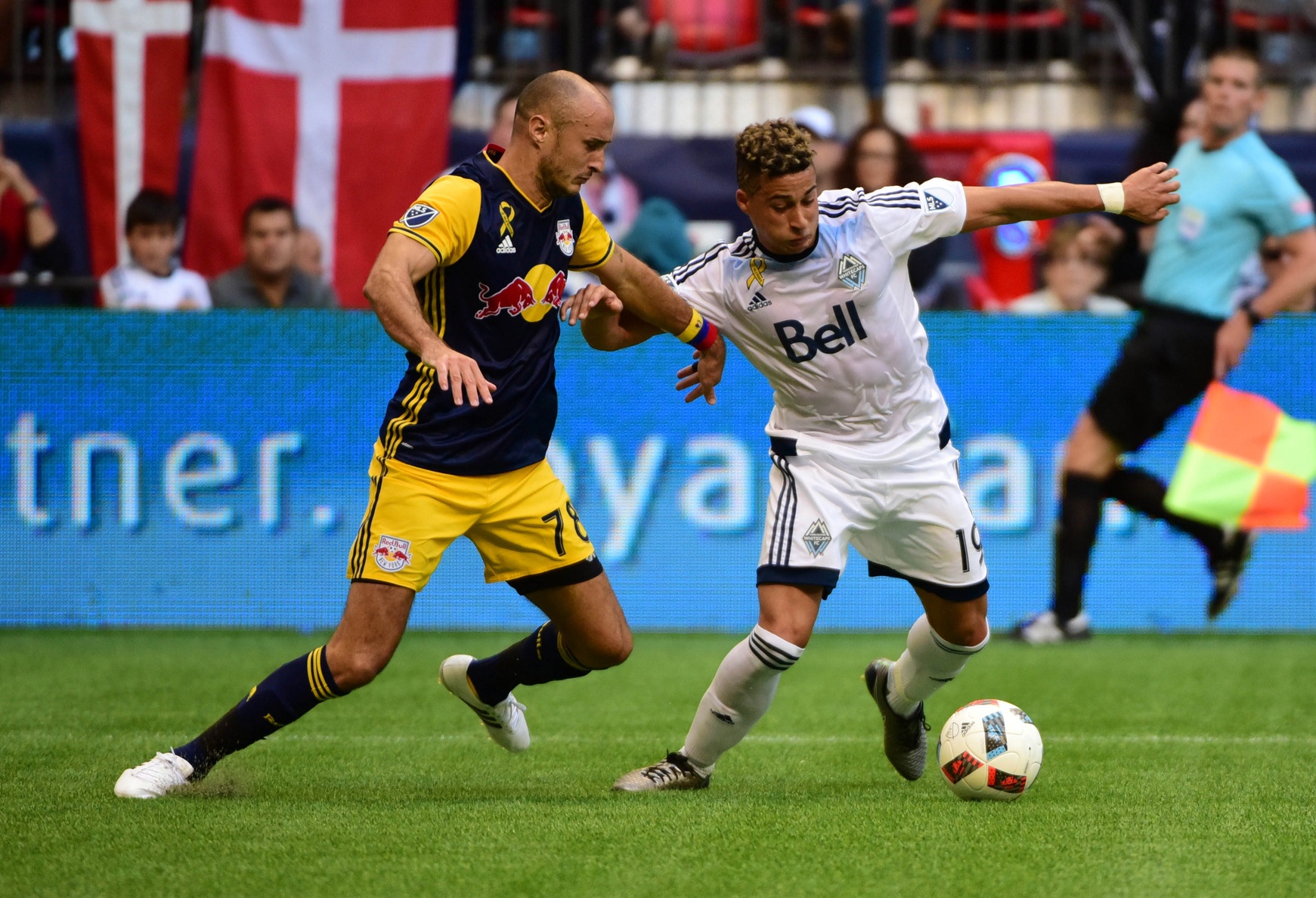 The MLS season has yet to kick off, but two teams are set to get an early start to their competitive season Wednesday night at Red Bull Arena.
The New York Red Bulls welcome the Vancouver Whitecaps to Harrison, NJ as the American and Canadian teams face off in the CONCACAF Champions League quarterfinals. As each team nears the end of its preseason routine and prepares for next weekend's MLS kickoff, they'll face off in leg one of a match that will determine who continues their CCL campaign into the semifinals during the regular season.
Meanwhile, the Liga MX Clausura campaign is well underway in Mexico, where Tigres will welcome Pumas to the Estadio Universitario. While Pumas find themselves in the top half of the table just five points off leaders Toluca, Tigres have not been as fortunate as they've lost four of their first seven to find themselves struggling in the bottom half.
Here's a closer look at each CCL quarterfinal match-up:
NEW YORK RED BULLS VS. VANCOUVER WHITECAPS
The early match of the night takes us stateside for an all-MLS showdown.
Each team won their group comfortably, the Whitecaps over Sporting Kansas City and Central FC, while the Red Bulls had a slightly harder time against Alianza FC and Antigua, setting up a #1 seed vs. #8 seed match-up. Neither team is without injury concerns, as the Red Bulls will be missing midfielder Tyler Adams, who was injured while away on U.S. Men's U-20 National Team duty, as well as defenders Connor Lade and Gideon Baah who each continue their recovery from long term injuries. The Whitecaps will be without the services of Yordy Reyna, who fractured his left foot last week and will be out until at least the summer after surgery.
The good news for the Whitecaps is that they remain unbeaten at Red Bull Arena (2-0-1), one of the very few teams to have success against the Red Bulls in their own stadium, and also lead the overall series between the two (3-1-3). A loss at home would put the Red Bulls in a precarious position as they'd be down on aggregate with an away goal disadvantage heading into BC Place next week for leg two.
The Red Bulls will need to try and consolidate their changing midfield and defensive situations. This will be the first competitive match for the team without former captain Dax McCarty, and with his expected replacement in Adams injured, it'll likely be youngster Sean Davis who is asked to step up. Meanwhile, 2016 USL defender of the year Aaron Long will likely slot into centerback alongside Aurelien Collin.
TIGRES VS. PUMAS
The late match takes us down south of the U.S.-Mexico border, where two Liga MX sides face off.
Both teams escaped their groups as the victors. Tigres cleared their group of three by five points, as Herediano and Plaza Amador cannibalized one another, allowing the leaders to end with three wins in four matches, while Pumas found themselves pushed by H. Progreso, who finished a mere two points behind them. Though Pumas has escaped the early part of their campaign with no injury concerns, Tigres will be without midfielder Luis Martinez. Unlike their MLS counterparts, the Liga MX sides will also need to consider resting a few players during the midweek matches with league games on either side.
The two teams have met 31 times over their histories, dating back to their initial meeting in 2003, with Tigres holding the distinct advantage with a 14-7-10 record. Tigres also have the benefit of having won the last time the two teams met back in late November, with a 5-0 thrashing of Pumas at home. The matches between the two teams have been hotly contested, with seven red cards in the last ten meetings between the two teams.
Pumas will need to find a way to translate their greater league success into a road draw at minimum before the second leg next week at home. Falling behind won't be fatal, but being held scoreless on the road just may be, so expect the visitors to come out swinging as they seek to avenge that last brutal defeat.