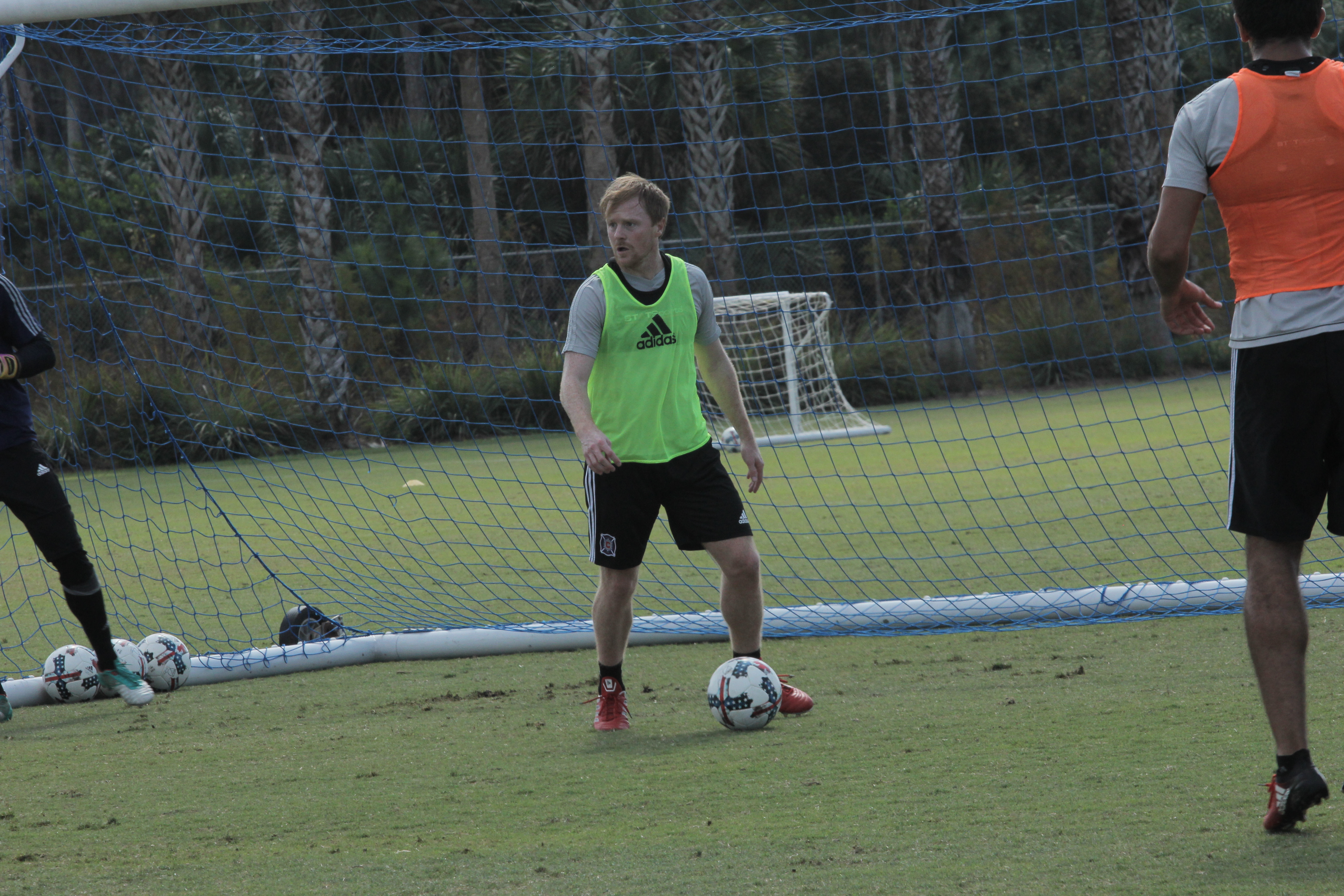 The days immediately following your wedding are supposed to be some of the happiest of your life, but they were not for Dax McCarty. His professional life got in the way of his personal one.
McCarty was abruptly traded from the New York Red Bulls to the Chicago Fire in the middle of January, just days after he tied the knot with his long-time girlfriend Jen and arrived at U.S. Men's National Team camp. The move that saw the Red Bulls part ways with their captain came as a shock to many observers and pundits across the league, but it was just as much of a surprise to McCarty.
Sure, the 29-year-old midfielder had had an inkling since last summer the he could be moved given the potential of up-and-comer Sean Davis. Still, McCarty had not been made aware of any trade talks and as such was blindsided when Red Bulls head coach Jesse Marsch informed him of the news.
"The main part of my emotional side of it was how the Red Bulls handled the situation. I didn't think they handled the situation in a very classy way," said McCarty of the Jan. 16 trade on a conference call on Tuesday. "I've had a lot of time to think about and to try and be measured in how I talk about the Red Bulls because it's an organization that I love, but the main part of my emotional side was just the way that they handled the trade and the way that certain people handled the trade.
"I thought it was not done in an appropriate way, especially for a club and a team that preaches family, a team that preaches togetherness and a brotherhood and having each other's backs."
What hurt McCarty more than that, however, was that he was not given a say in where he was headed next. McCarty knows and understands that MLS is a league in which difficult decisions are made often because of salary cap restrictions, but he thought he had earned the chance to have some input for the next stop in his career after representing the Red Bulls for six largely successful seasons.
"I gave everything for that club, my heart and soul," said McCarty. "I did everything from being in the community, to doing every (public) appearance that they asked of me, to trying to bond and connect with the fans, playing injured, you name it, all of the above. I always tried to represent the club with honor and passion.
"There's the business aspect of it. If you're moving a veteran player on a high salary for business reasons and you have players that you think can step in and do the job that have lower salaries, that are younger, that you need to give minutes to, I'm the first one to say, 'It's a great move.' There's no player that's bigger than any club and that's something I understand full well.
"But I do think that if you're a club that preaches family and you're a club that preaches doing things the right way and trying to treat players the right way then I don't think you go and trade a guy who you say you've relied on a lot and that is your captain behind his back without at least telling him, 'Hey, these are some possibilities. Unfortunately, we have to move you. Do you have any say in the matter? You just got married. You have a wife. This is a big moment in your career.'"
While McCarty is admittedly not happy with the way things played out with the Red Bulls in recent weeks, he is not so resentful to the point that he is eagerly looking forward to playing them this upcoming season. The Fire visit the Red Bulls in their first meeting of the year on April 29, but McCarty said he has not circled the date on his calendar despite acknowledging that it will be an emotional game for him.
As for whether there is bad blood between he and Marsch, McCarty insisted there isn't regardless of the fact that the Red Bulls head coach said last week that their relationship might never be the same because of how the trade went down.
"Certainly, I saw the quotes that he made and I don't really know quite what to make of them because at the end of the day you could tell that it was his decision," said McCarty, who had his first training session with the Fire on Tuesday. "I don't think Ali Curtis had anything to do with the decision. I think it's fairly obvious with the way the club is treating Ali right now, that it's clear for everyone to see that he's no longer part of the decision-making process going on at the Red Bulls, which is a little surprising to me considering he put together two years of one of the best teams in MLS that won a Supporters' Shield and another Easter Conference, so that's a little surprising to me how things are going down with Ali.
"But at the end of the day, I totally respect Jesse's decision to trade me for business reasons, if that's his reason. If he wants to get younger guys more minutes then I certainly agree with it in terms of trying to make the club better and move the club on. But I told Jesse to his face that I didn't think that the way that he handled it was appropriate and it certainly was a big surprise."
McCarty might not be completely over what has transpired, but he has to now quickly put all of this in the rearview mirror. He is currently tasked with getting to know his new teammates at the Fire, and helping the club turn things around after years of futility in the Eastern Conference.
That said, do not expect McCarty to be a savior all on his own.
"You can't do anything as one player to change the culture. It has to be a whole group pulling together," said McCarty. "What I can do is call on my experience. I've been on a lot of winning teams in MLS and unfortunately I've never won the big one, I've never won MLS Cup, but I have been to an MLS Cup, I have been on Supporters' Shield teams, I've been on the Red Bulls who have been constantly contending for Eastern Conference titles and been in the playoffs every year that I was at the club.
"I have experience in trying to make sure that a club is successful and winning, but it's not just down to one player. One player can't win you a championship. It has to be a full effort from everyone at the club."