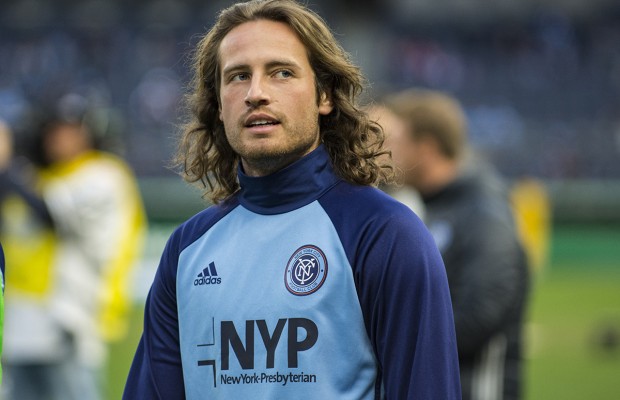 The Mix Diskerud saga at New York City FC has been ongoing for a significant part of the team's two seasons, but may be reaching a close in the near future, if his lyrical Instagram post is any indication.
Diskerud took to social media on Sunday to vent his frustrations about his treatment in a not-so-cryptic, poetic format. Diskerud has not played for NYCFC since the team's U.S. Open Cup loss to the New York Cosmos early in the 2016 season.
https://www.instagram.com/p/BQ_qc5dlLC8/
Diskerud's troubles did not begin under head coach Patrick Vieira, but they've certainly escalated to an alarming degree. After falling out with previous coach Jason Kreis, many thought Diskerud might have a resurgence under the management of all-time midfield great Vieira, but those hopes were short-lived. Vieira entered the infamous U.S. Open Cup loss clearly stating that the match would be a final opportunity for some players.
Indeed, the match proved a huge turning point for the team, who turned their 2016 season around en route to a second place finish in the Eastern Conference, but it also marked the end of the road for several players. Forward Patrick Mullins saw himself traded to D.C. United, where he's thrived, while Khiry Shelton was benched for a prolonged period before earning his way back into Vieira's good graces. Diskerud has not seen any field action since that match and the team has made public their intent to move or release him, a move that would need to occur prior to March 1st to prevent his salary cap from counting against the team.
Diskerud's poem, while not A-plus English class material, certainly puts a voice to his woes, citing MLS roster rules, his large contract, and 'mental games', as gripes against the team's treatment of him.