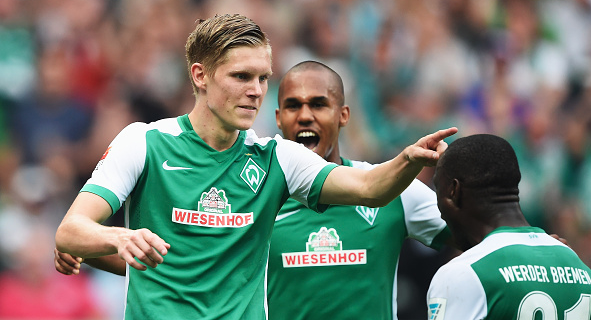 Though he's fallen off the U.S. Men's National Team radar since his 2014 World Cup appearance, forward Aron Johannsson says he's prepared to get back to work following long-term injury struggles.
The Werder Bremen striker spoke out about a number of issues, including his own personal injury issues, as well as the struggles of his team in Bundesliga play this season, reports German paper Kreiszeitung. Sitting even on points with Hamburg SV for the final relegation playoff spot, Bremen has managed to pull just 16 points from 19 matches this year in league play, scoring 24 goals while allowing a league-high 41. Johannsson has only had limited opportunity to help his team, making only 13 Bundesliga appearances in nearly two years with the team, but is optimistic he'll be able to come in and make a difference now that he's healthy.
"It was very difficult for me. Last season I was hurt for many months," said Johannsson. "This was not a good situation either for me or for the club. Now I am working so hard I can to restore the confidence in myself. I want to give something back to the fans and to the club because everyone believed in me. Now I am fit. I played 20 minutes against Augsburg, and during this time I was in good agreement with Max [Kruse]. We can be a strong duo."
Though disappointed with his nagging injury problems, Johannsson credits his teammates, family, and friends for easing his difficulties and states he is completely focused on helping his team survive the relegation battle in which they find themselves ensnared and that the struggles have left him stronger.
"Yes, as a person in any case. As a footballer this is more difficult," Johannsson said. "In such a long time you think: What if I can never play again? It is important to stay positive. The idea motivated me to be back on the pitch and help the team."
"I feel good and am ready to play."