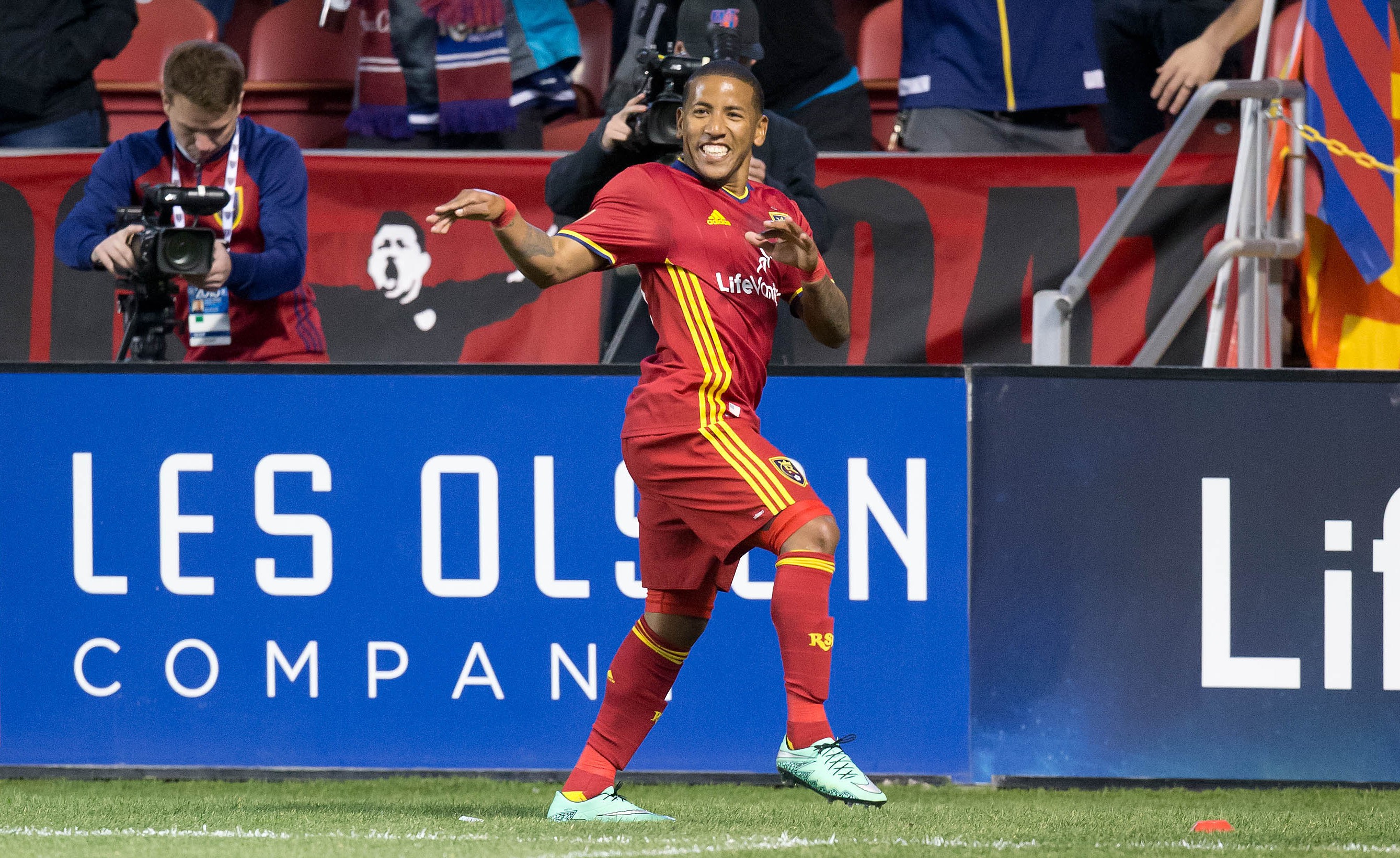 While not a flashy new player, Real Salt Lake completed the re-signing of a key component of its roster, locking Joao Plata up with a new multi-year DP deal.
The 24-year old winger has been a boon for RSL since his trade from Toronto FC in 2013, as he's notched 30 goals and 30 assists in regular season play, leaving him fifth and third respectively in club history. Plata will occupy a DP slot under his new contract, meaning RSL has filled all three slots with Plata, Yura Movsisyan, and Albert Rusnak.
"Any time you can make a long-term commitment between the player and the club on such a promising player with so much attacking ability, you never shy away from that opportunity. The timing was perfect to extend," Real Salt Lake General Manager Craig Waibel said. "He's having a good time with RSL. He continues the mold we've created of solidifying a core group of players that can be here for a long time."
D.C. UNITED BREAK GROUND ON AUDI FIELD
It's an exciting time in the nation's capital, as D.C. United has finally broken ground on its new stadium on Monday afternoon.
The recently-named Audi Field will be the home of DCU beginning with the 2018 MLS season, and the team officially kicked off construction by breaking ground on Monday afternoon. Streaming live on the MLS website, the ceremony included attendance from commissioner Don Garber, Audi of America president Scott Keogh, D.C. mayor Muriel Bowser, as well as coaches, players, and staff of the team.
"We are extremely excited to break ground on this site, a project that has been 21 years in the making," Levien said in a team statement. "Since Erick [Thohir] and I assumed stewardship in 2012 we've been on a mission to deliver to our fans and this community a new, permanent home. We appreciate all of the hard work that has gone into preparing for this moment and can't wait to finally put shovels in the ground at the site of our new home, Audi Field."
WHITECAPS SET TO START NEW SIGNING SHEA IN CHAMPIONS LEAGUE
Brek Shea joined the Vancouver Whitecaps from Orlando City just days ago via trade, but he may be set to make his first appearance this week.
Whitecaps coach Carl Robinson is eager to see Shea integrated into his new team, and is prepared to hand him a start this week in CONCACAF Champions League play on Thursday at home against the New York Red Bulls. The team is hopeful that all necessary paperwork, including Canadian work permit and visa, will be completed ahead of the 48-hour deadline prior to Thursday's match.
"We've brought him in to be involved with this group and if the paperwork's done, we [should see him] on Thursday," Robinson said.
NYCFC ANNOUNCE NEW GIRLS SOCCER ACADEMY
With the women's game growing to new, exciting heights in the U.S., New York City FC is set to launch a new girls U.S. Development Academy team.
Set to launch in Spring 2017, the New York City FC Girls Academy will play out of World Class FC's Orangeburg playing field, an affiliate of NYCFC's youth system, just opposite the team's under-construction City Football Academy elite training facility. With City Football Group also launching Women's Teams in Manchester and Melbourne, the move could be a sign of intent to launch a full NWSL outfit in the New York City area in the future.
"We're delighted to be launching this Academy which will provide high quality soccer coaching, and a genuine pathway to U.S Youth National teams and top collegiate programs." said sporting director Claudio Reyna. "This is a significant moment in the history of our club as NYCFC make a commitment to girls soccer and announce an Academy which we believe will contribute to the bright future of the women's game in the tri-state area. With more than 1.5 million girls playing soccer in the US, including more than 200,000 in New York, there has never been a more exciting time to be involved in the game."
PHOENIX RISING FC ANNOUNCE STADIUM PLAN FOR MLS EXPANSION BID
Though in the middle of winter, Phoenix's MLS expansion bid is heating up after releasing new details for a stadium plan.
Phoenix Rising FC, backing the Phoenix bid, have announced a plan that calls for a "pop-up" USL stadium that will be replaced by a permanent MLS facility if the team lands an expansion slot. The team has secured 45 acres of land for the stadium, which will consist of a climate-controlled stadium, surrounded by smaller fields and with light-rail access, to be built by 2020. The kicker for the proposal is a completely private financing plan, eliminating the needs for any public funding.
"Imagine that beautiful Par-3 with a FIFA qualified soccer pitch in the middle instead," co-owner Tim Riester said. "That's what fans are going to see on March 25 and for the next few years. As soon as MLS gives us the green light for an expansion franchise, we'll break ground on a much larger stadium to meet their requirements, we're ready to go."