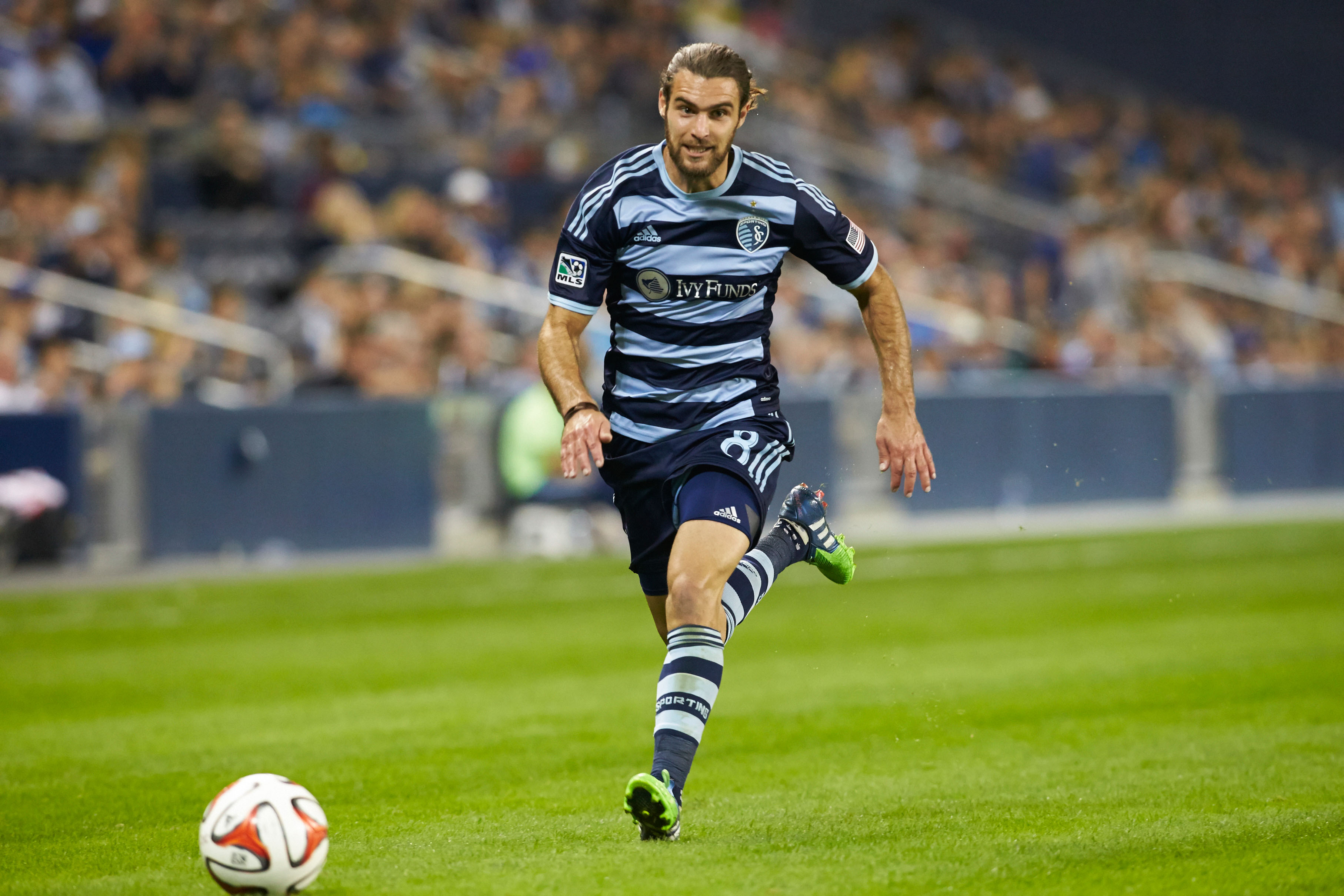 U.S. Men's National Team winger Graham Zusi has been surprisingly used at right back over the team's past few matches, and now he may face a change with his league team, Sporting Kansas City, as well.
Speaking at a Fan Forum on Thursday, Sporting KC head coach Peter Vermes and president Jake Reid commented on several topics, most notably the position of Zusi. Without committing to an answer, Vermes stated Zusi will train in defense, but will also continue to see time on the wing in 2017. Zusi fared well at fullback for the USMNT, well enough to convince manager Bruce Arena to continue work with him at the position moving forward, though it is likely DeAndre Yedlin's to lose.
Reid also commented on the ongoing expansion race, stating he would like to see St. Louis, whose bid is led by ownership group SC STL, receive a team. St. Louis would give Sporting KC an in-state rival, something Reid is eager to facilitate.
CHARA SENT OFF AFTER USE OF VIDEO ASSISTANT REFEREE
About a week after MLS announced testing of the new Video Assistant Referee in select preseason matches, the system has already claimed its first red card casualty.
Portland Timbers midfielder Diego Chara was sent off in the team's preseason game against Real Salt Lake after the VAR system was used to determine he elbowed forward Yuri Movsisyan in the head. Shortly after Movsisyan released a shot at goal, Chara came flying in with an elbow high at the side of the Armenian's head. Initially missed by the referee, the VAR system alerted him to the missed call and after a short break for replay, a retroactive red card was handed out to Chara.
The system previously confirmed a penalty-kick call in another Real Salt Lake match against the San Jose Earthquakes, though RSL failed to capitalize in the 1-1 draw. The system will continue testing through the preseason and will continue offline testing during the first half of the MLS season, before coming into full use following the All-Star Game.
PRO ANNOUNCES MLS OPENING WEEKEND REF ASSIGNMENTS
In a sign that the MLS regular season is quickly approaching, the Professional Referee Organization has announced the assignments for opening weekend, just under a month away.
Most notable on the assignments is Mark Geiger taking charge of the March 5th match between Atlanta United and the New York Red Bulls at Bobby Dodd Stadium. Geiger has previously been a highly controversial target for fans, at one time considered one of the best American refs, but more recently taking heat for questionable calls in 2016.
The full list of assignments can be found on the PRO website.
SABORIO ANNOUNCES RETIREMENT IN TWITTER STATEMENT
After returning to his native Costa Rica to play with boyhood team Deportivo Saprissa, former Real Salt Lake striker Alvaro Saborio has abruptly retired from professional soccer.
In a twitter statement on Thursday, Saborio announced he would step away from his playing career after 16 seasons. After a loss to Costa Rican club Belen in which Saborio missed several chances, he was reportedly berated by fans, prompting his retirement, reports crhoy.com. Saborio, who is RSL's all-time career goals leader, made no mention of the issue in his statement.
"Yesterday I took the decision to retire from from playing professional soccer." Saborio said. "First of all I give thanks to God for all he blessed me with on this path. I feel happy to have have had the opportunity to do what I love since I was a child for all this time. When I was a child I dreamed about becoming a professional soccer player. God gave me a lot more than that and I am completely thankful to him for everything. I want to thank the teammates, coaches, directors, doctors, physiotherapists, massage therapists, kit men, fans, etc. Now I come to a stage of my life that fills me with illusion, happiness and motivation.
"Many thanks to everyone."
— Álvaro Saborío (@al_saborio) February 9, 2017
MLS ANNOUNCES ENHANCED CANADIAN TV DEAL
Building off the 2016 success of Canadian MLS sides Toronto FC and the Montreal Impact, the league has announced a new enhanced TV schedule in Canada for the 2017 season.
Partnering with TSN for English-language broadcasts and TVA Sports for French-language, the two networks have agreed to broadcast a record number of matches in the 2017 season. Meanwhile, the league also added seven matches on Canada's most-watched network, CTV, including the MLS Cup Final rematch between Toronto FC and the Seattle Sounders on May 6th in Seattle.
In total, TSN will broadcast 75 matches this season, while TVA Sports will broadcast all 34 Montreal Impact matches in French and will broadcast more than 50 games total.
D.C. UNITED SET TO OFFER CONTRACT TO TISSOT
With MLS commissioner Don Garber stating that the league would be increasing focus on Canadian Men's National Team players, one such player has already attracted MLS interest.
D.C. United are set to offer Canadian midfielder/defender Maxim Tissot a contract, reports The Washington Post. Tissot, who appeared in 44 matches over four years with the Montreal Impact, most recently featured for the Ottawa Fury in the NASL. Tissot is capable of playing either left midfield or fullback, a position in which DCU is sorely lacking depth.
DCU have reportedly been interested last summer, prompting the team to invite Tissot to their winter training camp.