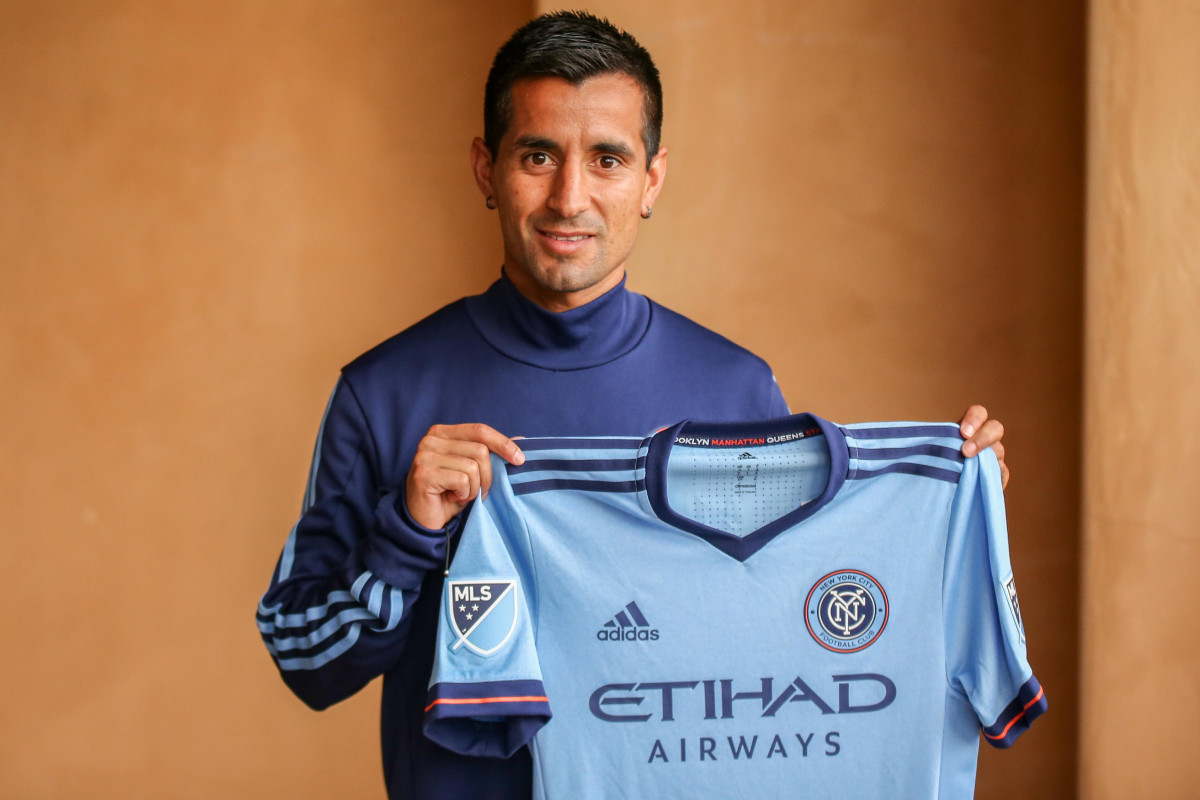 New York City FC supporters have been noisy on social media in the off-season, curious as to what prominent Designated Player the club would obtain to replace retired legend Frank Lampard.
While Maxi Moralez may not rank with Sami Khedira in name recognition, the 5-foot 3-inch attacking midfielder may be NYCFC's most essential acquisition since star forward David Villa.
"His quality is completely different from what we have here," NYCFC coach Patrick Vieira said. "We don't have the kind of players that can combine being direct, really strong and good in smaller spaces. Maxi will bring us that."
Moralez, who began his professional career at the age of 17 with Racing Club in his native Argentina, distinguished himself in 142 appearances with Atalanta in Serie A between 2011-15.
"He is a very, very exciting player," said Ian Joy, a commentator for NYCFC broadcasts who watched Moralez often with Atalanta. "Technically and tactically, he is a very gifted football player. He loves to pick up the ball and run at the defense."
"NYCFC simply doesn't have a player like that," said NYCFC TV analyst Janusz Michallik . "He's a playmaker – a player that can unlock everybody. He's good on the dribble and the 1-on-1 situations. He's the kind of player that can make something out of nothing."
When you consider the diminutive frame and detailed descriptions, there is a natural tendency to compare Moralez with two notable players in Major League Soccer – Sebastian Giovinco for Toronto FC plus fellow Argentine and D.C. United midfielder, Luciano Acosta.
"He's like Giovinco in a way, they can do stuff in tight spaces," said Michallik. "He'll lose you not with his pace, but with his craftiness."
With 18 goals over five seasons in Serie A, it is unclear what kind of goal scoring impact Moralez will have on MLS. Giovinco finished just 14 times over a nine-year period with Juventus before a raucous arrival in MLS that has produced 39 goals in a pair of seasons with Toronto FC. Giovinco was 28 when he signed with Toronto FC , while Moralez is 29.  Acosta will turn 23 this spring.
"I think this guy (Moralez) might be better than Acosta," said Joy. "He's a player that could have gone to a better team in Italy. Had he scored more goals, I think he would have. It's the part of the game that he can improve because he'll get a lot of chances."
Moralez managed six tallies in 34 games at Leon of Liga MX. He endured a change of coaches in his first month when Juan Antonio Pizzi, who recruited Moralez, left suddenly after accepting the managerial position for the Chilean National Team. Add that to a pair of injuries and flack for social media posts that indicated his desire to return to Argentina and a transfer after one season seemed inevitable.
"In addition to the U.S. being one of the best countries in the world, I knew the league was growing," said Moralez, who has played against Andrea Pirlo in multiple Serie A fixtures. "I never expected to be his teammate."
Moralez, who had never been to New York City prior to his physical, will find comfort in the ability to communicate with his new head coach who played for Milan, Inter Milan and Juventus.
"Being able to speak a language he understands is important – we will speak Italian," said Moralez. "It is something that will help me a lot."
While he may need to work on communicating off the field, Moralez will be expected to have little trouble communicating on the field, where his considerable skills should provide a much-needed creative presence to the middle of the park.
"I like the signing," Michallik said. "Most importantly, it's the right buy. If you asked me before the year about the needs, defense was obvious but the next was a playmaker."