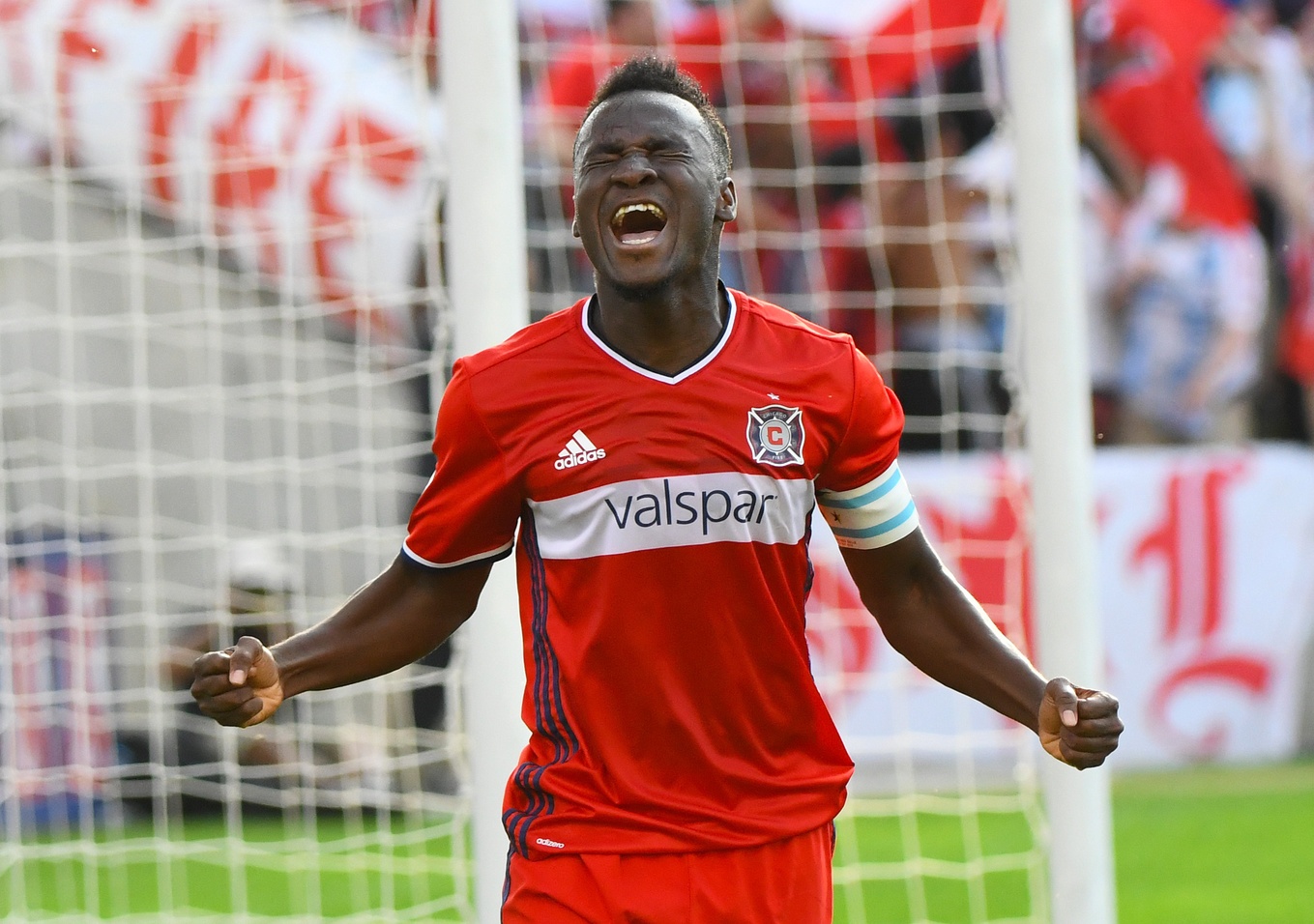 After finishing in the cellar of the Eastern Conference for a second straight season, the Chicago Fire responded by making several major roster moves during the offseason in hopes of restoring the franchise to its glory days.
Big names and MLS veterans like Dax McCarty and Juninho have now joined Veljko Paunovic's squad, while the club's second Designated Player has also been signed in Hungarian international Nemanja Nikolic. But whether these new faces — along with a few others — can help ignite Chicago to a playoff run will depend on how the second-year manager can handle a club that has underwent so much transition as of late.
"We feel better about the team that we have this year than last year," Paunovic told SBI. "Obviously, there is the challenge of the new guys coming along together, getting to know each other better and all that stuff. It's going to take some time, but I think the starting point good. We have the right attitude and understand that it's not going to be perfect every time out but we are working toward that."
The patient approach is similar to that of last year's, but the difference in mentality this season is much more optimistic thanks to the moves made by the Fire's front office. The three aforementioned players each carry with them an esteemed pedigree and experiences of playing in different circumstances, which can only help a Fire side that has struggled to find its identity in recent years.
"I think the group has a better atmosphere now," Paunovic said. "I think all of them are helping and supporting the right values that we have. Values like helping each other work together, respecting each other, taking responsibility and then working all together toward the same goal, which is to be successful this year. These guys bring leadership, they bring different styles of playing coming from different countries, and all of that, I think, will be very helpful to our locker room and our performance."
Here's a closer look at what to expect from the Chicago Fire in 2017:
CHICAGO FIRE SEASON PREVIEW
2016 FINISH: 7-17-10, 31 points (10th in Eastern Conference)
KEY ACQUISITIONS: Dax McCarty, Nemanja Nikolic, Juninho, Jorge Bava, Daniel Johnson
KEY LOSSES: Sean Johnson, Razvan Cocis, Eric Gehrig, Nick LaBrocca, Patrick McClain, Khaly Thiam
NEWCOMER TO WATCH: Nemanja Nikolic — Nikolic made his name in Hungary's first division between 2010-15 when he tallied 87 goals for Videoton FC. A transfer to Polish powerhouse Legia Warsaw followed and the Yugoslavia-born striker added 40 more goals to his résumé in just 56 appearances over two seasons. In 2016, Nikolic made seven appearances for Hungary while recording two assists before the Fire made him a Designated Player in late-December. Nikolic can bring a target man in the attacking third, rather than having the team rely on the likes of David Accam to track down long balls off counterattacks and forced to find scoring chances on their own. Look for Juninho and Dax McCarty to find Nikolic often this season to help Chicago improve its woeful offense from last season.
PRESSURE IS ON: Dax McCarty — It may be unfair to pin the pressure on someone who has yet to play an official match for this club but McCarty's move to Chicago was a blockbuster considering the movement of a player of his caliber. McCarty has had a tremendous run during his five-and-a-half years with the New York Red Bulls and with him comes a tough, winning mentality to a struggling Fire franchise. McCarty will be looked to be a leader for this club immediately both on and off the pitch but there should be little doubt that he can rise to the occasion.
OUTLOOK
The Fire were not able to build a winning streak at all during league play in 2016, and thus, momentum was difficult to build, let alone maintain.
The front office and manager clearly understood that problem as general manager Nelson Rodriguez and Paunovic brought in players who can provide the stability they desperately need to keep the engine running for the Fire in the likes of Juninho and McCarty.
"You always want good players, which there is no doubt we have some on our team, but you also need a little bit of everything," Paunovic said. "You need the experienced guys, guys who are experts in the league on your team. You always need that extra quality, guys who can change the game and I think we have that in the guys we brought to this team."
Both Juninho and McCarty have won the Supporters' Shield with the LA Galaxy and the New York Red Bulls, respectively, with Juninho having an MLS Cup title added to his résumé as well. So for some of the younger guys on the team, their presence in the locker room is clearly welcomed.
"I'd say one thing that we lacked last year was when things weren't going our way, we didn't have some people that would change the game or change how it was going," Jonathan Campbell told SBI. "These guys have been through those times where they can really bring those qualities throughout the year.The other thing with those guys is that they won't have as many ups and downs in my opinion. They will be pretty consistent throughout the year. These guys are steady players that can really bring that quality day in and day out and improve our overall performance."
"The other thing with those guys is that they won't have as many ups and downs in my opinion. They will be pretty consistent throughout the year. These guys are steady players that can really bring that quality day in and day out and improve our overall performance."
Campbell, who was taken as the 12th overall pick in the 2016 MLS SuperDraft, has already caught a few glimpses of what they can expect this year during preseason.
"Dax, if he doesn't like something in a game, he's going to run over to you and say, 'Give me the ball.' And he's going to make the play and be able to change the game," Campbell said. "In my opinion, that's just something we lacked last year, is people wanting the ball in those situations when things weren't going well. I think Dax will be that key difference this year."
With McCarty and Juninho, both defensive-minded players commanding the midfield for Chicago this year, the Fire can be expected to be more aggressive on their counterattacks. That means for players like David Accam, Michael de Leeuw and Nemanja Nikolic, they can afford to ready themselves in better attacking positions whenever Chicago has possession and push the ball forward.
"Right now, the general style of play is we want to be very tenacious and strong on defense," Campbell said. "We want to work hard on defense and being able to get it quick. Not necessarily with the long-ball counter, but with that first pass, getting the ball forward and getting it moving quick into the attack. Honestly, that's similar to what we were doing, but now we have different qualities."
On the other hand of these quality additions, however, there is now a logjam problem for the Fire in the midfield.
Matt Polster established himself as one of the most important players for the Fire since he joined the league in 2015, but he could be fighting for playing time once he recovers from an injury he suffered during the preseason.
"Obviously, everyone has to work his way so he earns the opportunity to play," Paunovic said. "And Matt has been very good so far. I think now he has good models he's surrounded with and he can learn the craft from them. The season is long and I think as long as everyone keep the hardworking mentality and chase after opportunities in training, everyone can have a role on our team."
And whereas there's depth in the midfield, the Fire might be a bit thin at the right back position. Johan Kappelhof showed the capability of filling in that spot at times last season, but his strength remains being a centerback, which will force Paunovic to give a few different looks at his backline.
"We know we have deficiencies (at the right back position)," Paunovic said. "We have Johan, but that's not where we want to play him mostly. You can always rely on him because he's a very good professional and he proved that last year with us in some games, but we also have guys like Michael Harrington and people we brought to our camp on trial. So we are going to be looking for players to improve that position to give us more depth."
Of course, there's still that third and final vacant DP spot the Fire could put to use, but Paunovic has yet to find a right man for that job.
"The roster is not closed, we still have space on the roster to fill and space in our budget," he said. "We are looking to find the right piece for us in this preseason but we are not crazy about it. We will keep working with our scouting department and Nelson Rodriguez on that, but as of right now, we work with the guys we have."
PROJECTED STARTING LINEUP