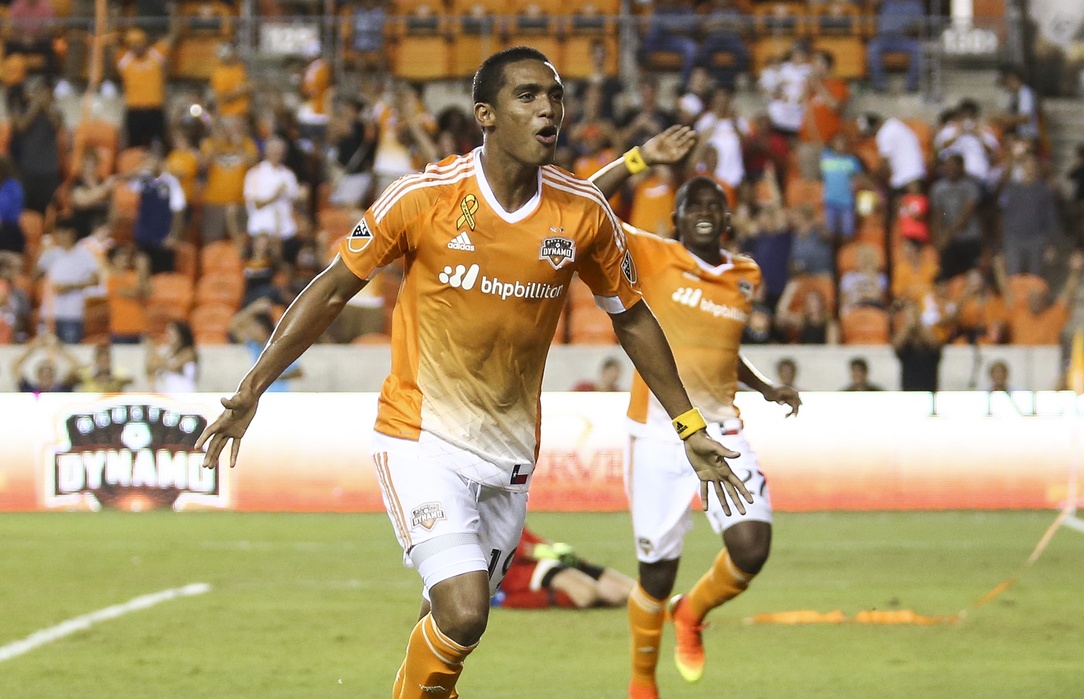 Missing the playoffs for a third consecutive season called for some massive overhauls within the Houston Dynamo franchise, and the club's vice president/general manager Matt Jordan didn't shy away from making moves during the winter to help right the ship.
Jordan first stopped the coaching carousel by hiring former Chivas USA and U.S. Under-17 head coach Wilmer Cabrera to take over the helm. Cabrera, who led Houston's USL affiliate, Rio Grande Valley FC, to a second-place finish in the regular season in 2016, brings a vast coaching experience with him and also a steadfast philosophy to a Dynamo squad that desperately needed some consistency.
"We have to have a balanced team," Cabrera told SBI. "We are never going to be too good at attacking but bad at defending, or too good at defending but bad at attacking, or too good in possession but they don't create anything. What I would like to see is a balanced team, and that has to come from the players to identify that."
Houston opened last season guns blazing by scoring 11 goals in its opening three matches under head coach Owen Coyle, but the offense quickly sputtered and the defense began to collapse before Coyle left the club in late-May to return to England. Assistant coach Wade Barrett took over as the interim head coach for the remainder of the season but was unable to help the team climb out of the Western Conference cellar.
Heading into 2017, however, the Dynamo will have a fresh look to their squad with several key turnovers on their roster. Out went guys like Will Bruin, Cristian Maidana and Rob Lovejoy and in came names such as A.J. DeLaGarza, Leonardo, Alberth Elis, Juan David Cabezas and Adolfo Machado, giving the club more of a Latin/South American flavor with Cabrera in charge.
"The guys that have arrived here come from different backgrounds because they've been doing very well in where they've been," Cabrera said. "Also they are hungry to come over here, especially to Houston, and continue to be successful. Those are the type of guys we were looking at. Doesn't matter where you're coming from, if you're able to make a difference and impact the game in Houston, you can be a part of the Houston Dynamo team."
Rebuilding any franchise will take time and patience, and that is something understood by all within the Dynamo franchise, but for Cabrera, he feels content knowing he'll get to take that first step with a squad of his preference.
"Every player that is on the Houston Dynamo roster are players we wanted," he said. "That is key because we want to express that to them and for them to know that they are all here because we want them here."
Here's a closer look at what to expect from the Houston Dynamo in 2017:
HOUSTON DYNAMO SEASON PREVIEW
2016 FINISH: 7-14-13, 34 points (10th in Western Conference)
KEY ACQUISITIONS: A.J. DeLaGarza, Alberth Elis, Leonardo, Juan David Cabezas, Adolfo Machado
KEY LOSSES: Will Bruin, Cristian Maidana, Rob Lovejoy, David Horst
NEWCOMER TO WATCH: Alberth Elis
Brought in as a Designated Player via loan from Liga MX's Monterrey, the 21-year-old Honduran international can provide some pace and creativity on either wing to a mundane Dynamo offense from last season. Though still a young prospect, Elis has already had an impressive career so far with three goals in 13 international caps, three goals in 10 CONCACAF Champions League appearances and 25 goals in 62 appearances for Olimpia prior to his transfer to Monterrey. Elis could make an immediate impact in Cabrera's 4-3-3 as he works between two of the better players for Houston last year in Alex Lima and Mauro Manotas.
PRESSURE IS ON: Erick Torres
There's history between "Cubo" Torres and Cabrera as the two linked up in Chivas USA's final year in MLS in 2014. Under Cabrera's guidance, Torres tallied 15 goals in 29 appearances that season, putting his name on the map and paving the way for his signing as a DP for the Dynamo. Torres, however, was unable to find that form from 2014 after joining Houston as he made just seven starts in 22 appearances due to a couple of loan spells, while unable to score a single goal in MLS. If Torres cannot re-discover the better version of himself on the pitch under Cabrera's helm, then it might not bode well for the 24-year-old's future with the club.
OUTLOOK
Uncertainties cloud the Dynamo heading into the upcoming season. With a revamped backline, new pieces in the attacking third and a goalkeeping battle that seems yet to be resolved, how this squad shapes up by its first match remains somewhat of a mystery.
The biggest change for Houston in 2017 is undoubtedly its defense, as a new group will be looked at to adapt to Cabrera's system with only DaMarcus Beasley as a returning starter.
Guys like Adolfo Machado, Leonardo and A.J. DeLaGarza are prime options to line up next to Beasley for the most parts, and together, they bring a plethora of experience with them. Both Leonardo and DeLaGarza carry a winning mentality with them from their days together with the LA Galaxy, while Machado boasts 67 caps with the Panama national team plus four club titles from his days with Deportivo Saprissa in Costa Rica. The four make up a battle-tested backline for the Dynamo, but that is not to say they won't be prone to mistakes that come with jelling with a new group.
Backing those guys up will be other options like Jalil Anibaba, Dylan Remick and Agus. There may not be any surefire options for Cabrera to throw out week after week within this group, but he definitely has some depth to tinker with to find some consistency on defense this year.
Whose voice will be guiding that backline on the pitch remains to be seen, however, as Tyler Deric and Joe Willis continue to force the hands of Cabrera and his staff over which one of them deserves to stand in front of goal.
Last season, when Deric missed time due to suspensions and injuries, Willis showed little problem filling in for him. A preseason injury set back Willis' progress a bit, according to Cabrera, but a healthy, competitive battle internally across all positions is something encouraged and welcomed by the Houston head coach.
The same would apply to the midfield, where guys like Alex Lima, Boniek Garcia, Ricardo Clark and newcomer Juan David Cabezas will be jockeying for the three spots in Cabrera's formation.
Dynamo fans saw last season what Alex can provide for the club when he's in prime form his continued progression should make him a reliable option week after week. For some of the other players, it's a chance for them to accentuate their individual strengths and bring some unique offerings to the table.
"Every year, I'm trying to grow as a person and as a player. Just take that leadership role one step further each year," Clark told SBI. "This year, I try to take it upon myself to be a little more vocal with the guys, just kind of try to pass on a little bit of what I can."
Clark, who has been with Houston since the club's inception in 2006, understands the importance of that quality he can bring to the team and said he hopes to spread that around to some of the younger, newer faces on the squad now.
"I've been more of a lead-by-example kind of guy, but I understand that there's got to be a balance between the vocal part and the action part," said the 34-year-old who won back-to-back MLS Cups with Houston in '06 and '07. "That's what I'm trying to do. Just lead and guide players the best I can with the little bit of experience that I do have and hope that they take it on board."
One of the younger guys that the Dynamo will be hoping to take the next step is Mauro Manotas. The 21-year-old Colombian forward finished the season strong last year by bagging all six of his goals after September. Manotas will have some help this season in Alberth Elis and Romell Quioto — another newcomer — as prime options on both wings to become a more dynamic striker, and that is something Cabrera hopes can come to fruition through his system.
"Guys like him and Alex Lima, they just need to continue doing what they've been doing and adapt to the style of play we have," Cabrera said. "They don't need to change their style of the game, they just need to work as a team together and continue to bring what they brought last year, only now we have to do it with all the players."
As for the puzzle that is Erick Torres, Cabrera admits there's no magic touch he can provide to bring Torres' best out of himself again, but he believes with the right attitude, the 24-year-old has a chance to regain his Chivas USA form.
"Mentally, we are going to give confidence for everyone, but nothing else," Cabrera said. "They have to be professionals enough to bring what they can bring on the field for us, for themselves and for the club. It's that simple."
Houston's fall from grace in recent years is a bitter pill to swallow for its fan base, but Cabrera believes this new crop of players can help re-ignite the Dynamo faithful's enthusiasm again.
"I'm excited for the players that we have acquired," Cabrera said. "I'm excited to see them perform at every stadium across the country and also at home. Just with that energy and that mentality of trying to perform in the best way with the team, I'm excited to see that. And that's the way we are working right now, thinking they are always going to be the same way with their energy, same mentality and the same structure, both at home and away. They're going to be the same team. If we can do that, we're going to be happy with that."
PROJECTED STARTING LINEUP