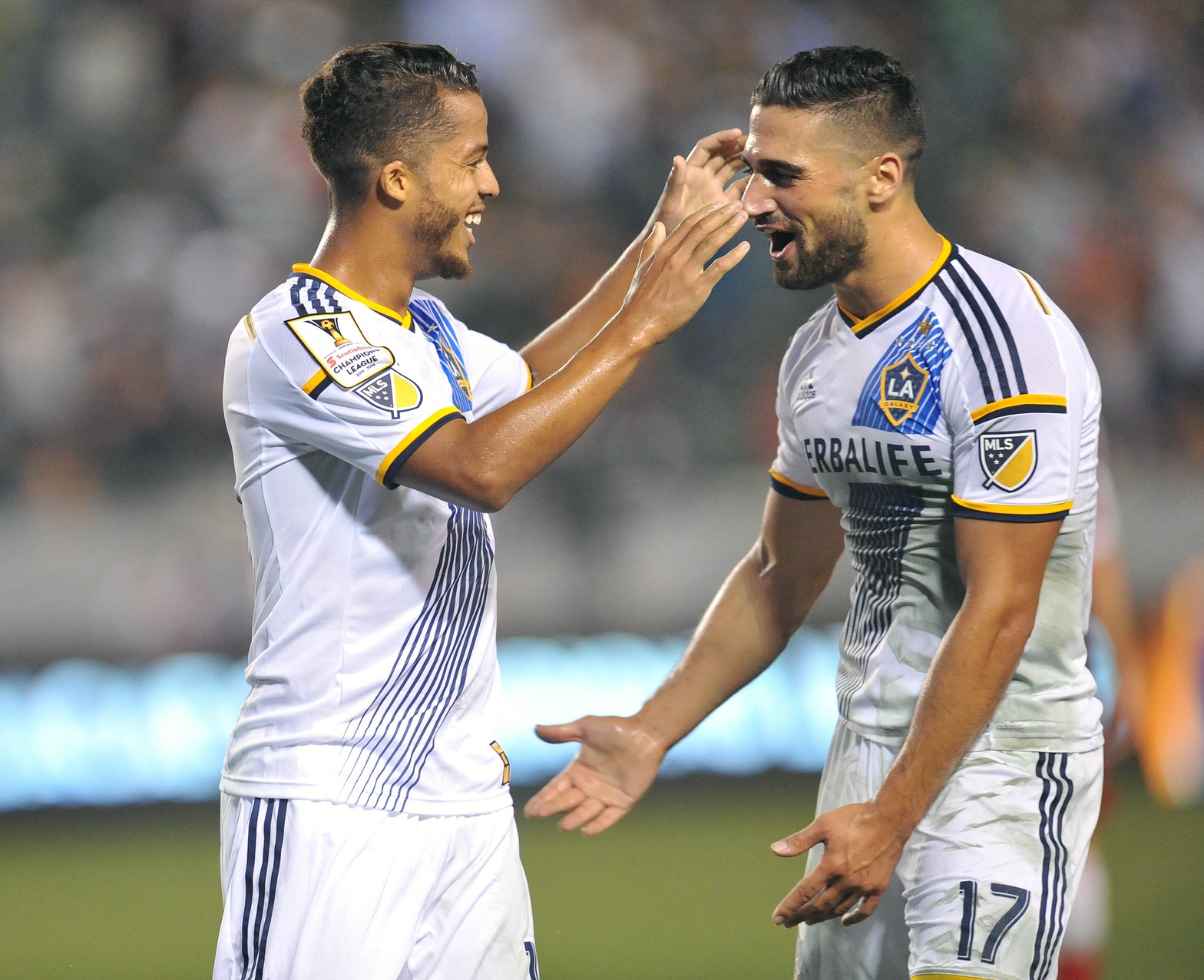 All eras eventually end. No matter how hard you try, how much effort you put in, eventually, there has to be a changing of the guard. There's uncertainty, sure, but any great era, at some point, moves on.
The Bruce Arena era is officially over for the LA Galaxy, and the club is hoping the Curt Onalfo era will simply continue the progress made under the current U.S. Men's National Team manager.
"Every coach does things differently," Onalfo told SBI. "Every coach has an identity and a way of doing things. Although I've worked and spent a lot of time with Bruce Arena, I have a little bit of a different way of working. It's a hard thing to talk about, but we're certainly different than we were and it's going very well."
"He's going to continue what Bruce has left behind, but maybe throw in a few things," Galaxy midfielder Sebastian Lletget told SBI. "We're going to come across difficult times, a lot of good times as well, but some difficult ones during the season as any team does. We'll see how we'll all deal with that, and that's what it will come down to."
Arena is far from the only key departure for the Galaxy, who enter 2017 with a new-look roster loaded with new contributors. Gone are veteran stars like Robbie Keane, Steven Gerrard, Landon Donovan and A.J. DeLaGarza. In their place come a pair of foreign stars and a USMNT veteran who finally sealed his move home.
Romain Alessandrini brings the star power and, even if his name isn't as big as a Gerrard, Donovan or Keane, his game should suit the Galaxy nicely. Joao Pedro will handle the dirty work after making his name in the Portuguese league. Jermaine Jones? His game is well known.
It's a new era, a new way of doing things but, at the end of the day, the Galaxy expect more of the same.
"It's a breath of fresh air more than anything," Lletget said. "I think Bruce did an amazing job with the Galaxy and proved it with multiple years of success, but maybe it was his time to move forward again. Curt has done really well with the guys and everyone feels united. There's no segregation with this team, which happens. I think everyone is involved and feels important. He's done a good job with that.
"We're a real team this year, "Lletger said. "We're going to have to depend on a lot of guys, especially the younger ones that are stepping up. They're going to come into big games and make a difference and we expect things from them as well. We're going to need everyone. It's cliche to say 'it takes a team', but it really does. I think that, moving forward, we're going to really need everybody."
Here's a closer look at the LA Galaxy:
LA GALAXY SEASON PREVIEW
2016 Finish: 12-6-16 (3rd in the West)
Key Acquisitions: Romain Alessandrini, Jermaine Jones, Joao Pedro
Key Losses: Robbie Keane, Steven Gerrard, Landon Donovan, Alan Gordon, A.J. DeLaGarza, Mike Magee, Jeff Larentowicz, Leonardo
Newcomer to Watch: Romain Alessandrini
The French winger may not have the star power of a Steven Gerrard or a Robbie Keane, but he certainly has the game. Alessandrini is another representation of a new wave of Designated Players, stars that are joining MLS in their prime. The 27-year-old was a key figure at Rennes and Marseille and, with his combination of technical ability and pace, he should provide a welcome boost to the Galaxy's attacking unit.
Pressure Is On: Giovani Dos Santos
With the departures of Keane and Gerrard, Dos Santos is almost certainly the face of the franchise. His first season wasn't always what was expected, but the Mexican star stepped up in a major way in 2016. Dos Santos scored 14 goals while providing 12 assists in 2016 as he performed like the player that many expected to step in and dominate MLS. Now, the task is repeating that while asserting himself as a legitimate leader for years to come.
OUTLOOK:
Every offseason brings questions, and the Galaxy have their fair share, even aside from the regime change.
The departures of Gerrard, Keane, Donovan and DeLaGarza in particular leave an obvious void in veteran leadership. The latter three had been integral veteran figures throughout the Galaxy's unprecedented run of success, bridging the David Beckham era with the team we're seeing today. Now, the team will need a whole new set of leaders, and Onalfo is confident he has them.
It starts with defender Jelle van Damme, Onalfo says, who immediately became one of the league's best defenders last season. Ashley Cole provides world-class experience at the left back position. Jones will sit smack in the middle of it all, serving as one of what Onalfo sees as several players that represent extensions of himself.
But the key? That's dos Santos. The Mexican star was dominant last season, stepping up to become the team's premier scoring option. Now, though, he earns even more responsibility as he takes the reigns and makes the team truly his own.
"He's such a talented player," Onalfo said. "It's a matter of building off of a very good season last year and continuing to do it consistently and performing at a level that we know he can. His mentality has been great, his workrate has been very good. He's led by example."
"At the end of the day, when he's on the ball, good things happen, so it's a matter of us making sure he's on the ball as much as we can to help him be effective," Onalfo said. "We know when he's in the attacking third and has the ball and is getting on the end of things, we're very dangerous."
Dos Santos certainly has help, especially on the attacking end. Sebastian Lletget is riding high fresh off USMNT camp and is expected to contribute more in terms of goals this season. Currently injured, Gyasi Zardes' return will provide another scorer, one who can be deployed in a variety of ways.
Allesandrini is the new face, though, one that has all the makings of LA's next big star. The French winger brings a high-octane dose of speed as well as the intelligence and top league experience to stand out in a talented attacking group.
His arrival was delayed a bit due to visa issues, and the Galaxy are working hard to catch him up to speed but, once he's there, the club feels they have a potential world-beater on their hands.
"It's a matter of each day getting him to understand better how we play on both sides of the ball," Onalfo said, "But, having said that, the initial findings are that he, in a short period of time, you can see how tactically astute he is with what we want on both sides of the ball. He's really a great attacking option that has so many strengths. He can beat you on the dribble, combine, and he's very good in front of goal. He immediately made our team better.
"A lot of people get too caught up in formations and it's more about how you move on both sides of the ball. That takes time," he added. "It takes time to understand each other and get those little details down in terms of movement. I'm very pleased with how that's unfolding. I think our midfield is very good, a big strength of our team, and I think it will continue to be a big strength."
The midfield will be led by Jones, who will likely play slightly ahead of Portuguese import Joao Pedro. Pedro will almost certainly do the dirty work in the center of the field, doing the simple things, according to Lletget. Those simple things allow Jones to roam and create havoc in the best way possible. Jones is a guy that leads by example, Lletget says, and his game is one that remains high-energy, even at his advancing age.
Defensively, the Galaxy will rely on Van Damme and Daniel Steres, who made the leap from LA Galaxy II to the senior team in a big way last season.
As the former coach of Galaxy II, Onalfo has worked with several of the group's youngest stars for years. He's been with the organization for six years in total, three of which were spent developing the club's finest prospects with the USL side.
Now, he is tasked with implementing them. He says each and every player that has earned a spot on the roster has earned his trust, even if he knows that some will require patience. Young players  like Hugo Arellano, Raul Mendiola, Jack McBean and Jose Villarreal will have to earn their time like any other player but, when that time comes, Onalfo has faith that they'll grasp it with both hands.
"We have older, more experienced players and we have a lot of middle players that are in their prime," Onalfo said, "and then we have a slew of younger players that are basically from 18-23, if you talk about Hugo Arellano, who is our youngest player. What those younger players do is they bring energy, vitality, and they bring up the intensity of training and that's a valuable thing.
"Quite frankly, they're all talented. They're here for a reason," Onalfo said. "We're not just promoting players that aren't deserving of it. They're all deserving of it. When you have an older player and you have a younger player coming in, it reminds you of how things were when you started, so it brings a freshness that is very important to team building and building an environment where we're pushing guys on a daily basis."
Lletget says the goal this season is to "dominate games" and keep possession. The Galaxy haven't always been a possession-based team, but with the roster they have, every moment on the ball has the potential to be a dangerous one. Dos Santos and Allesandrini are on a different level when the ball is at their feet, and the Galaxy will need to maximize that.
It'll be a long season, one which will certainly see ups and downs. With new faces, and a new regime, leading the way, the Galaxy may face bumps in the beginning, but they remain confident they can be where they need to be in the end.
"For me, it's pretty simple: it's improvement on a daily basis," Onalfo said. "It's not how you start the season or what your form is in the beginning of the season, but it's how you continually improve and get a little bit better at every aspect of the game. How can we be tactically better everyday? How can we be individually better every day?
"It's a lot of self-reflection, a lot of coaching, a lot of training and all of the things that go into it, and you obviously need to stay healthy. There are a lot of factors that go into it, but if we come from a space where we want to get better each day, that's how you become a championship team."
PROJECTED STARTING LINEUP