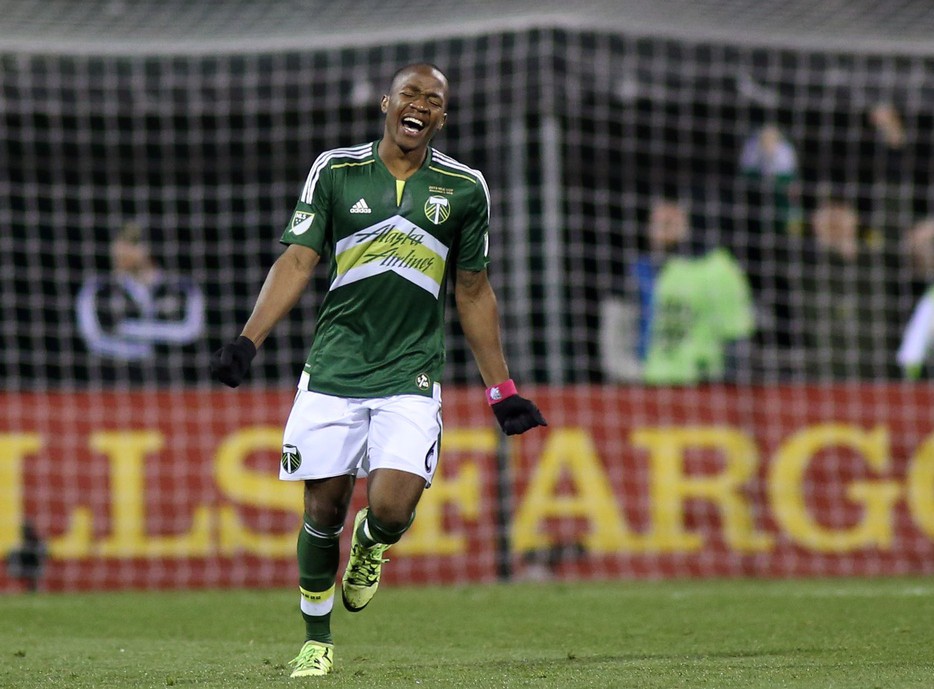 The Portland Timbers entered the 2016 season on top of the world. They had just captured an MLS Cup championship, and a majority of the team's starters returned as they moved into their title defense. They felt confident that, if things went to plan, they'd contend once again.
Unfortunately, they didn't for a variety of reasons. Chief among them? A series of debilitating injuries, ones that left the team consistently shifting pieces around. At home, they were almost unstoppable but, on the road, they lacked the confidence and identity that made them champions. In the end, they fell short, missing the playoffs.
Head coach Caleb Porter, like any coach would, looks at those injuries and what might have been. However, those injuries didn't doom the Timbers in 2016. Rather, it was their depth, or lack thereof. After seeing a number of key contributors off the bench picked away in the run up to 2016 due to salary cap constraints, Porter says the Timbers took a long hard look at what it took to be contenders as they moved into 2017.
"That was a huge initiative this offseason: to rebuild our depth," Porter told SBI. "It's not just to be covered but to stimulate the competition and ensure there's a hunger in your squad.  I look at last year, and I think there were times where there was a complacency. Maybe it's five percent and, typically, it only happens, for some reason on the road, because we won 12 games at home, but there was a five percent drop off in hunger at times and the way I see that being countered or corrected is having guys that are fighting and training every single day.
"All of a sudden, if you get a couple of injuries and you have to change everything you do because of that, that's what happened last year. When we were healthy, we were as good as ever. People will forget that, but we played some of the best soccer we played last year when we were healthy. When we weren't healthy, we had to change how we played. When we changed how we played, we played low-pressure and we were more reactionary than we wanted to be. This year, we want to get back to playing in a consistent way."
To that aim, the Timbers brought in some major talents, players that step right into the team's starting XI. From day one, Sebastian Blanco is expected to be one of the league's premier playmakers alongside Diego Valeri and Darlington Nagbe in a top midfield attacking trio. David Guzman provides the team with a top No. 6, one with experience as a member of the Costa Rica national team.
It wasn't just the big guns. The Timbers brought in faces both new and familiar. MLS veterans like Lawrence Olum, Chance Myers and Roy Miller add a certain presence to a backline that remains a question mark. Goalkeeper Jeff Atinella, who previously backed up Nick Rimando at Real Salt Lake, provides healthy competition for incumbent Jake Gleeson.
I've honestly enjoyed this preseason more than any preseason I've been a part of," Porter said. "Believe it or not, it's been five seasons now and I've spent time building the team to prepare for the first game. I'm enjoying this group. It's a great group, a lot of energy. There are some young hungry guys, a lot of energy, some new pieces that I think have stimulated the competition.
"We've added some starting guys and we've returned a lot of guys that have been here which is nice as well from a continuity standpoint. There's just seems to be a different energy, a different hunger in the group. We're coming together really nicely."
Here's a closer look at the 2017 Portland Timbers:
Portland Timbers Season Preview
2016 Finish: 12-14-8 (7th in Western Conference)
Key Acquisitions: David Guzman, Sebastian Blanco, Jeremy Ebobisse, Michael Amick, Jeff Attinella, Roy Miller, Sebastian Blanco, Lawrence Olum, Victor Arboleda, Chance Myers, Rennico Clarke, Kendall McIntosh, Victor Arboleda
Key Losses: Nat Borchers, Chris Klute, Steven Taylor, Jermaine Taylor, Chris Konopka
Newcomer to Watch: David Guzman
The Costa Rican midfielder fills a vital need for the Timbers, offering plenty of flexibility in what is suddenly a very good central midfield unit. The presence of a true No. 6 allows Diego Chara to roam freely, letting him play full-field destroyer behind Diego Valeri. With a lack of quality centerbacks, at least for the time being, Guzman's dirty work is imperative to shoring up the defense while linking to a talented group of game-changers atop the field.
Pressure Is On: Darlington Nagbe
Caleb Porter says Nagbe will be switched to left wing, a position he believes suits his game better than those played in previous years. From that spot, Nagbe can cut in centrally to create while helping defensively with any player he's up against on that side. The 2016 season, in someways, was a disapointment for Nagbe following the highs of 2015, and Porter believes the position switch could be the key to finally unlocking Nagbe's limitless potential. There will be pressure on Nagbe to step up and take that actual next step, especially following an offseason that saw him courted by Celtic. If Nagbe is to generate more European interest, and U.S. Men's National Team looks, he'll need to produce once again on the club level alongside a very talented group of midfield options.
Outlook: 
For the past several years, the Portland Timbers have been constructed to rely on their spine. It was a spine that was good enough to turn them into contenders and, ultimately, champions, but it was a spine that was fractured in 2016 as the Timbers bumbled out of the postseason race in the season's final weeks.
Now, several months later, the Timbers spine has been refined and reformed, but the big question remains at the base.
Following the season-ending injury to Gbenga Arokoyo, the centerback position is suddenly a very big weak spot for Caleb Porters' side. Liam Ridgewell remains one of the league's more reliable defenders, even after a tumultuous offseason, but at 32, the Englishman's decline is coming. It may not be this year, and the Timbers hope it won't be, but even with a top-notch Ridgewell, there's major doubts alongside him.
A trade for Lawrence Olum provides the most likely answer, but there's still lot to analyze when it comes to the centerback position. Timbers II signing Rennico Clarke is also an option, but Porter says he's weary about throwing Clarke into the fire at a position that punishes rookie mistakes. Zarek Valentin, Amobi Okugo and Roy Miller are also on the roster, but the three MLS veterans are likely viewed as depth.
"That's obviously the one position right now where we're thinking we need a piece," Porter said. "We're looking and we have targets and we're deep in conversations right now. I'm confident that we will add a piece before the year."
In the midfield, the Timbers made two massive signings. David Guzman should hold down the No.6 spot, giving the Timbers a much-needed defensive presence in the midfield. The Costa Rican international comes at the perfect time, Porter says, with a World Cup on the horizon, and he fits a need.
For years, Porter has looked for a true No. 6. Players like Will Johnson and Ben Zemanski have been solid, but they've always been No.8s playing next to each other. Guzman, meanwhile, has a true defensive mindset while also possessing the skill on the ball necessary to make the Timbers tick.
"I felt strongly that we needed a true 6 to make this work," Porter said. "We need two ball-winners behind Valeri for him to be at his best. We had to somewhat adjust our tactics at times and go more direct because we don't have that pivot player, that guy who can connect our attack and our buildup but also protect our defense.
That's why Guzman was our first signing. There are a lot of guys who are ball-winners but aren't good on the ball. We needed somebody who was good on the ball, good defensively and also smart positionally and we feel like we got all of those things in Guzman. He spent a lot of years winning titles in Costa Rica and we feel like we got him at the perfect time.
The big player, though, might just be Sebastian Blanco, who Porter says reminds him of the Diego Valeri the Timbers first acquired from Lanus. Now, Blanco will play alongside of him on the right-hand side, giving the Timbers a three-headed monster in the midfield.
Porter says the process to bring Blanco from Argentinian side San Lorenzo to Portland was a long one. Even after the vetting process, the Timbers looked at over 50 different wingers. There were lots of types and styles, but the Timbers knew they weren't looking for a one-versus-one player that brings just power and pace or a No. 10 that was simply being shoved out wide. They needed a creator and a scorer that can also play on the outside, kind of like Blanco.
"It's no secret. Last year, we got goals out of Valeri and Adi, but we didn't get enough goals out of the wingers," Porter said. "I really felt strongly about getting a winger that was the right fit. A guy that could score goals, that could get crosses in, that could go 1-v-1, a guy that could help us keep the ball, a player that can come in and play like a play-maker, a player that works hard defensively."
The rest, generally, remains the same. Diego Valeri remains one of the league's premier midfield creators, a player that can still turn a game with a pass or a shot from anywhere in the attacking third. Darlington Nagbe is a player expected to produce, especially from a newer, more permanent position. Fanendo Adi remains the focal point up front having scored 41 times in 90 games.
"For me, it's pretty simple," Adi told SBI. "I'm lucky to have these great players behind me. It's amazing. Darlington on the left, that won't change how he plays. He's a great player that can go anywhere. We're just looking forward to the combination. Now in preseason, this is where every player tries to improve and just get out and the addition of Blanco, he's a great player that does well with his left or right foot.
"There's guys like Chara back there and there's a guy in Guzman back there as well. I'm lucky to have them all behind me. They'll make my job quite easy and I'll try to make their job easy by getting them the ball. My job is to run into the box and try and get into the right position to finish. It's amazing to have these players to play together."
The system, generally, will see Nagbe, Valeri and Blanco sitting behind Adi, but Porter says there's room to add wrinkles. The head coach says his backup plan will be a 4-4-2, where Adi joins either Jeremy Ebobisse or Darren Mattocks up top, giving the Timbers a two-pronged attack with plenty of athleticism and force.
Adi says he's liked what he's seen from the young Ebobisse, and has already spoken to him several times about adapting his game to the MLS level.
"That's not impossible," Adi told SBI. "It's definitely a chance that the coach will see us together as a possibility. Why not? He's a great player. I've played with him in small sided games and I see the determination he has and the way he has improved and how he's learned to move and do the right thing. Playing alongside him is something that is up to the coaches.
"My job is to help him with the things he has to do, resting well and doing the right things on the pitch and off the pitch. I think he's a good talent and he's going to improve tremendously and be a great addition to the club. He's a player, and as an older player, it's about helping him out. It's just to encourage him and keep him going."
When MLS Draft day hit, the Timbers moved mountains to get Ebobisse, a young U.S. international that Porter believes can be great for years to come. They also added in youngsters like Clarke, Michael Farfan and Victor Arboleda add a dose of energy to the team from Timbers 2. Porter says his goal was to have a player under the age of 21 in the top 3 of every position on the depth chart and, as the season looms, he feels he has it.
Farfan currently sits just behind Lithuaninain international Vytautas Andriuskevicius, while Clarke is in the mix at a weak centerback position. Draft pick Jeremy Ebobisse joins Darren Mattocks and Fanendo Adi as forward options while Arboleda will get opportunities at the wing position.
"I've done a better job of not blocking some of these guys, but we've also done a better job of having young players," Porter said. "You can only play young players if you have them, and I love young players. I've always had young players. I've coached the youth national teams and I've coached in college and developed over 20 guys for MLS. I love young players, but we've never really had any young players to play, so I'm excited that we finally do and I'm looking forward to giving them opportunities when they earn it."
He's seen those dividends early. Porter has been pleased with what he's seen during the preseason. The Timbers have played just how he's wanted them to play, dominating in possession while keeping the pressure high.
Now, the task is keeping that mindset heading into the regular season and, if they do, Porter believes his team can get back to where it needs to be in 2017.
"It's simple. We have to go to the playoffs because that's the No.1 objective," Adi said. "Of course, when you're in the playoffs, you also have to push for the Open Cup and the Supporters' Shield. These are all winnable. The goal for this year is to get into the playoffs as early as possible."
"I think we're on the right track, but the biggest thing is to keep pushing, keep staying hungry," Porter added. "It's going to be, I think, fun to watch because, as long as the guys stay hungry and healthy, we're going to have a good squad."
PROJECTED STARTING LINEUP