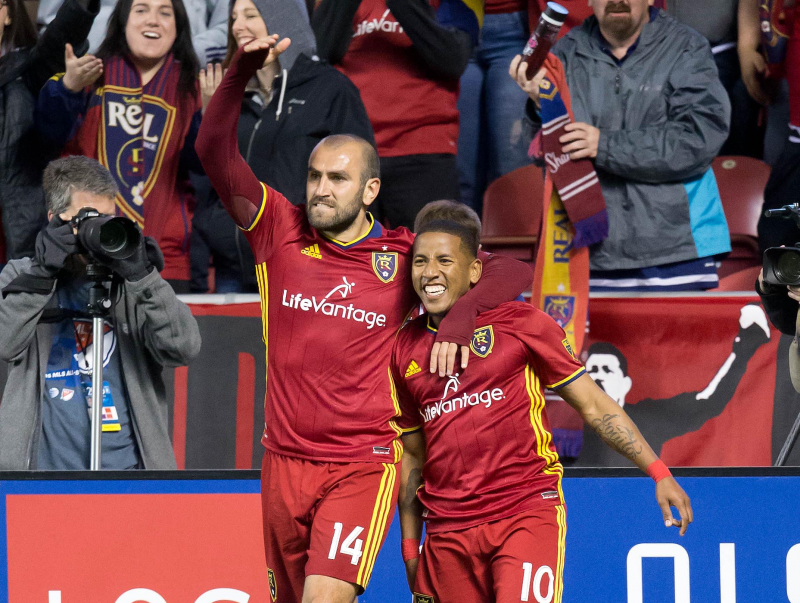 Real Salt Lake was a playoff team in 2016, the way the season went made it tough to call it a successful campaign.
After a hot start that saw RSL open the season undefeated through six matches, and a middling mid-season slate, the floor fell out from RSL late in its 2016 campaign. Real Salt Lake dropped points in each of their last seven matches of the regular season, going 0-4-3, but managed to barely sneak into the final playoff spot in the Western Conference, just ahead of the defending champion Portland Timbers. What followed was a quick first-round loss to the LA Galaxy and ultimately a feeling of disappointment around the season.
"It's never one thing, why goals dry up like they did. We had some players with some injuries, we had some players that weren't at 100%," RSL coach coach Jeff Cassar told SBI. "We were still creating a lot of opportunities, but not finding the back of the net and I think the confidence level dropped for the group and we started to try to solve things individually rather than collectively. Because it's never one area of the field's job to score goals, it's the team."
That said, there were many positives to take from the team's 2016 performance, most notably the stark improvement from 2015 both statistically and aesthetically. A playoff appearance was a step in the right direction for RSL after its failure to qualify in the previous season.
Ultimately, RSL was the textbook definition of average. Statistically the Claret and Cobalt found themselves in the middle of the pack in goals scored and goals allowed, with a small -2 goal differential and 12 wins to match 12 losses.
Interestingly, their season had strong parallels to the Philadelphia Union's 2016. The same hot and cold streaks, the same sixth-place, sneak-in finish, even the same end of season cliff. The big difference between the two comes from their offseason moves. Whereas the Union maintained essentially the same starting core entering 2017, RSL will likely have a much different look after losing a DP and gaining another, and losing a long-time servant of the team in Javier Morales.
It feels difficult to call 2016 a success after its ending, but in truth it was for RSL, and the key now is whether it builds on it with an even stronger 2017, or falters back to 2015 form.
Here's a closer look at 2017 Real Salt Lake:
REAL SALT LAKE SEASON PREVIEW
2016 FINISH: 12-12-10 (6th in Western Conference)
KEY ACQUISITIONS: Albert Rusnak, Brooks Lennon, David Horst, Luis Silva, Matt Van Oekel, Jose Hernandez
KEY LOSSES: Javier Morales, Juan Manuel 'Burrito' Martinez, Jamison Olave, Boyd Okwuonu, Phanuel Kavita, John Stertzer, Emery Welshman, Olmes Garcia, Pedro Baez
NEWCOMER TO WATCH: Albert Rusnak
While Brooks Lennon and Luis Silva make intriguing returns, the key to the season rests largely at the feet of new DP midfielder Albert Rusnak. The young Slovakian National Team attacker has big shoes to fill in a midfield that lost long-time playmaker Javier Morales, as well as attacking threat 'Burrito' Martinez, but Rusnak should be up to the challenge. The 5-foot-9 attacking midfielder has played well over the last two years with Groningen in the Dutch top flight, including scoring both goals in the team's 2015 KNVB Cup title-winning match that was the team's first major trophy and first UEFA Europa League group stage appearance. The performances earned Rusnak his first senior call-up with the Slovakian senior team, and he'll now turn his talents to settling down the RSL midfield after a turbulent offseason.
PRESSURE IS ON: Yura Movsisyan
Movsisyan's return to RSL in 2016 was a rousing success, as his nine goals and three assists contributed greatly to the team's bounce-back playoff campaign. Between himself, Joao Plata, Morales, and Martinez, the four contributed 29 of RSL's 42 goals last season. Now, with two of the four departed, a ton of pressure is heaped onto Movsisyan in year two of his return, as he'll be expected to make up at least some of the 11 lost goals. While Rusnak, Silva, and Lennon will surely help, most of the burden will fall on Movsisyan and Plata, and their performances could make or break RSL's season.
OUTLOOK
In order to improve, RSL will first need to pinpoint areas of weakness, which can be difficult to do in such an average season. Two immediate things jump out however: RSL's road record and its record over the last fifth of the season.
RSL struggled mightily away from home in 2016, ending with a record of 4-11-2, with the 11 losses second only to the Chicago Fire's 14 last season. While four wins is actually not a terrible total, just about in line with or slightly above league average, converting some of those losses to draws could make a huge impact on the team's success. Another four points would have seen RSL sneak into hosting a play-in match against the Seattle Sounders in the first round of the playoffs rather than facing the Galaxy on the road.
"Three points are extremely valuable and a tie at the right time against the right team is also extremely valuable on the road." said Cassar. "It's important for our group that we can take that same style we have at home and bring it on the road. I think our group likes that mentality where we want to be aggressive in both situations without being naive. That will sometimes leave you open for dangerous plays and we got caught a few times, but if we can shore up a few things on the defensive end and things like that on the road then that's okay."
Funnily enough, RSL has the opposite issue at home, where it went 8-1-8 in 2016. Converting some of those home draws into wins is potentially even more impactful than the improved performances on the road would be. Four more wins instead of draws would've had RSL competing for a first-round bye with the Colorado Rapids, and at very minimum three more wins would see them as a three seed hosting a playoff game.
The next area that will define RSL's 2017 fortunes is an improvement in the dreadful end to its 2016 season. Simply put, RSL was lucky to make the playoffs in 2016 after earning just three points from its last seven matches. Worse still, that poor run came just after defeating FC Dallas and the Rapids, who finished one and two at the top of MLS in 2016, in consecutive matches. While RSL should seek to emulate its hot start, a heavy focus has been placed on avoiding the late-season drop again this year.
"I think that every team goes through a run like that, for some teams it just takes longer than others." said Movsisyan. "For us it would really not be smart if we didn't learn from our mistakes during that run. I think we've learned from our mistakes, I think we'll try not to get down too much if we get in a bad run, believe in ourselves more and keep our heads up. Keep the rest of the team motivated and hopefully not have as long a run as we did last year and just learn from it."
A big determining factor in whether or not RSL can make these necessary changes for a successful 2017 lies in their midfield and attack. With a fairly stable back four, perhaps even stronger with the addition of free agent David Horst, the team should at least maintain, if not improve, in the back this season. However, losing a DP, a 10-year veteran, and a quarter of the team's goal production with them could derail the season early on.
"What we've done now is created a healthy competition in every position in our team, but especially the centerbacks." said Cassar. "When you talk about Justen Glad, Aaron Maund, Chris Schuler, and David Horst, and Justin Smith has had a very good preseason, we feel we have a very strong stable of centerbacks that are going to compete, and they might not play every single game. But we'll play with the freshest players who are getting it done every week in training, and are winning, because that's the mentality that we want from our defenders, are the ones that win all the time during our small-side games."
Rusnak and Silva have their work cut out for them in the attacking midfield, where they'll need to assist Plata and Movsisyan and the forwards aim to replace the lost production. With such drastic changes, chemistry issues are always a concern. If the players take time to click, it could spell disaster, as the team would benefit greatly from the stability provided by solid early results.
"Yura [Movsisyan] has had a full season with us, and he was coming off an injury in the offseason [last year]. So he's at full strength now." said Cassar. "Joao Plata is extremely comfortable in the formation that we're playing, Jordan Allen has already scored two goals in preseason and created a number of good opportunities already, and then we added Albert Rusnak and Luis Silva back into our team who are both players that produce, whether that's with assists or goals. I think collectively with our attacking group we're going to be very good."
"With Burrito [Martinez], I only played with him last year and it takes a while to get used to a player, Javi [Morales] I knew from before and they were both a big part of our team last year." Movsisyan added."Guys move on, and as a professional you get used to having to adapt and having to learn to play with other players because there's always changes. I think that the guys coming in, especially with Rusnak and Silva, I think they're extremely talented players and it's been great playing with them so far. It hasn't been a problem getting used to each other because I think they've done a great job coming in and working extremely hard."
With that said, very few teams are as prepared for roster changes and keeping chemistry high than RSL. With veteran leaders in every area of the field, including U.S. Men's National Team defensive midfielder Kyle Beckerman along with U.S. teammate Nick Rimando in goal, RSL is uniquely situated to incorporate new pieces. Having a veteran coach in Cassar, who has known playoff success in two of his first three seasons in charge, only adds to the team's ability to meld without missing a beat.
"When you have players like Nick Rimando and Kyle Beckerman, really leading the way by example, but also being good strong voices in the locker room, its going to be key for us." Cassar said. "Nothing goes right all year long, but if you have good leadership, you can get through the tough times and prevail."
The early season impact of their new additions, along with increased production from established stars such as Plata and Movsisyan, will be key to the team's success or failure in 2017. The team's fortunes should be clear early, as the team opens with a tough slate, including Toronto FC, the LA Galaxy, and the New York Red Bulls in three of the team's first four matches.
"I think we want to continue to build on what we have over the last few years and obviously we started extremely strong last year, had a great middle stretch of the season, and then really faded towards the end of the year." said Cassar. "We want to finish the year the way we started it, and when you have a deeper team, healthy competition, guys feeling 100% towards the end of the year, we should be achieving the goals that we want."
PROJECTED STARTING LINEUP