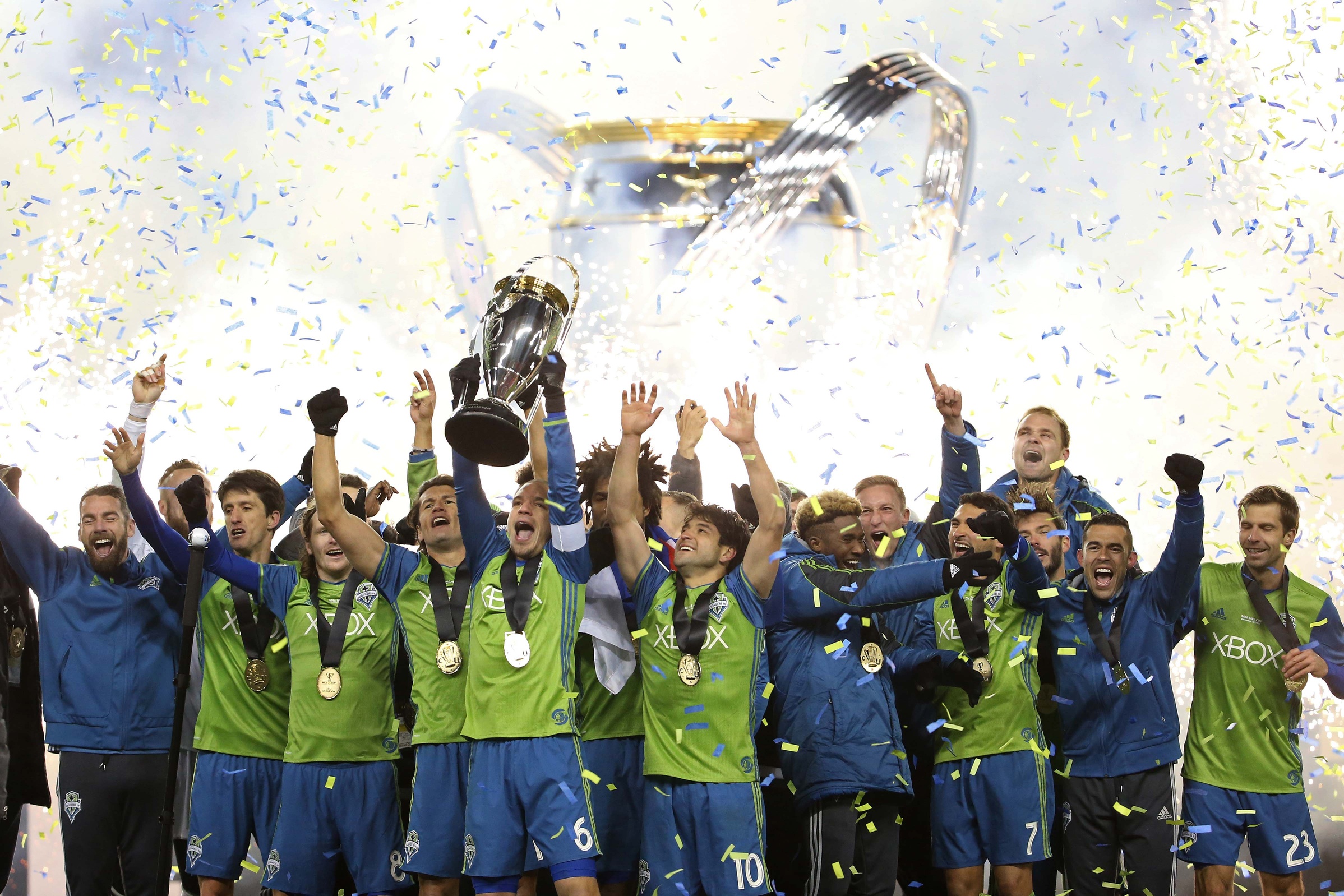 Brian Schmetzer began his team's offseason with one simple message. There's room for confidence, sure, as the Seattle Sounders begin their defense of an MLS Cup. There's room for joy, jubilation, excitement, emotions felt throughout Seattle since that fateful day in frigid Toronto.
What there is no room for, though, is slowing down, and a simple look backwards should serve as a reminder of just how harsh the road down can be when stationed at the top.
The Sounders' title defense places a target on their back, one solidified by Roman Torres' decisive penalty at BMO Field. They enter 2017 as the hunted, the team each and every team in MLS sees as a means of validating their own push to the contention.
"They might still have a championship hangover in some respects, but they're in good spirits," Schmetzer told SBI. "It's a pretty senior squad, so I think they all kind of get it. The best thing for our team and the mood or the determination or whatever adjective you want to use is the fact that I've been on them about Columbus and Portland the year before.
"We've talked about it pretty openly: it's a short offseason and we get it. You guys weren't able to do your full offseason workouts and we get it. That happened to two really good teams the previous year and this is what can happen. Between the message and the fact that it's a senior bunch and they are still proud and happy with what they've done, that aura hasn't rubbed off yet."
Like any championship team in MLS, the Sounders endured their share of departures. Key pieces like Nelson Valdez, Tyrone Mears and Andreas Ivanschitz moved on. In their place came an influx of youth as well as two up-and-comers, Harry Shipp and Will Bruin, in need of a change of scenery.
Now, the task is molding that youth with the existing group, one headlined by Nicolas Lodeiro, Jordan Morris and a returning Clint Dempsey. The road will be long and the Sounders know that each and every game will see the opposition at their best. They will have to embrace the target mentality and use it as a motivating factor as they look to repeat the success of last season.
"You can't just be satisfied by the MLS Cup," defender Chad Marshall told SBI. "It has to fuel you. You want to experience that again and again. You can't just be satisfied and say you got one and go to the next year not working hard. You don't want to have that lull.
"Everyone has to make sure that they have the right mentality this year. We have that target on our backs like people like to say and we're going to get everyone's best, so it'll be a tough start to the year."
Here's a closer look at the Seattle Sounders:
SEATTLE SOUNDERS SEASON PREVIEW
2016 Finish: 14-14-6 (5th in the West)
Key Acquisitions: Harry Shipp, Will Bruin, Gustav Svensson, Seyi Adekoya, Henry Wingo
Key Losses: Nelson Valdez, Tyrone Mears, Andreas Ivanschitz, Herculez Gomez, Zach Scott, Nathan Sturgis, Erik Friberg
Newcomer to Watch: Harry Shipp.
The former Chicago Fire midfielder never really got going in Montreal, but simply looking at his time at Toyota Park will reveal just how good he can be when in the right spot. Shipp has the ability to play in any of the front three midfield positions, but he's best when playing in a possession-oriented attack. The Sounders aren't the most possession-based team in the league, but they certainly take care of the ball better than the counter-minded Impact. How the Sounders use Shipp remains to be seen but, at best, he could be a top-level chance creator while, at worst, he can serve as a luxury backup to anyone in the midfield.
Pressure Is On: Jordan Morris
Even with the return of Clint Dempsey, Morris remains the focal point at the forward position. There's no room for a sophomore slump or hangover for the 21-year-old attacker, who scored 12 goals in his rookie season. Dempsey and Nicolas Lodeiro should take some of the burden away from the young forward but with U.S. Men's National Team spots up for grabs, Morris needs to shine with his club as he embarks on his second pro season.
Outlook: 
Even with the celebration, the parades, the champagne, there was a still a lingering anticipation, a feeling of nervousness. Despite it all, the status of Clint Dempsey remained a concern heading into the 2017 offseason. Heart issues, generally, are taken slowly, deliberately, and the Sounders were in no rush to push their star forward.
Fortunately, Dempsey is back in the fold after featuring throughout the club's preseason, and the excitement cannot be understated. In the few games in 2016 where the Sounders featured the full complement of Dempsey, Nicolas Lodeiro and Jordan Morris, they ran rampant, scoring plenty of goals while looking like the MLS Cup contender they would eventually become.
The Sounders will take it slow with Dempsey and are quick to temper expectations, but there's still an excitement that the U.S. Men's National Team star is back in the fold.
"I don't know if there's any coach or club that can reel in Clint Dempsey," Schmetzer said. "He's arguably the best field player this country has produced and he's got a ton of experience in top leagues. He's fully on board. After we won, I kept telling him that he was part of the team and he said, 'Yeah, but I wasn't on the field in the final,' but in those first four games when Lodeiro came and the new staff took over, we had a draw and three wins. He sparked us on that little run.
"He told me flat out that he wants to go out on his feet and he wants to play. He's fully switched on and fully on board with being a member of the Sounders and helping us repeat. He got to see everything up close, but now he wants to play."
And play he will as part of a Sounders attack that has the potential to be among the most dangerous in the league. Jordan Morris returns for his sophomore campaign after starring in a pressure-filled rookie season. Nicolas Lodeiro is back in the fold for his first full season, giving the rest of the Sounders a preseason period to further get to know their Uruguayan star.
Still, both face challenges of their own. Schmetzer says he got the feeling teams were beginning to key in on Lodeiro's weaknesses, especially in the MLS Cup. His initial burst through the league brought a bit of mystery, but as time wore on, opponents began to adapt to his tendencies. Schmetzer says it's up to Lodeiro to develop a Plan B, even if the return of Dempsey helps lighten the load for him in his first full season.
Morris, meanwhile, must overcome the notion of a sophomore slump. Schmetzer won't characterize him as a veteran, at least not quite yet, but he'll have to perform like one to make the Sounders tick.
"I think his contribution to the team, everyone knows that story," Schmetzer said of Morris, "but he still has a ways to grow and develop and I wouldn't say mature, because I think he's a pretty mature 21-year-old. There are a few things he needs to get better at and he's fully on board with what he needs to work on. He works extra at training and he's aware of some of his deficiencies."
"He came in to a difficult situation with all of the hype and all eyes on him," Marshall added, "and maybe you're timid and worried about what people are thinking, but as he got more games, he got more and more comfortable and confident. You saw that in January camp. He was great and scored a big goal against Jamaica. I think he's confident going into this year, healthy and looking to keep form so he stays in the national team picture."
Marshall, meanwhile, remains the anchor. The veteran defender finally gets a full preseason with Roman Torres, his centerback partner all through the postseason. Acquired in 2015, Torres has played just 13 times due to injury, and Marshall is excited about the prospect of regular minutes with his running mate. The two see the game similarly, Marshall says, and a full preseason together has only furthered their chemistry as a unit.
Ozzie Alonso returns as the midfield destroyer alongside Christian Roldan, who made the deeper role his own as 2016 went on. However, while the team's spine remains intact, there are certainly questions regarding depth.
Key veterans like Zach Scott, Nelson Valdez, Andreas Ivanschitz and Herculez Gomez have gone. In their place comes Harry Shipp and Will Bruin, who provide depth in the midfield and up top, respectively. In addition, Gustav Svensson joins and could help in both the midfield and at centerback. While Shipp's versatility makes him a candidate to start at four different positions, there's still a noticeable lack of veteran depth in several spots.
"It's nice to have the core going into this season, but we lost a lot of good dudes that played big roles for us last season," Marshall said. "It's finding a way to replace that. You lose a ton of experience in Zach and Herc, Nelson, guys that played huge roles for us, especially at the end of the year. It's going to be tough to replace that and, hopefully, we can do that.
"I think some of our young kids will have to step it up," Schmetzer added. "That's always a bit of a risk, but we like Seyi Adekoya from UCLA and Henry Wingo from UW has been playing really well. Those two guys, hopefully, will push. We have Aaron Kovar who played in 16 games last year. It's a bit young for my liking, but it is what it is. We're confident the kids can make an impact."
The Sounders return to a Western Conference race that will once again prove difficult. The conference is loaded with MLS Cup contenders, teams more than ready to knock the Sounders off their perch.
Protecting what's theirs will be difficult and, at times, it will be a grind. However, if there's anything to be learned from last season, a lot of hard work and a little bit of luck can go a long way for a team that still has an eye on the ultimate prize.
"We worked really hard because we were a long ways down," Schmetzer said. "We had to crawl and scratch our way to the top…You look at 2015 and 2016, am I worried about the beginning of the season? Maybe not. Am I worried about mid-season? Yes. You have to be in the hunt, in the thick of it. I think as long as this team is clicking towards the end of the year and we make the playoffs, you know, Portland in 15 and us in 16, the hottest teams gave themselves the best chance of winning."
"We need to get better," Marshall added. "We can't just think we did it last year and it will automatically click. It's about guys stepping up and veteran guys not being complacent and keeping the standard high. We have to buy in to what the coaches are selling, be better on both ends of the field. There's always work to be done."
PROJECTED STARTING LINEUP