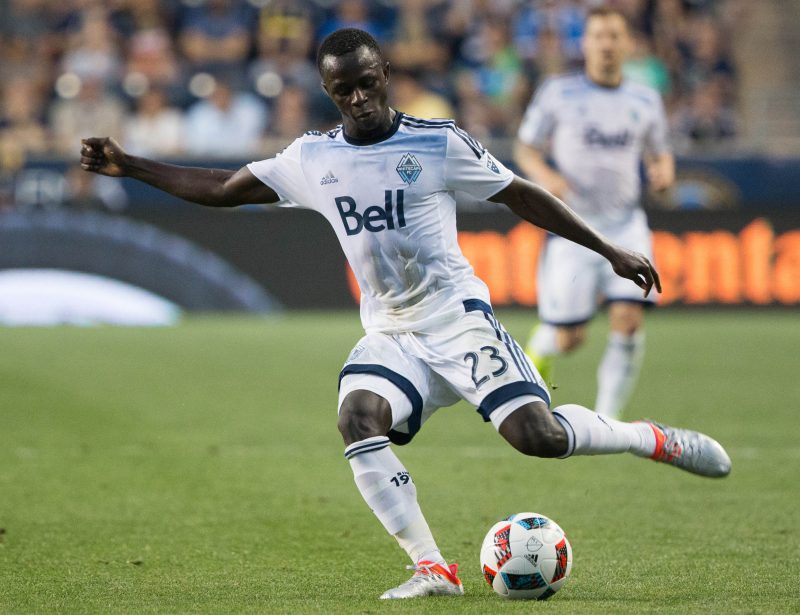 One of the more drastic declines in 2016 occurred in Vancouver where the Whitecaps went from second place in the Western Conference in 2015 to eighth place the next season. Thanks to a couple of astute acquisitions, the Whitecaps are hoping to rekindle their form from two years ago.
The departures of the likes of Steven Beitashour and Gershon Koffie led to inconsistent performances on defense and in midfield. Octavio Rivero returned to South America after stating his intention to play in Copa Libertadores and Pedro Morales failed to deliver after a couple of positional experiments.
This offseason hasn't been as hectic as the last one for the Whitecaps, but that could be crucial to squad chemistry and might lead to more stable performances across the pitch.
Here is a closer look at the 2017 Vancouver Whitecaps:
Vancouver Whitecaps Preview
2016 FINISH: 10-15-9 (8th in Western Conference)
KEY ACQUISITIONS: Fredy Montero, Yordy Reyna, Sheanon Williams, Brek Shea, Mauro Rosales
KEY LOSSES: Pedro Morales, Fraser Aird, Blas Perez, Masato Kudo, Giles Barnes
NEWCOMER TO WATCH: Fredy Montero
The Whitecaps finally found a No. 9 after the departure of Octavio Rivero. Montero arrives on loan from Tianjin Teda after scoring nine goals in 29 appearances in his first Chinese Super League campaign. The 29-year-old bagged 49 goals in 119 MLS matches with the Seattle Sounders and recorded at least 10 in each of his four years in Seattle. The Colombian is a proven scorer, but he will be tasked with revitalizing an attack that has floundered for the past 18 months.
PRESSURE IS ON: Kekuta Manneh
Manneh's 2016 ended on a low note after undergoing surgery on his broken foot. However, 2017 began with the Gambian-born forward earning his first call-up to U.S. Men's National Team camp in January. Now that the 22-year-old is in the player pool and without a true "star" on the Whitecaps, it's Manneh's chance to seize this opportunity and produce consistently. Perhaps a shift from the wing to a No. 9 role could lead to an improved Manneh.
OUTLOOK
The significant roster turnover during the last offseason hurt the Whitecaps in many ways. Right back was a problem area as the team tried on-loan winger Fraser Aird on the backline, as well as centerback Tim Parker and the disappointing Jordan Smith.
Sheanon Williams is projected to start on the right this year after he was acquired in a trade with the Houston Dynamo. This should stabilize the defense as Steven Beitashour's absence seemed to have an effect on defenders' positioning all season long.
The loan of ex-Seattle Sounders forward Fredy Montero should be a low-risk, high-reward situation as Vancouver only gave up $225,000 in general and targeted allocation money combined, plus an international roster spot.
Montero arrives having recorded 47 goals and 34 assists in four seasons with Seattle. It's a signing that could prove to be impactful in many ways for the Whitecaps.
"Hopefully [Montero] takes a lot of pressure off the other guys," head coach Carl Robinson said on a conference call with reporters. "We are a team and an organization that has to do things by committee, and I've said that all along."
"The opportunity came with Fredy that we could bring in a proven goal scorer. Someone who's played in MLS with Seattle, but also someone who has gone on to score goals at the next level and obviously he's scored goals in China. It was a no-brainer for me. He fits into the type of players we like and also the locker room where we have a lot of South and Central Americans."
Yordy Reyna was signed a few weeks before Montero from Red Bull Salzburg. The Peruvian international has struggled to find consistent playing time since he left Alianza Lima in 2013, but Vancouver could be the springboard he needs to regain his form.
The 23-year-old is not a prototypical No. 9, but he's not a traditional No. 10 like Pedro Morales was for Vancouver. Robinson described him as a "nine and a half" and also stated that a partnership with Montero is in the works.
"Predominantly, the plan is to bring him in as a No. 9 and compliment the other players we have," said Robinson. "We do play with a nine and 10. Yordy is a different type of No. 10 forward to what Pedro Morales was, who was a more deep-lying No. 10. I think the two of them hopefully can have an understanding and work very well."
Montero is used to MLS and the Pacific Northwest, so he should settle into the squad rather quickly. Reyna might take longer to adapt, but his experience in Europe and early preseason performances show that he is raring to begin the real season.
Unfortunately, due to a fractured left foot, the Whitecaps will be without Reyna until the summer at the earliest. The best case scenario is a return in June like a new mid-season acquisition that bolsters the team through the second half of 2017, the worst case is a late return and a lost year for Reyna and the Whitecaps.
Additionally, the team parted ways with forward Giles Barnes, as the Whitecaps completed a trade with Orlando City that saw them acquire winger Brek Shea. The Whitecaps hope the move will revitalize Shea's career, as he's largely floundered with the Lions before falling out of coach Jason Kreis' plans.
However, before the Whitecaps open up their 2017 MLS campaign, they have to face the New York Red Bulls in the CONCACAF Champions League quarterfinals. It's Vancouver's first appearance in the knockout stage and the first leg at Red Bull Arena begins on Feb. 22.
Unfortunately for Robinson and his team, it has forced them to tweak their preseason plans. The Whitecaps technically begin their season two weeks before the rest of the league. But the squad sees the CCL as a tremendous opportunity as opposed to a burden.
"We're saying 'right, okay, we're playing two weeks before the league starts," said Robinson. "But you have to take it as a positive and try to focus on what you need to do and get up to speed as quick as you can. It's not ideal, but it is what it is. We much prefer to be in this tournament and we're going to have a go to try and get through this round in this tournament. Both teams will be in the same boat."
Vancouver's only issue is finding a proper box-to-box midfielder beside Matias Laba. Perhaps they've found their answer in midfielder Mauro Rosales, who returns after a season away from the team. However, if the newcomers shine right away and Williams provides a calming presence at right back, then the Whitecaps should be able to grab a playoff spot.