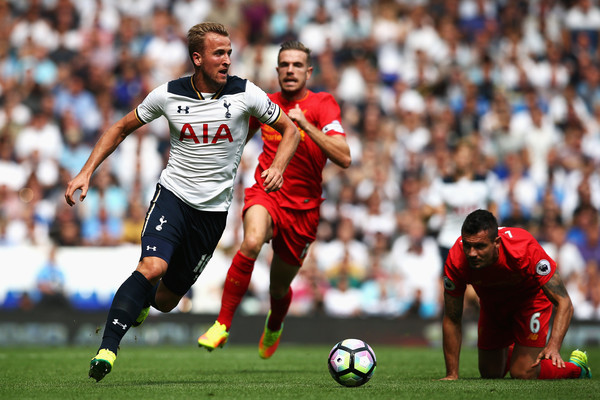 In desperate need of a win to regain its footing in the English Premier League, Liverpool will have to conquer a formidable foe this weekend in Tottenham in order to do that.
A 2-0 loss to Hull City last weekend was the latest disappointment in a string of poor results that has now caused Jurgen Klopp's men to slip out of the top four in the league table, and their opponents this Saturday likely won't alleviate their problems as Spurs are riding an 11-match unbeaten streak.
The two sides' first meeting this season ended in a 1-1 draw at White Hart Lane, with a second-half goal by Danny Rose canceling out a first-half penalty by James Milner. It was one of the only two draws on the season at home for Tottenham, who still boasts an unbeaten record at home. That said, Spurs' 4-6-2 road form could mean there's a chance for Liverpool to pick up a result at Anfield and close the gap with the league leaders.
Chelsea, meanwhile, will visit a relegation-zone side in Burnley in hopes of extending its nine-point cushion atop the table. Other big-name clubs like Arsenal and Manchester United will take on Hull City and Watford, respectively.
In Spain, Barcelona and Real Madrid will both be on the road, with the former taking on Deportivo Alavés and the latter Osasuna. The German Bundesliga, on the other hand, will feature Bayern Munich-FC Ingolstadt and RB Leipzig-Hamburg SV.
AS Monaco will attempt to keep up its fine run in French Ligue 1 this season when it hosts Metz, while the top two clubs in Italy, Juventus and AS Roma, will face Cagliari and Crotone, respectively.
Here is a rundown of all the soccer action on TV this weekend:
FRIDAY
GERMAN BUNDESLIGA
2:30 p.m. — Fox Sports 2/Fox Sports Go/Fox Soccer 2Go — Mainz 05 vs. FC Augsburg
SPANISH LA LIGA
2:45 p.m. — beIN Sports en Español/beIN Sports Connect — Espanyol vs. Real Sociedad
ITALIAN SERIE A
2:45 p.m. — beIN Sports Connect — Napoli vs. Genoa
FRENCH LIGUE 1
2:45 p.m. — beIN Sports USA/beIN Sports Connect — Bordeaux vs. Paris Saint-Germain
ENGLISH LEAGUE CHAMPIONSHIP
2:45 p.m. — beIN Sports Connect — Sheffield Wednesday vs. Birmingham City
SATURDAY
ENGLISH PREMIER LEAGUE
7:30 a.m. — NBCSN/NBC Sports Live Extra/NBC Universo/NBC Universo NOW/Telemundo Deportes en Vivo — Arsenal vs. Hull City
10 a.m. — NBCSN/NBC Sports Live Extra/NBC Universo/NBC Universo NOW/Telemundo Deportes en Vivo — Manchester United vs. Watford
10 a.m. — NBC/NBC Sports Live Extra — Middlesbrough vs. Everton
10 a.m. — NBC Sports Live Extra — Stoke City vs. Crystal Palace
10 a.m. — NBC Sports Live Extra — Sunderland vs. Southampton
10 a.m. — NBC Sports Live Extra/Telemundo Deportes en Vivo — West Ham United vs. West Bromwich Albion
12:30 p.m. — NBC Sports Live Extra/NBC Universo/NBC Universo NOW/Telemundo Deportes en Vivo — Liverpool vs. Tottenham
SPANISH LA LIGA
7 a.m. — beIN Sports Connect — Real Betis vs. Valencia
10:15 a.m. — beIN Sports USA/beIN Sports en Español/beIN Sports Connect — Deportivo Alavés vs. Barcelona
12:30 p.m. — beIN Sports en Español/beIN Sports Connect — Athletic Bilbao vs. Deportivo La Coruña
2:45 p.m. — beIN Sports USA/beIN Sports en Español/beIN Sports Connect — Osasuna vs. Real Madrid
GERMAN BUNDESLIGA
9:30 a.m. — Fox Sports 1/Fox Sports Go/Fox Soccer 2Go — FC Ingolstadt vs. Bayern Munich
9:30 a.m. — Fox Sports 2/Fox Sports Go/Fox Deportes/Fox Soccer 2Go — Bayer Leverkusen vs. Eintracht Frankfurt
9:30 a.m. — Fox Soccer 2Go — Werder Bremen vs. Borussia Mönchengladbach
9:30 a.m. — Fox Sports Go/Fox Soccer Plus/Fox Soccer 2Go — Darmstadt 98 vs. Borussia Dortmund
9:30 a.m. — Fox Soccer 2Go — RB Leipzig vs. Hamburg SV
12:30 p.m. — Fox Sports 2/Fox Sports Go/Fox Soccer 2Go — Schalke 04 vs. Hertha Berlin
ITALIAN SERIE A
2:45 p.m. — beIN Sports Connect — Fiorentina vs. Udinese
FRENCH LIGUE 1
11 a.m. — beIN Sports Connect — Guingamp vs. Lyon
2 p.m. — beIN Sports Connect — Nancy vs. Montpellier
2 p.m. — beIN Sports Connect — Lille vs. Angers
2 p.m. — beIN Sports Connect — Dijon vs. Caen
2 p.m. — beIN Sports Connect — Toulouse vs. Bastia
2 p.m. — beIN Sports Connect — AS Monaco vs. Metz
PORTUGUESE PRIMEIRA LIGA
3:30 p.m. — Univision Deportes — Vitória Guimarães vs. FC Porto
ENGLISH LEAGUE CHAMPIONSHIP
10 a.m. — beIN Sports Connect — Leeds United vs. Cardiff City
12:30 p.m. — beIN Sports USA/beIN Sports Connect — Wolverhampton Wanderers vs. Newcastle United
SWISS SUPER LEAGUE
11:45 a.m. — beIN Sports Connect — Thun vs. FC Basel
SUNDAY
ENGLISH PREMIER LEAGUE
8:30 a.m. — NBCSN/NBC Sports Live Extra/Telemundo/Telemundo Deportes en Vivo — Burnley vs. Chelsea
11 a.m. — NBCSN/NBC Sports Live Extra/Telemundo Deportes en Vivo — Swansea City vs. Leicester City
GERMAN BUNDESLIGA
9:30 a.m. — Fox Sports 1/Fox Sports Go/Fox Deportes/Fox Soccer 2Go — VfL Wolfsburg vs. Hoffenheim
11:30 a.m. — Fox Sports 1/Fox Sports Go/Fox Deportes/Fox Soccer 2Go — Freiburg vs. Cologne
SPANISH LA LIGA
6 a.m. — beIN Sports Connect — Villarreal vs. Málaga
10:15 a.m. — beIN Sports Connect — Leganés vs. Sporting Gijón
12:30 p.m. — beIN Sports en Español/beIN Sports Connect — Las Palmas vs. Sevilla
2:45 p.m. — beIN Sports en Español/beIN Sports Connect — Atlético Madrid vs. Celta de Vigo
ITALIAN SERIE A
6:30 a.m. — beIN Sports Connect — Crotone vs. AS Roma
9 a.m. — beIN Sports Connect — beIN Sports USA/beIN Sports Connect — Inter vs. Empoli
9 a.m. — beIN Sports Connect — Palermo vs. Atalanta
9 a.m. — beIN Sports Connect — Sassuolo vs. Chievo Verona
9 a.m. — beIN Sports Connect — Torino vs. Pescara
Noon — beIN Sports Connect — Sampdoria vs. Bologna
2:45 p.m. — beIN Sports USA/beIN Sports Connect — Cagliari vs. Juventus
FRENCH LIGUE 1
9 a.m. — beIN Sports Connect — Stade Rennes vs. Nice
11 a.m. — beIN Sports Connect — Saint-Étienne vs. Lorient
3 p.m. — beIN Sports Connect — Nantes vs. Marseille
MEXICAN LIGA MX
1 p.m. — Univision/Univision Deportes/Univision NOW — Toluca vs. Veracruz
6 p.m. — ESPN Deportes/WatchESPN — Chiapas vs. Morelia
7 p.m. — Univision Deportes — Santos Laguna vs. Cruz Azul
SWISS SUPER LEAGUE
10 a.m. — beIN Sports Connect — Luzern vs. Young Boys