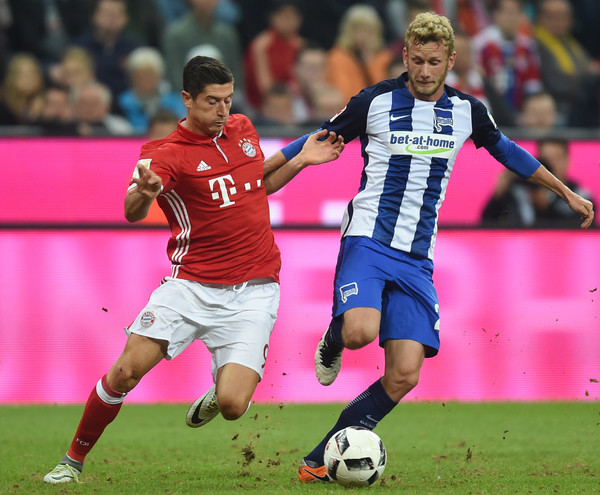 After dispatching Arsenal in spectacular fashion on Wednesday, the ruthless machine that is Bayern Munich resumes Bundesliga action this weekend by visiting Hertha Berlin.
The 5-1 win over the Gunners in their UEFA Champions League round of 16's first-leg fixture showed just how dominant Bayern still is in European soccer, and after overtaking the upstart RB Leipzig in the league table at the end of 2016, Carlo Ancelotti's squad has now opened up a seven-point gap atop the league standings as well.
Meanwhile in Spain, Real Madrid are expecting the return of Gareth Bale — who has missed three months of action due to an ankle injury — this weekend when they host Espanyol. Los Galacticos are coming off their own UCL win during the week when they handed Italian side Napoli a 3-1 defeat.
Barcelona, on the other hand, are left searching for answers after suffering a humiliating 4-0 defeat at Paris Saint-Germain during their UCL tilt. The loss is the worst in manager Luis Enrique's tenure with Blaugrana but he could help his squad regain its footing with a home win against the lowly Leganés.
The English FA Cup will also resume action with its fifth-round ties. Two fifth-division clubs still remain in the competition in Lincoln City and Sutton United, with the former taking on Burnley on Saturday and the latter facing Arsenal on Monday.
On the international front, the CONCACAF U-20 Championships will get underway this weekend, with the U.S. taking on Panama on Saturday.
Here is a rundown of all the soccer action on TV this weekend:
FRIDAY
SPANISH LA LIGA
2:45 p.m. — beIN Sports en Español/beIN Sports Connect — Granada vs. Real Betis
GERMAN BUNDESLIGA
2:30 p.m. — Fox Sports 1/Fox Sports Go/Fox Deportes/Fox Soccer 2Go — FC Augsburg vs. Bayer Leverkusen
ITALIAN SERIE A
2:45 p.m. — beIN Sports USA/beIN Sports Connect — Juventus vs. Palermo
FRENCH LIGUE 1
2:45 p.m. — beIN Sports Connect — Bastia vs. AS Monaco
MEXICAN LIGA MX
10 p.m. — Azteca America — Veracruz vs. Tigres UANL
CONCACAF U-20 CHAMPIONSHIP
6:30 p.m. — Univision Deportes — Honduras vs. Canada
9 p.m. — Univision Deportes — Mexica vs. Antigua and Barbuda
SATURDAY
ENGLISH FA CUP
7:30 a.m. — Fox Sports 1/Fox Sports Go/Fox Deportes/Fox Soccer 2Go — Burnley vs. Lincoln City
10 a.m. — Fox Sports 1/Fox Sports Go/Fox Deportes/Fox Soccer 2Go — Huddersfield Town vs. Manchester City
10 a.m. — Fox Soccer 2Go — Middlesbrough vs. Oxford United
10 a.m. — Fox Soccer 2Go — Millwall vs. Leicester City
12:30 p.m. — Fox Sports 2/Fox Sports Go/Fox Deportes/Fox Soccer 2Go — Wolverhampton Wanderers vs. Chelsea
SPANISH LA LIGA
7 a.m. — beIN Sports USA/beIN Sports en Español/beIN Sports Connect — Sporting Gijón v. Atlético Madrid
10:15 a.m. — beIN Sports USA/beIN Sports en Español/beIN Sports Connect — Real Madrid vs. Espanyol
12:30 p.m. — beIN Sports en Español/beIN Sports Connect — Deportivo La Coruña vs. Deportivo Alavés
2:45 p.m. — beIN Sports en Español/beIN Sports Connect — Sevilla vs. Eibar
GERMAN BUNDESLIGA
9:30 a.m. — Fox Sports 2/Fox Sports Go/Fox Soccer 2Go — Hertha Berlin vs. Bayern Munich
9:30 a.m. — Fox Sports Go/Fox Soccer Plus/Fox Soccer 2Go — Borussia Dortmund vs. VfL Wolfsburg
9:30 a.m. — Fox Soccer 2Go — Mainz 05 vs. Werder Bremen
9:30 a.m. — Fox Soccer 2Go — Hoffenheim vs. Darmstadt 98
9:30 a.m. — Fox Soccer 2Go — Eintracht Frankfurt vs. FC Ingolstadt
12:30 p.m. — Fox Soccer Plus/Fox Soccer 2Go — Hamburg SV vs. Freiburg
ITALIAN SERIE A
Noon — beIN Sports Connect — Atalanta vs. Crotone
2:45 p.m. — beIN Sports USA/beIN Sports Connect — Empoli vs. Lazio
FRENCH LIGUE 1
11 a.m. — beIN Sports Connect — Marseille vs. Stade Rennes
2 p.m. — beIN Sports Connect — Lorient vs. Nice
2 p.m. — beIN Sports Connect — Angers vs. Nancy
2 p.m. — beIN Sports Connect — Caen vs. Lille
2 p.m. — beIN Sports Connect — Metz vs. Nantes
MEXICAN LIGA MX
6 p.m. — Univision Deportes — Cruz Azul vs. Atlas
8 p.m. — Univision/Univision Deportes/Univision NOW — Monterrey vs. Pachuca
8 p.m. — Azteca America — Morelia vs. Toluca
8:06 p.m. — Galavision/Univision NOW — Club León vs. Santos Laguna
10 p.m. — ESPN Deportes/WatchESPN — Necaxa vs. Querétaro
10:06 p.m. — Univision/Univision Deportes/Univision NOW/Facebook Live — Guadalajara vs. Club América
ENGLISH LEAGUE CHAMPIONSHIP
10 a.m. — beIN Sports Connect — Barnsley vs. Brighton & Hove Albion
AUSTRALIAN A-LEAGUE
3:50 a.m. — ESPN3/WatchESPN — Western Sydney Wanderers vs. Sydney FC
SWISS SUPER LEAGUE
2 p.m. — beIN Sports Connect — Young Boys vs. St. Gallen
CONCACAF U-20 CHAMPIONSHIP
3:30 p.m. — Univision Deportes — United States vs. Panama
MLS PRESEASON
8 p.m. — YES Network — New York City FC vs. Houston Dynamo
SUNDAY
ENGLISH FA CUP
9 a.m. — Fox Sports 1/Fox Sports Go/Fox Deportes/Fox Soccer 2Go — Fulham vs. Tottenham
11:15 a.m. — Fox Sports 1/Fox Sports Go/Fox Deportes/Fox Soccer 2Go — Blackburn Rovers vs. Manchester United
SPANISH LA LIGA
6 a.m. — beIN Sports Connect — Real Sociedad vs. Villarreal
10:15 a.m. — beIN Sports en Español/beIN Sports Connect — Valencia vs. Athletic Bilbao
12:30 p.m. — beIN Sports Connect — Celta Vigo vs. Osasuna
2:45 p.m. — beIN Sports USA/beIN Sports en Español/beIN Sports Connect — Barcelona vs. Leganés
GERMAN BUNDESLIGA
9:30 a.m. — Fox Sports 2/Fox Sports Go/Fox Soccer 2Go — Borussia Mönchengladbach vs. RB Leipzig
11:30 a.m. — Fox Sports 2/Fox Sports Go/Fox Soccer 2Go — Cologne vs. Schalke 04
ITALIAN SERIE A
6:30 a.m. — beIN Sports Connect — Bologna vs. Inter Milan
9 a.m. — beIN Sports Connect — Sampdoria vs. Cagliari
9 a.m. — beIN Sports Connect — Pescara vs. Genoa
9 a.m. — beIN Sports USA/beIN Sports Connect — Chievo Verona vs. Napoli
9 a.m. — beIN Sports Connect — Udinese vs. Sassuolo
Noon — beIN Sports USA/beIN Sports Connect — AS Roma vs. Torino
2:45 p.m. — beIN Sports Connect — AC Milan vs. Fiorentina
FRENCH LIGUE 1
9 a.m. — beIN Sports Connect — Bordeaux vs. Guingamp
11 a.m. — beIN Sports Connect — Montpellier vs. Saint-Étienne
11 a.m. — beIN Sports Connect — Lyon vs. Dijon
3 p.m. — beIN Sports Connect — Paris Saint-Germain vs. Toulouse
MEXICAN LIGA MX
1 p.m. — Univision/Univision Deportes/Univision NOW — Pumas UNAM vs. Tijuana
5 p.m. — Univision Deportes — Puebla vs. Chiapas
SCOTTISH PREMIERSHIP
8 a.m. — Fox Soccer Plus/Fox Soccer 2Go — Kilmarnock vs. Aberdeen
10:15 a.m. — Fox Soccer Plus/Fox Soccer 2Go — Dundee vs. Rangers
SWISS SUPER LEAGUE
10 a.m. — beIN Sports Connect — Grasshopper vs. Sion