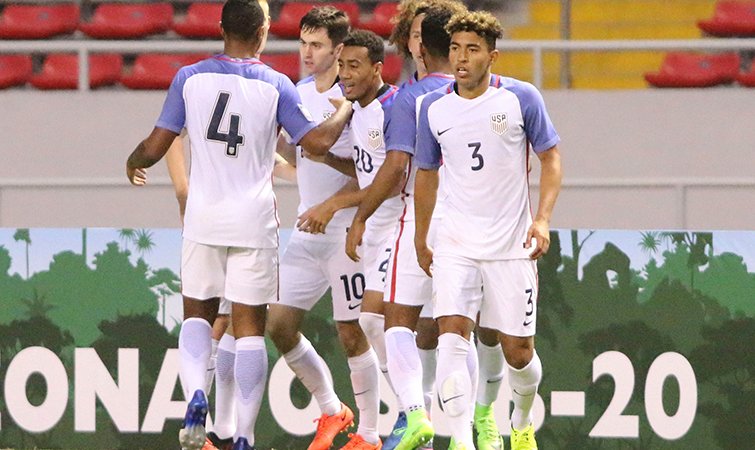 For the U.S. Under-20 Men's National Team, Friday night proved little more than a formality en route to the next stage of World Cup qualifying.
After exploding for four goals against Haiti in their second group stage match, the U.S. hung four first-half finishes on St. Kitts and Neves en route to a 4-1 win on Friday night. The win sees the U.S. finish second in the initial group stage, booking dates with Mexico and El Salvador in the next stage of qualifying.
The U.S. took the lead in the 17th minute as Lennons cored his fourth goal in two games. Jeremy Ebobisse played provider, darting towards the post after beating his defender on the dribble. The Portland Timbers forward slid a pass towards the back post, where Lennon was waiting for a first-time tap-in to give the U.S. the lead.
Less than two minutes later, it was 2-0 via Jonathan Lewis. On a short corner kick, a ball in from Ebobisse played ping-pong, bouncing off Justen Glad towards the back post. Lewis found the ball at his feet and fired home a shot to double the lead.
The third took a bit more time, coming in the 35th minute. Following a giveaway, Sebastian Saucedo ripped a shot first time, beating the St. Kitts goalkeeper to make the lead 3-0.
Six minutes later, it was Saucedo again as the Real Salt Lake product curled a free kick around the wall to push the lead to 4-0 heading towards the half .St. Kitts added a goal of their own in the 78th minute through Romario Martin, but it proved little more than a consolation for a team exiting in the group stage.
With the win, the U.S. earns matches against Mexico and El Salvador, scheduled for Monday and Friday, respectively. The two two teams in the three-team group stage qualify for the Under-20 World Cup in South Korea while the group winner will face the winner of the other group for the CONCACAF crown.