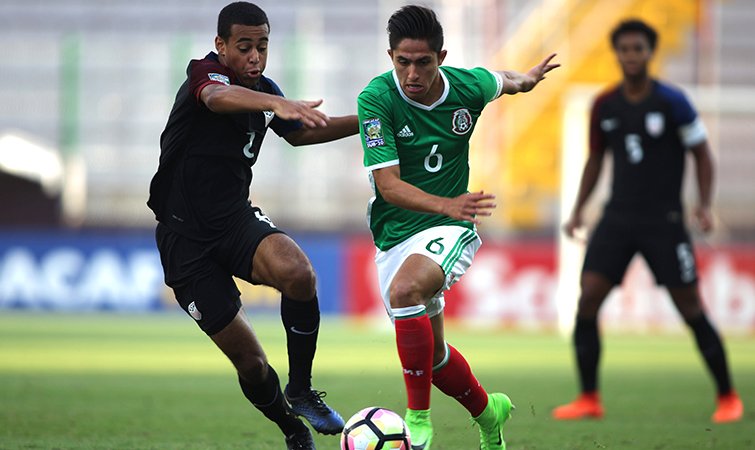 The U.S. Under-20 Men's National Team is one step closer to the Under-20 World Cup, and it was the team's captain that provided the spark that got them there.
Erik Palmer-Brown scored the lone goal on Monday night as the U.S. toppled Mexico, 1-0, in the first match of the second stage of CONCACAF World Cup qualifying. The win puts the U.S. in the driver's seat for a berth to South Korea ahead of their second and final group match against El Salvador.
Palmer-Brown's winner came in the 29th minute as the U.S. found a goal via a set piece. Brooks Lennon whipped in the corner kick, finding Palmer-Brown on the back post for a free header. The Sporting KC defender's shot was nearly headed off the line, but Mexico's Diego Cortes could only deflect the ball right into the net as the U.S. seized the advantage midway through the first half.
The goal was the first allowed by Mexico in the tournament following consecutive shutouts of Honduras, Canada and Antigua & Barbuda.
The U.S. midfield proved the decisive force in Monday's match with a returning Tyler Adams playing a major role. After suffering an ankle injury in the first leg, Adams returned, joining Eryk Williamson as part of a midfield duo that helped the U.S. neutralize the Mexico unit. Behind them, Palmer-Brown shined in the No. 6 spot while Justen Glad and Tommy Redding helped prevent Mexico from finding significant chances on goal.
In the second half, the U.S. proved solid, even as Mexico through numbers forward. Jonathan Lewis nearly sealed the game in stoppage time as he broke free on a Mexico corner, but the NYCFC midfielder's shot was pushed out for a corner kick. From there, the U.S. simply killed the game, sealing a vital win that all but sends them to the world Cup.
With the win, the U.S. seizes control of the group. The picture will become a bit clearer following Wednesday's clash between Mexico and El Salvador, but a win in Friday's group finale would assure the U.S. a spot in the CONCACAF final as well as this summer's U-20 World Cup.