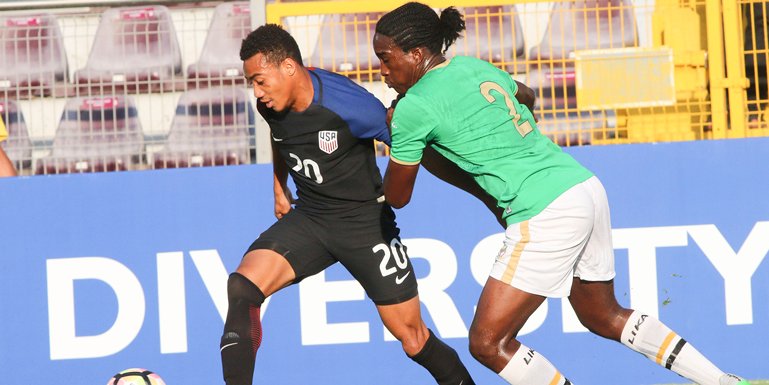 There's always a little bit extra on the line when the U.S. plays Mexico. From the senior level all the way down, there's a certain animosity, a certain urgency to win and add a positive chapter to a rivalry that remains one of the fiercest in international soccer.
That rivalry resumes on Monday night as the U.S. Under-20 Men's National Team takes on their Mexican counterparts, and there's a lot more than pride and bragging rights at stake.
After toppling St. Kitts and Nevis on Friday to seal a berth in the second round of CONCACAF's Under-20 World Cup qualifying, the U.S. now faces off with their most famous rival to begin the tournament's second stage. The match comes on the heels of two impressive wins, as the U.S. toppled an overmatched Haiti before cruising past St. Kitts to undo the damage done from an opening match loss to Panama.
Mexico, though, is a much different animal. El Tri went 3-0 in the initial group stage, scoring nine goals while allowing exactly zero to Honduras, Canada and Antigua & Barbuda. Monday's winner will be in the driver's seat for a berth to South Korea, while the loser will face a must-win match against El Salvador with a World Cup spot on the line.
"In the second round, we all start even again," said head coach Tab Ramos. "We got drawn against Mexico and El Salvador. We know they'll both be difficult games but, in particular, Mexico is always a little bit more special."
"It's a huge rivalry, one of the biggest in the world," added goalkeeper Jonathan Klinsmann. "You can play in Columbus with thousands of U.S. fans or in Mexico with thousands of Mexican fans at the Azteca Stadium. No matter where you play, it's a really tense game and I'm excited to be in it."
Ramos remembers the last time the U.S. U-20s faced off with Mexico in this competition. It was the 2015 final, and it was El Tri that came out on top, 3-1, in an extra time win. The players, names like Wil Trapp and Jesus Corona, are long gone and onto the senior careers, but Ramos says he is looking forward to Monday's rematch and a chance to even the score.
In order to find success in that rematch, the U.S. will need to continue finding their rhythm in the attack. After sputtering in the opening match against 10-man Panama, and even the opening half against Haiti, the U.S. came together with Brooks Lennon, Jonathan Lewis and Sebastian Saucedo leading the charge. Defensively, the U.S. has been prone to mistakes, but it's the attack that remains a concern.
Mexico's defensive chops only magnify that concern. The El Tri defense has yet to make a single gaffe, albeit against less-talented competition, but the U.S. attack will be a focal point heading into the group-opening clash.
"I'm happy with the team," Ramos said. "It started with a difficult result in the first game. I thought we, in general, played pretty well in that game, too. The fact that we didn't score, we hit the crossbar and had a number of opportunities. Going into the second round, we've created tons of opportunities to score. We have to be a little more clinical in front of goal, but this is normal. I think a team gets better as the tournament goes on."
Ramos will have to hope so. Mexico has been virtually flawless thus far, cruising through the group stage. Forward Ronaldo Cisneros is the competition's top scorer with five goals in three games. To their credit, the U.S. has generally been solid in defense, although all three of the team's conceded goals were entirely preventable. The U.S. has been prone to gaffes, and Cisneros is someone who can certainly take advantage of those gaffes.
Still, the U.S. feels like Monday's match brings a new life, a new chance at the World Cup. A win would all but set them on that path, one that could end with a CONCACAF crown, while a loss would serve as yet another major setback for a team that has already faced its share already.
"I think we're pretty confident moving forward," said forward Jeremy Ebobisse. "We set a good base, even though we started slow, but everyone is in good form now so we're excited."
"I think the effort is there from everyone," Saucedo added. "No one wants to lose in this tournament. I think we, as a team, everyone collectively, want to go to the next round and everyone is ready to go for that goal."