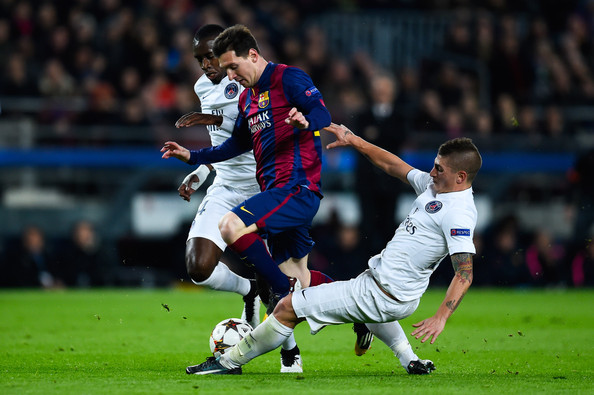 Sixteen clubs are now a step closer to Millennium Stadium after surviving their respective groups in the UEFA Champions League, and eight of them will kick off the knockout-stage action this week in first-leg fixtures.
Headlining the matches this week will be Paris Saint-Germain hosting Barcelona. The two European powerhouses last met in UCL action during the 2014-15 season, with the Spanish side emerging victorious after winning 5-1 on aggregates in the quarterfinals.
Another enticing matchup will see Bayern Munich taking Arsenal, again. These two clubs are familiar foes in the knockout round, as Bayern has eliminated the Gunners during the 2005, 2013 and 2014 seasons.
The defending champion Real Madrid, on the other hand, will take on Napoli at Santiago Bernabeu on Wednesday. The Italian side advanced to the final 16 for the just second time and has lost just once on the road in European matches over its last seven tries.
Here's a closer look at this week's Champions League action:
GAMES TO WATCH
Paris Saint-Germain vs. Barcelona, Tuesday, 2:45 p.m., Fox Sports 1/Fox Sports Go/Fox Deportes/Fox Soccer 2Go
Injuries of note: Barça will be visiting Parc des Princes without Javier Mascherano and Aleix Vidal due to injuries. The hosts will play without their captain Thiago Silva while Thiago Motta sits due to a suspension. The loss of Silva deprives PSG of its commander in central defense and 21-year-old Presnel Kimpembe could fill in again for the Brazilian international after helping PSG post a shutout in Ligue 1 action over the weekend.
Key to the game: It's tall order for any club to defend the trio of Lionel Messi, Luis Suarez and Neymar, but doing so without a centerback of Silva's caliber makes that task even more difficult. Kimpembe's inexperience will almost certainly be exposed by the three-head monster of Barcelona but there's a chance that PSG manager Unai Emery can help his squad prepare better thanks to his vast experience of coaching in La Liga.
Player to watch: Edinson Cavani has been one of the best players in all of Europe this season and PSG will rely on him to create goals if it were to have a chance at getting a result against Barça. The right flank could be an area of exposure for the hosts thanks to the absence of Mascherano, so look for Marco Verratti and Lucas Moura to take advantage of that and feed the ball to Cavani through that channel to create chances.
Quote: "Paris have played at a high level for the last few weeks. We'll just have to play better than them and win," said Barcelona manager Luis Enrique. "Knowing Unai, he will try to make life difficult for us. Both teams have the same goal, but we'll try to control the ball and create as many chances as possible. We have good memories of this pitch and this team. It's never been easy. PSG were never submissive or docile in those games. They know us perfectly. I'm sure it will be a very interesting game."
Benfica vs. Borussia Dortmund, Tuesday, 2:45 p.m., Fox Sports 2/Fox Sports Go/Fox Soccer 2Go/ESPN Deportes/WatchESPN
Injuries of note: Mario Götze will not be available for Dortmund for this fixture as the 24-year-old midfielder continues to nurse a leg injury. Benfica, on the other hand, could be without Jonas as the Brazilian attempts to battle through an ankle problem. Should Jonas sit out, it will be a big loss for Benfica, who has gotten nine goals from the 32-year-old in the 15 matches he featured in.
Key to the game: Dortmund's form has dipped as of late with the German side picking up just two victories in its last nine tries. However, Thomas Tuchel's side tallied a record 21 goals in the group stage so opening up the play against a compact side like Benfica on Tuesday could help the squad regain some confidence.
Player to watch: In order to for Dortmund to find its high-octane offense again, Pierre-Emerick Aubameyang needs to put away the chances he gets from his teammates. The 27-year-old forward put up some sensational numbers in 2016 but has found the back of the net just once since the turn of the calendar.
Quote: "We had an unexpected slip-up (against Darmstadt) at the weekend and we have tried to lift the confidence of the players ahead of this game," said Thomas Tuchel, Dortmund's manager. "Scoring goals is always our objective. We encourage the team to score as many goals as possible; it forms part of the club's character to have an offensive mentality."
Real Madrid vs. Napoli, Wednesday, 2:45 p.m., Fox Sports 2/Fox Sports Go/Fox Soccer 2Go/ESPN Deportes/WatchESPN
Injuries of note: The injury lists aren't long for either side coming into Wednesday's clash. Gareth Bale returned to training for Real Madrid recently but Zinedine Zidane will be cautious in restoring the Welshman back into the lineup. Cristiano Ronaldo picked up a minor injury on his leg during the weekend match against Osasuna and sat out of Monday's training session for precautionary reasons, though he is expected to be in the starting XI. On Napoli's side, centerback Lorenzo Tonelli will be out because of an injury he picked up a few weeks back.
Key to the game: With Zidane opting to return to the traditional 4-3-3 formation in UCL play, Real Madrid should find its stride easily against the Italian side. Napoli features a lot of pace in its attack, but as long as Los Galacticos can stay composed on the defensive side and pick their spots on the counter, scoring chances should not be difficult to create.
Player to watch: Real Madrid has gotten more and more consistent play from its midfield thanks to the improved forms of substitutes Isco and Lucas Vazquez as of late. Whomever Zidane taps to get the minutes on Wednesday should help provide some extra energy and creativity for the hosts.
Bayern Munich vs. Arsenal, Wednesday, 2:45 p.m., Fox Sports 1/Fox Sports Go/Fox Deportes/Fox Soccer 2Go
Injuries of note: With Jerome Boateng and Franck Ribery already doubtful for Wednesday's clash, Bayern Munich was dealt another blow on Monday as Xabi Alonso limped off the pitch during a training session. As for the Gunners, they will likely be without Aaron Ramsey and Santi Cazorla, both of whom are still recovering from their respective leg injuries.
Key to the game: Arsenal has featured several different looks in its midfield recently due to the injuries, and its form has dipped as a result. The return of Mohamed Elneny can help stabilize things, but if the Gunners cannot find their rhythm in the midfield then it could be another day of watching Arsenal get trapped in its own defensive third, which could spell disastrous against an attack of Bayern's caliber.
Player to watch: As Mesut Özil goes, so does Arsenal, but the German midfielder hasn't been able to provide much help for the Gunners recently and their attack has suffered as a result. It'd be interesting to see how inspired Özil will be on Wednesday, given that he will be playing on his home soil.
Quote: "Yes, we've had bad experiences against them. But I feel that this is a good opportunity," said Arsenal manager Arsene Wenger. "We have won there before and we play the first game away from home, so it's important we protect the second game because I feel that to have a chance to qualify in the second leg, that will be very important. We go there not high, but to defend well as a team."