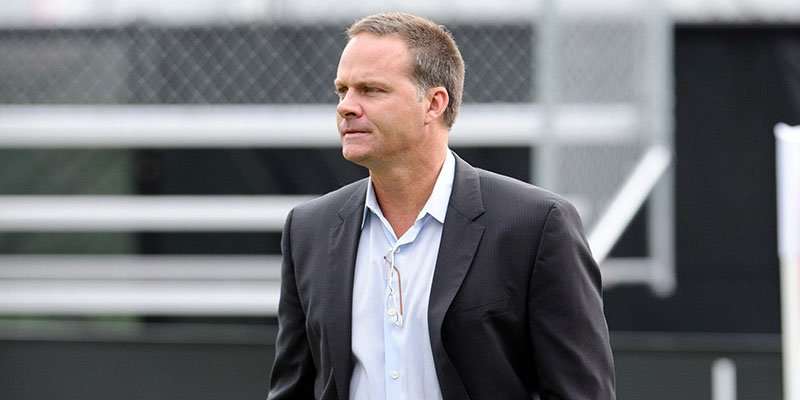 Eric Wynalda is back in the coaching game.
The former U.S. Men's National Team forward was named head coach of UPSL club LA Wolves on Friday. Wynalda takes over the club in advance of the 2017 UPSL season as well as the start of the U.S. Open Cup.
"The decision to return to coaching wasn't one that I made quickly, so it was a matter of finding the right opportunity at the right time," Wynalda said. "L.A. Wolves FC is a club on the rise. It has the right kind of leadership at the top, and creates nothing but opportunities for players looking to find a way to climb up the ladder.
"The club has all the hallmarks of future success, and with a shot to make a deep run in the Lamar Hunt U.S. Open Cup in 2017, the trajectory for L.A. Wolves FC is through the roof right now. There's much to do, and believe me, the work has already begun."
Wynalda has been in charge of two teams since retiring in 2002. The former striker took charge of Cal FC in 2012, leading the club to an upset of the Portland Timbers, before leading the Atlanta Silverbacks on an interim basis that same year. Wynalda then managed the Silverbacks in 2014.
Since, Wynalda has become a prominent face in American soccer media with Fox Sports and Sirius XM.
The LA Wolves compete in the Western division of the UPSL, where the club posted a 16-0-0 record for the 2016 Fall Season. The club toppled the Real Sociedad Royals, 4-1, in the first round of U.S. Open Cup qualifying before cruising past Inland Empire FC, 9-2, in the second round.
The third round of the U.S. Open Cup is set for March 11-12.
"This is a very positive step for our club. L.A. Wolves FC is an organization committed to winning, and we think that bringing in Eric now as Head Coach will have an immediate impact as we prepare for the 2017 Lamar Hunt U.S. Open Cup Rounds that are just around the corner," said Sporting Director Michael Collins. "As many folks know, Eric was a world-class striker and has played the game at the highest levels between the U.S. National Team and a solid stint in one of the world's most elite leagues, the German Bundesliga.
"We look forward to a long-term relationship with Eric as he gets to work with his vision in molding a squad that has had a winning record the past three years and is on the cusp on even greater things in the future."