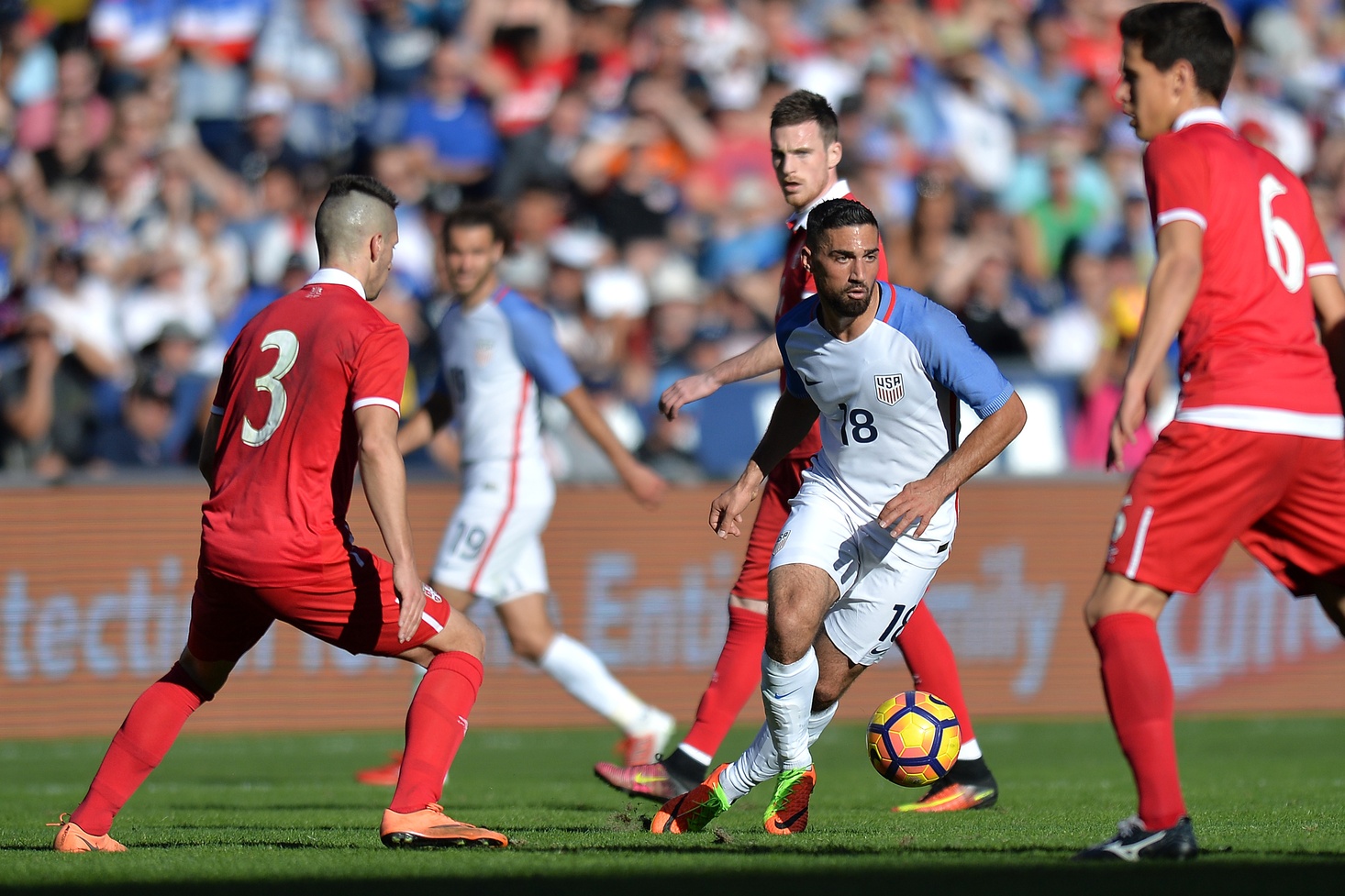 The U.S. Men's National Team will be missing several key contributors when they take on Honduras on Friday, and one of the biggest gaps that needs plugging is in the midfield.
Jermaine Jones will miss Friday's match due to suspension, leaving a gap in the central midfield. The LA Galaxy midfielder will be back in time of next week's clash with Panama, but first the U.S. must navigate a tricky Honduras team without one of their key midfield pieces.
That gives Bruce Arena a major decision. Michael Bradley is all but certain to start at the No. 6 position, but questions remain over who partners him. Does Arena go with experience or does he ride form? Who can the U.S. trust to play the Jones role in the middle of the park?
With that in mind, here's a look at several central midfield candidates that could join start for the USMNT on Friday:
SEBASTIAN LLETGET
The LA Galaxy midfielder was one of the big winners of January camp, stepping up in his first taste of USMNT action. Playing centrally, Lletget was dynamic in the attack, creating several chances in his initial appearance.
His inexperience is certainly a factor, but so is his familiarity with Bruce Arena and the style in which the LA Galaxy coach will ask him to play. Lletget featured mainly out wide under Arena due to the Galaxy's wealth of central options, but his ability to create alongside and ahead of Bradley could make him a vital piece should he get the starting nod.
GEOFF CAMERON
Geoff Cameron has long shown the ability to play in a number of positions, one of which happens to be as a deep-lying midfielder. He's played there at Stoke numerous times and starting Cameron on Friday would give the U.S. a strong defensive base in the middle of the field.
However, Arena has to be tentative about breaking up the partnership between Cameron and John Brooks and, if he does, he'll likely do it to place Cameron at fullback. That makes Cameron a longshot to start in the midfield, but he remains an option nonetheless.
ALEJANDRO BEDOYA
For years, Alejandro Bedoya has been the USMNT's utility man, starting in a number of different positions. He's more than comfortable a bit deeper in the midfield as he has played there plenty of times throughout his time with the Philadelphia Union.
Still, there is a noticeable lack of wing depth within the squad, and Bedoya is certainly an option to play out wide. Darlington Nagbe is certainly a contender to play either centrally or out wide but, with few other natural left-wingers, his best fit is likely on the outside. If Arena opts to start Nagbe and Christian Pulisic out wide, Bedoya will be free to start centrally, making him an option on Friday night.
DAX MCCARTY
Dax McCarty is an interesting character with this USMNT group. He's an MLS veteran through and through and has long been one of the league's best deep-lying midfielders. However, he's relatively inexperienced with this current USMNT group as he never quite earned the attention of Jurgen Klinsmann.
Therefore, starting McCarty would be an interesting proposition. His fit with the team remains a bit of a mystery, but his MLS history has shown him plenty capable. More than likely, McCarty is a bench option for the time being, but he could certainly prove plenty useful if the U.S. needs a stopper off the bench.
SACHA KLJESTAN
Since making his return from USMNT exile, Sacha Kljestan has been one of the more creative attackers on the roster. He shined at the end of the last round of World Cup qualifying, combining masterfully with Christian Pulisic as a No. 10. He's not just a playmaker, though, and, if needed, he could drop deeper to play in front of Bradley.
Still, it's telling that Kljestan wasn't on the initial 24-man roster. His initial snub was a sign that Arena has another play, one that was likely named to the initial squad against the New York Red Bulls star. He may have a part to play, but it probably won't be next to Bradley.
KELLYN ACOSTA
If Arena is looking for a man in spectacular form, Kellyn Acosta is it. The FC Dallas midfielder came out of the gate firing, providing goals in both MLS and CONCACAF Champions League play. In the few games since the start of the season, Acosta has looked like a whole new player, one that has grown exponentially since his initial USMNT impressions as a fullback.
Acosta's youth and inexperience may play against him, though. The upcoming match may mean too much to the U.S. to ride someone that has never played true meaningful USMNT minutes in the midfield, making Acosta a likely bench option to come on in a time of need.
—
Who do you see joining the USMNT's central midfield? Who would you start if you were in charge of making the USMNT lineup?
Share your thoughts below.