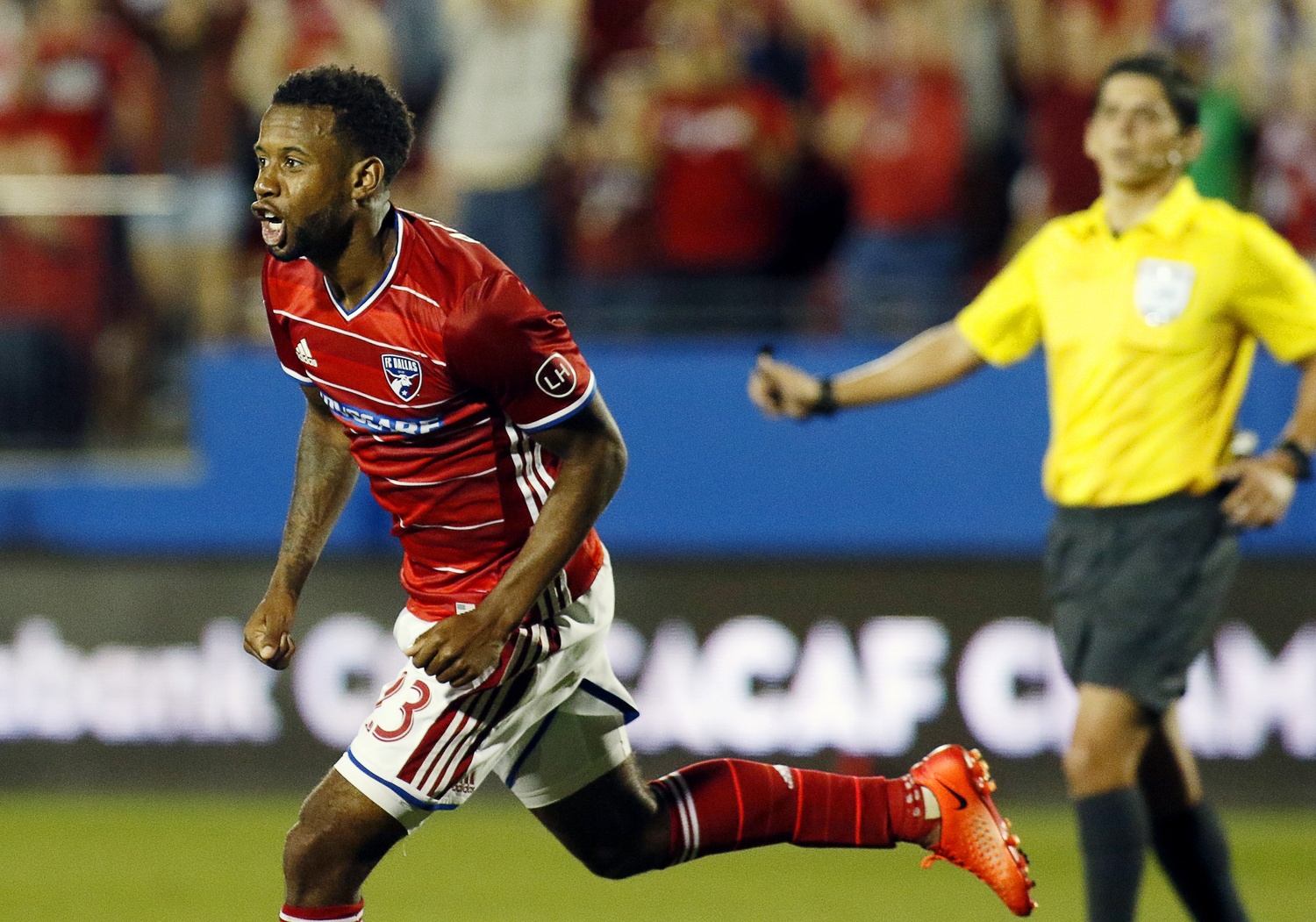 There's little Kellyn Acosta can do wrong at the moment.
The FC Dallas midfielder, who was called up to the U.S. Men's National Team earlier Wednesday, delivered a fantastic free kick golazo to hand FC Dallas a 2-1 advantage over Pachuca in the CONCACAF Champions League semifinals.
The 21-year-old blasted a free kick into the top right part of the net in the 58th-minute to capitalize on a strong start to the second half by the home side at Toyota Stadium, one that almost produced a Carlos Gruezo stunner in the 49th minute if the ball was a few feet lower than it ended up.
Acosta's blast completed a come-from-behind victory for FC Dallas, who got off to a rough start in front of its home fans that included an early strike for Pachuca. Franco Jara pulled down an Erick Aguirre cross from the left wing and knocked home the opener just three minutes into the clash.
After FC Dallas finally settled into the game, it was able to set the tone for the second half with a 44th-minute strike off the boot of Maximiliano Urruti. The Argentine took advantage of a deflected cross by Pachuca goalkeeper Alfonso Blanco and banged the ball into the back of the net right before halftime.
Oscar Pareja's men came out of the locker room with a purpose, and after a few chances didn't fall their way Acosta turned heads with his stunning free kick from the right side of the field. Pachuca had its share of chances in the second half, including a stoppage-time header from Braian Rodriguez that was tipped over the bar by Chris Seitz.
The second leg of the semifinal will be played on April 4 at the Estadio Hidalgo. Pachuca has an away goal in hand, which means FC Dallas can't feel too comfortable heading into the second leg.
Man of the Match
Is there anything Acosta can't do at the moment? The FC Dallas midfielder scored his fourth goal in five games in all competitions in the 58th minute. His stellar form at the start of the season may turn into playing time with the USMNT next week.
Moment of Match
What else can be said about the Acosta golazo other than "wow". A goal was coming for FC Dallas after its aggressive start to the second half, but no one expected it to come in the form it did.
Match to Forget
Oscar Murillo was at fault for the concession of the free kick that led to the Acosta goal. The Pachuca defender fouled Urruti in the 56th minute and earned a yellow card for his misconduct.