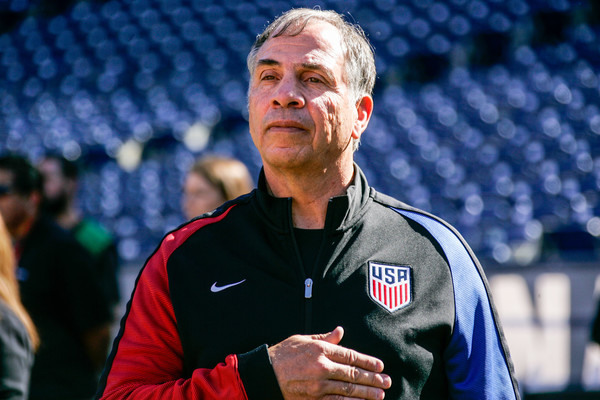 On the eve of his first World Cup qualifying match since his return, U.S. Men's National Team head coach Bruce Arena calmly walked onto the well-lit stage inside a tent at Avaya Stadium in San Jose. He was as cool as the other side of the pillow. He talked to the media with a sense of swagger and calm as if the U.S. had nothing to worry about going into Friday night's qualifier against Honduras.
The only difference between his demeanor in Thursday's press conference and the current state of the USMNT is the fact they're both on the polar opposites of the situation.
The thing both the coach and national team have in common? They can't wait to get on the pitch Friday night against Honduras.
"The mood is we'd like to be playing right now," Arena said. "The guys are very eager to play, they've had a great attitude, they're looking forward to the game."
The USMNT face an uphill climb through the CONCACAF table after losing their first two matches in November – a 2-1 loss to Mexico, followed by a 4-0 blowout by Costa Rica. The disastrous start led to the firing of Jurgen Klinsmann and the re-hiring of Arena to guide the United States out of the hole they dug themselves in and to the 2018 World Cup in Russia.
A win against Honduras on Friday night would not only return a sense of confidence around the national team but would, more importantly, put them right back on the path to qualify for what would be the Americans' eighth-straight trip to the World Cup.
But, like any great comeback attempt, the challenges against the United States have already appeared.
Arena's already had to make several adjustments to his team even before arriving in San Jose. He lost Bobby Wood, Deandre Yedlin and Fabian Johnson for these upcoming qualifiers due to injury. Brad Guzan is out expecting the birth of his second child and Jordan Morris will be a game-time decision. Morris has not trained with the national team all week as he tries to rehab from an ankle injury. He is currently listed as day-to-day. Meanwhile, Jermaine Jones is also suspended due to yellow card accumulation.
Chris Wondolowski, Graham Zusi and David Bingham were called in late to take the vacated spots.
"It's kind of the next man up," said Arena. "It's not a like-for-like substitution when you lose players like that, but our team has enough depth and experience to deal with any kind of losses so I'm confident that the players who play tomorrow night are going to get the job done.
"They're good players. It's unfortunate that some are injured. …The last thing we're going to do is concern ourselves a whole lot if players go down. I haven't done that. I'm actually eager to see how these other players perform and the way we employ our team on the field and see if we can be successful."
One of the players that Arena will have an eye on, along with everyone else, is youngster Christian Pulisic. Even though the 18-year-old has played with the USMNT in international matches before, during the Klinsmann reign, Friday night will be his first true test in a crucial, must-win match.
"We obviously didn't have a great start," Pulisic said, "so we need to bounce back here and we're going to need a big performance.
"We played against two good teams, but just didn't come out with the results we wanted to. It just didn't flow, it didn't feel right in the moment. Looking back on it there, yeah, there's a lot of things we could have improved on, and we're going to try and bring that tomorrow."
Even though it may be early in the qualifying campaign, according to Arena at least, Friday night's match against Honduras could determine the degree of difficulty of the Americans' road to Russia. While a win puts them right back in the mix, a draw or, even worse, a loss, makes it that much harder. The U.S. is currently in last place in the table, trailing Trinidad and Tobago in goal differential (-5).
"Right now the U.S. is six points out of first place," Arena said. "Tomorrow night, in a worst case scenario, we could probably be seven points out, nine points out. With seven games remaining you're still there. This is the early stage of it."
Sometimes history has a way of repeating itself. Actually, history usually has a way of repeating itself. The last time the U.S. saw themselves in a similar situation to the one they're in now was during the qualifying cycle for the 2002 World Cup, when the USMNT lost three qualifiers in a row before turning it around to go to South Korea and Japan.
The head coach then was Bruce Arena. They not only found their way into the 2002 World Cup, they also had their best finish in that tournament since 1930 – a spot in the quarterfinals. Now, the task is repeating it again as Arena takes charge for his second stint.