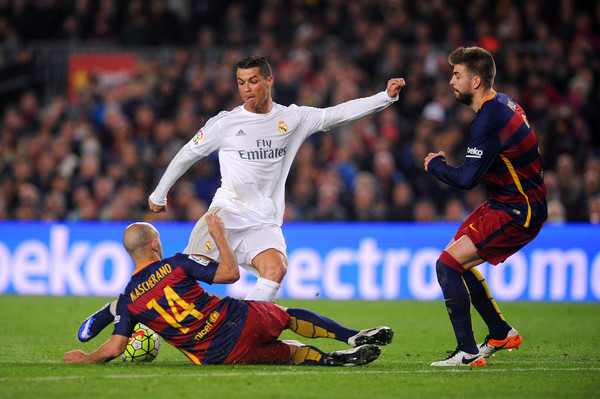 The International Champions Cup is set to return to the U.S. this summer, bringing some of the world's top teams stateside for friendly action.
Barcelona, Manchester United and Real Madrid headline an eight-team field set to play across the U.S. from July 19-30. Joining the field are Italian sides Juventus and Roma, French giant Paris Saint-Germain and English contenders Tottenham and Manchester City.
The tournament is headlined by several rivalry matches, as a Manchester Derby is part of the schedule alongside the previously-announced El Clasico in Miami.
Each participating team will take part in three matches across the U.S. with regulation wins counting as three points while ties will go straight to penalty kicks. The winner of the shootout will receive two points while the loser will receive one. The team with the most points at the end of the tournament will be named champion.
This year's iteration of the ICC is the fifth installment of the tournament with Real Madrid, Manchester United and Paris Saint-Germain securing titles in previous years.
Here's a full look at this summer's schedule:
Wednesday July 19
AS Roma vs. Paris Saint-Germain – Venue & Time TBA – ESPN2
Thursday, July 20
Manchester United vs. Manchester City – Venue & Time TBA – ESPN
Saturday, July 22
Juventus vs. Barcelona – MetLife Stadium; East Rutherford, New Jersey. 6:00PM ET – ESPN
Paris Saint-Germain vs. Tottenham Hotspur – Camping World Stadium; Orlando, Florida. 8:00PM ET – ESPN2
Sunday, July 23
Real Madrid vs. Manchester United – Levi's Stadium; Santa Clara, California. 2:00PM PT – ESPN
Tuesday, July 25
Tottenham vs. AS Roma – Red Bull Arena; Harrison, New Jersey. 8:00PM ET – ESPN
Wednesday, July 26
Barcelona vs. Manchester United – FedExField; Landover, Maryland. 7:30PM ET – ESPN2
Paris Saint-Germain vs. Juventus – Hard Rock Stadium; Miami, Florida. 8:30PM ET – ESPN2 and ESPNews
Manchester City vs. Real Madrid – Los Angeles Memorial Coliseum; Los Angeles, California. 8:00PM PT – ESPN
Saturday, July 29
Manchester City vs. Tottenham  – Nissan Stadium; Nashville, Tennessee. 5:00PM CT – ESPN2
Real Madrid vs. Barcelona – Hard Rock Stadium; Miami, Florida. 7:30PM ET – ESPN
Sunday, July 30
AS Roma vs. Juventus – Gillette Stadium; Boston, Massachusetts. 4:00PM ET – ESPN