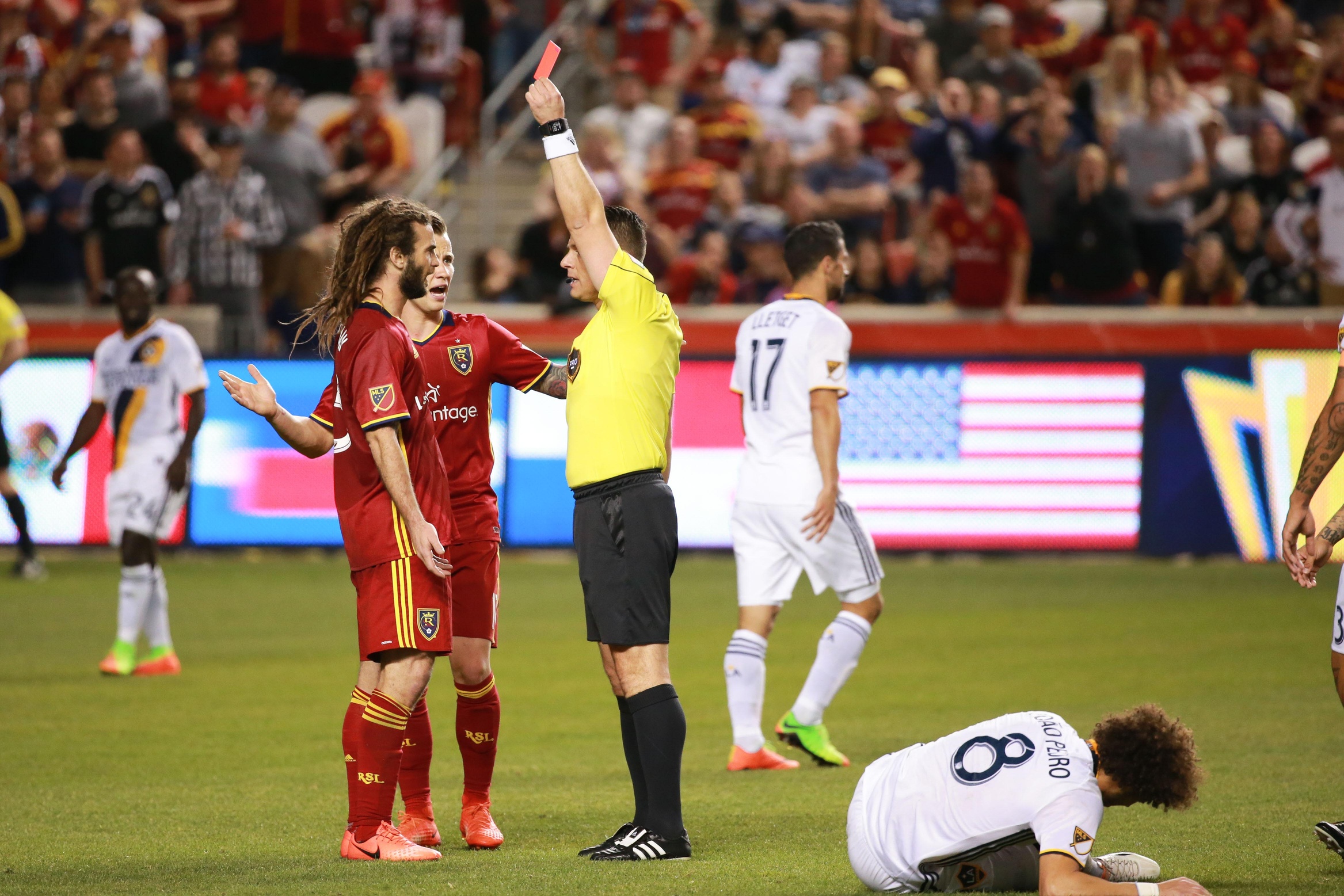 Real Salt Lake looked well on the way to points on Saturday against the LA Galaxy. Up a goal and threatening, RSL was in control and looked ready to hand the Galaxy their third straight loss.
Just before halftime, though, the match suddenly changed as RSL was reduced to 10 men, giving the Galaxy just enough room for a second-half comeback and their first win of the 2017 season.
Kyle Beckerman's 44th-minute dismissal proved costly for RSL, which fell to the Galaxy, 2-1, on Saturday at Rio Tinto Stadium. With the loss, RSL remains winless on the season having earned just one point while the Galaxy bounce back from consecutive defeats to FC Dallas and the Portland Timbers.
The Galaxy took full advantage of Beckerman's dismissal, starting with David Romney goal in the 69th minute. Romney struck a perfect left-footed volley to power home Romain Alessandrini's corner kick and tie the score.
Five minutes later, Emmanuel Boateng gave the Galaxy the lead as Alessandrini once again played provider. Driving down the right side, the Frenchman slid a driven cross across the box, finding a wide-open Boateng on the backpost for a first-time shot.
Just 18 minutes in, Yura Movsisyan fired RSL into the lead with an absolutely vicious headed shot. Out wide on the right side, Albert Rusnak played a magnificent ball over the top, drilling a cross straight onto the head of Movsisyan. The RSL forward put power behind his headed shot, leaving Clement Diop no chance as the ball soared into the back of the net.
RSL continued to create chances throughout the first half, but the game suddenly turned on its head in the waning moments of the first half. After previously earning a 34th minute yellow card, Beckerman was hit with another caution just before the halftime whistle, leaving RSL down a man headed into the second 45. Beckerman's yellow cards were two of five issued in the first half, with RSL hit with four of them.
Eventually, the Galaxy took advantage, piling on for two goals in rapid succession as Boateng and Steres fired successive goals to seal a win.
MAN OF THE MATCH
Romain Alessandrini was brought in to add a major punch to the Galaxy attack, and he did just that on Saturday. Without Giovani dos Santos, Alessandrini was the big provider against RSL, providing two assists in the win.
MOMENT OF THE MATCH
Kyle Beckerman's dismissal turned the match on its head, leaving RSL reeling. The hosts never recovered as the Galaxy fired twice in the second half to seal victory.
MATCH TO FORGET
Regardless of which team you support, it was apparent that referee Sorin Stoica let Saturday's match get out of hand. The best referees are unseen, and Stoica was certainly front and center when it came to the action on the field on Saturday.