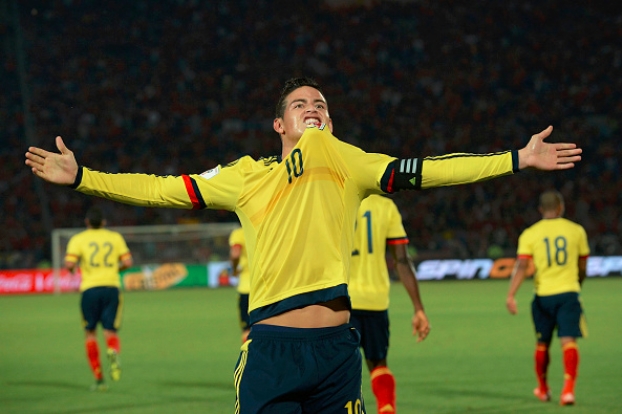 After several teams earned crucial victories just five days ago, CONMEBOL World Cup Qualifying returns on Tuesday with all ten South American sides looking for points to close March's international break.
The premier showdown on Matchday 14 takes place between Colombia and Ecuador, in a battle of fourth vs. fifth. Colombia squeaked past Bolivia, 1-0, on Thursday, and will look to move up a couple of spots with a win and other results going in their favor.
Bolivia host Argentina in Tuesday's opener, while the visitors will be without star forward Lionel Messi due to suspension. Chile hosts Venezuela while second-place Uruguay travels to eighth-place Peru.
Here's a look at each of Tuesday's five CONMEBOL World Cup qualifying matches:
BOLIVIA vs. ARGENTINA (4:00 p.m. beIN Sports en Espanol)
Argentina shouldn't have too much of a problem on Tuesday as they travel to ninth-place Bolivia. The visitors are coming off a 1-0 home victory against Chile on Thursday, thanks to a Leo Messi goal. However, the Barcelona star was handed a four-match ban Tuesday morning by FIFA after comments he made about the refereeing in Thursday's match. With only three points separating them from as low as sixth-place, Argentina will need to step up in Messi's absence. As for Bolivia, they most-likely will be playing the spoiler role after only two victories in their opening 13 matches of qualifying.
ECUADOR VS. COLOMBIA (5 p.m., beIN Sports)
The mouth-watering showdown of the day comes from Quito as Ecuador host Colombia. The hosts know a victory could see them finish the round as high as second, bearing a multi-goal win paired with other results. Ecuador fell on Thursday, 2-1, at Paraguay, but should have some momentum after winning their last two qualifiers at home.
As for Colombia, they squeaked past Bolivia last Thursday and know they face a much-tougher test on Tuesday. The visitors have lost two of their last three road qualifiers, and have only beaten Bolivia and Paraguay on the road so far. A victory paired with other results could see Colombia move as high as second, but know a defeat could see them drop a couple of places if Chile also is victorious Tuesday evening.
CHILE VS. VENEZUELA (6 p.m., beIN Sports en Espanol)
After suffering a 1-0 road defeat in Buenos Aires on Thursday, Chile knows a win Tuesday is vital to their campaign for multiple reasons. In six home qualifiers so far, Chile has only lost one, while winning four. They surely are a different animal in Macul, and with last-place Venezuela coming to town they should not have much of a problem. Alexis Sanchez and Arturo Vidal will be counted on from the opening whistle to pose an offensive threat.
The visitors have only earned six points so far in qualifying, with their only victory coming in a 5-0 thrashing against Bolivia. Chile defeated Venezuela, 4-1, in their first meeting back in March 2016, so revenge could be used as motivation for this bunch. However, pride will be the main motivation for Venezuela knowing their chances of qualifying are mainly gone at this point.
BRAZIL VS. PARAGUAY (8:45 p.m., beIN Sports en Espanol)
In a battle of first vs. seventh, Brazil welcomes Paraguay to Sao Paulo looking to extend their lead at the top. The hosts have won their last seven consecutive qualifiers, most recently a 4-1 thumping of Uruguay in Montevideo last Thursday. Former Tottenham midfielder Paulinho was the hero that day, netting a hat-trick in the win.
Paraguay should come into this match full of confidence, knowing they were the last side to hold Brazil to a draw in qualifying. The sides played out a 2-2 draw in Asuncion this time last year, before Brazil took off on their current run. The visitors are coming off an impressive 2-1 win vs. Ecuador last Thursday, and still have a chance for a late run at a qualification spot.
PERU VS. URUGUAY (10:15 p.m, beIN Sports en Espanol)
The final match on Tuesday sees two teams desperately needing a victory for different reasons. Hosts Peru drew against Venezuela, 2-2, last Thursday, but showed incredible spirit fighting back from a 2-0 first-half deficit. They have earned points in two of their last three home matches in Lima, and will look to keep their chances of qualifying alive against another side struggling for a win.
Uruguay currently sit in second-place, but have lost their last two qualifying matches by a combined score of 7-2. A 4-1 defeat vs. Brazil last Thursday was the hosts first home defeat of the qualifying campaign. With only a three-point difference separating them from sixth-place Chile, Uruguay knows the importance of winning on Tuesday. Edinson Cavani, who leads the CONMEBOL with nine goals so far, will be relied on heavily, as well as play-maker Luis Suarez.