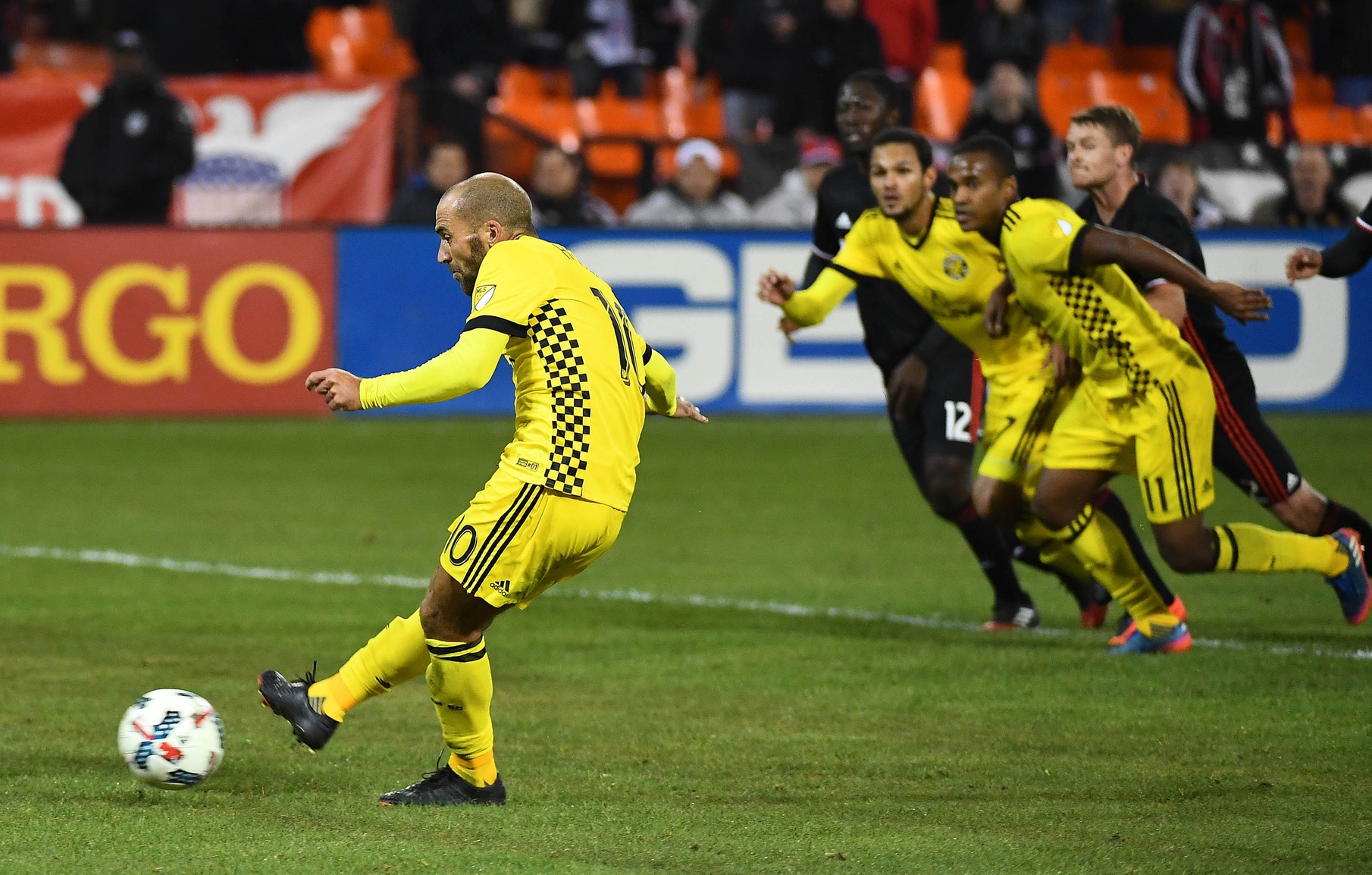 The Columbus Crew recorded their first win of the MLS season, beating D.C. United 2-0 on Saturday at RFK Stadium.
The scoring began when Columbus was awarded a penalty following Steve Birnbaum's foul on Ola Kamara in the 38th minute. Federico Higuain stepped up to take the penalty, and though Bill Hamid dove the right way, the Argentine still managed to score his first goal of the season.
In the 66th minute, it was deja vu, as Birnbaum fouled Kamara again in the penalty area, conceding his second penalty of the night, though, this time, Kamara himself took the penalty. Again, Hamid headed in the right direction, but Kamara slid the ball past him to double his team's lead.
D.C. United was dealt a few injury blows, first midway through the first half, when Patrick Mullins came off for Jose Ortiz with what appeared to be a left hamstring injury. It was a similar situation in the 75th minute, when Luciano Acosta, who was making his first start in a return from injury, came off for Lamar Neagle.
The home team was active offensively throughout the match, with Acosta creating many opportunities. Yet, despite recording ten shots to Columbus' seven, only three of D.C.'s shots found the target; six of Columbus' shots were on target. D.C.'s woes in front of goal are nothing new, though, as they are yet to score a goal this season.
Man of the Match
In addition winning both penalties and scoring his second goal of the season, Ola Kamara wreaked havoc on a messy D.C. United defense. Kamara made runs frequently into the penalty area, and often forced an also excellent Bill Hamid into making saves.
Moment of the Match
Midway through the second half, Columbus scored its second goal of the game, and it was again through a penalty conceded by Birnbaum. The foul, second time around, was more brutal than the first; the D.C. defender, falling to the ground, took Kamara right down with him. The referee had no choice but to award a second penalty to the away side.
Match to Forget
Following a 4-0 loss in which the D.C. defense looked unorganized, Birnbaum recorded another poor game. In addition to being directly responsible for both of Columbus' goals, he, along with his defenders, had a difficult time controlling the attacking trio of Kamara, Higuain, and Meram, who were very frequently found alone in front of goal.