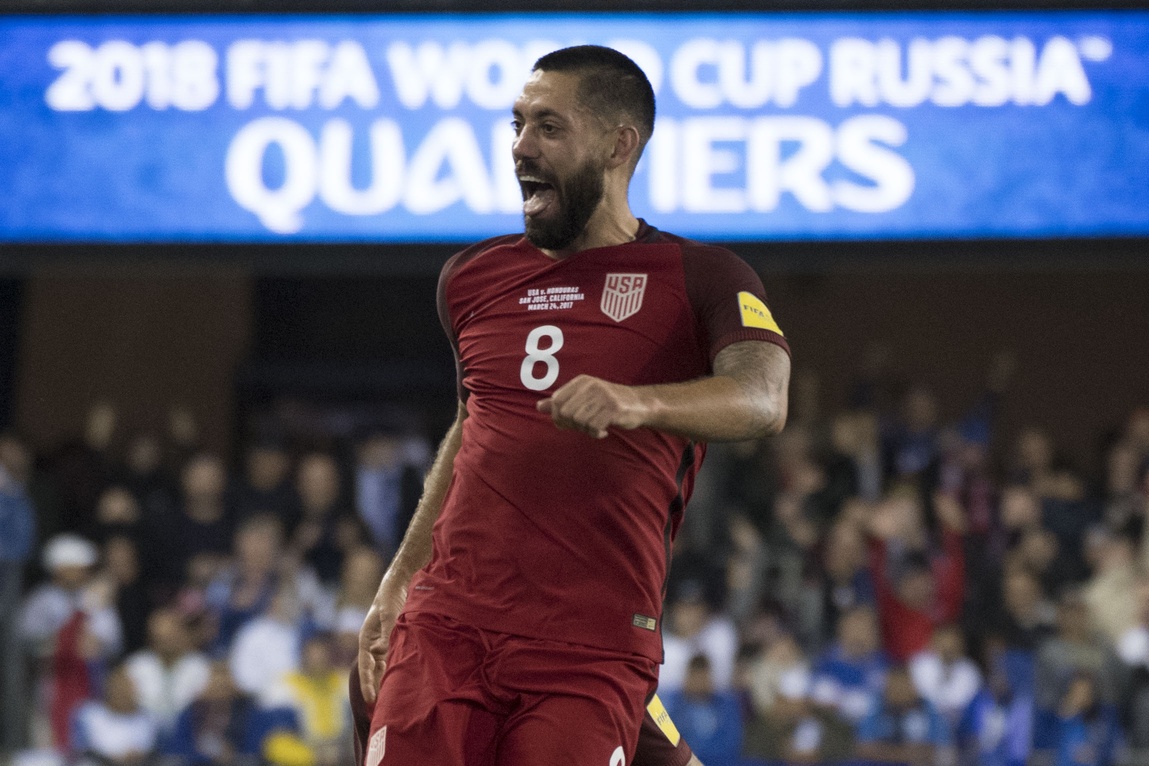 SAN JOSE, Calif. — Clint Dempsey hasn't played in an international match for the U.S. in the last nine months due to an irregular heartbeat that sidelined him for the second half of the 2016 Major League Soccer season and the first two World Cup qualifiers – then with the national team under Jurgen Klinsmann.
In those first two qualifiers, without Dempsey and seemingly without a clue or hope, the U.S. Men's national team struggled, losing to Mexico and Costa Rica while taking a minus-5 goal differential as a parting gift. So, it's only fitting that as Dempsey returned to the lineup in the USMNT's 6-0 blowout of Honduras Friday night in San Jose, so too did a U.S. team that's used to simply making its way through the Hex on their way to yet another World Cup.
Dempsey scored a hat-trick against Honduras on a night where Los Catrachos couldn't do anything to slow down the aggressive American's attack.
"It feels great to be back with the team," said Dempsey. "It was great to get goals and now it's about keeping moving forward."
The three goals give the 34-year-old Dempsey 55 internationally, putting him just two away from tying Landon Donovan's all-time record with the national team. However, records and stats aside, the three goals by Dempsey, let alone the 90-minute-plus shift put in by the star USMNT forward were a lot more than he and some others would've thought he'd accomplish Friday night.
"You don't know how things are going to work," Dempsey explained, "if you're going to get to come back for Seattle, also if you're going to do well enough to get called in to come back for the U.S. team and how you're going to perform. I'm just blessed that I can keep going.
"Trying to get back on the field, I had to take a step back and I had to get going again, and, yeah, there's moments if you don't know if things are going to get right and you've got to pray about it."
Dempsey's hat-trick sparked the U.S.'s blowout win, propelling them from the basement of the Hex to fourth place with a chance to jump into the top three with a win at Panama on Tuesday night.
"What do I think of Dempsey's performance," head coach Bruce Arena said. "I think it was exceptional, damn good."
With Jordan Morris out with an ankle injury, along with Bobby Wood's absence, Arena turned to his former captain and was confident enough to start him, despite Dempsey working his way back from the heart condition.
"Watching Clint from game one to game two to game three with Seattle, it's impressive the way he kept improving," Arena said. "Checking with his fitness coaches there we knew he could play. He plays late Sunday afternoon in Seattle, he comes in late Sunday night here. Monday he does a little bit of training and he feels good.
"It's remarkable and I said 'he's got to play.'"
Both Dempsey and rising star Christian Pulisic partnered together on two of Dempsey's three goals on the night – the first one being on a perfectly-placed chip pass by the 18-year-old phenom that caught Dempsey in srtide. The veteran striker fought off a Honduran defender as he blasted the ball into the back of the net, and the last coming on a perfect free kick from just outside the penalty area to the far top corner of the net.
"I can see that he was cheating a little bit," Dempsey said about the free kick. "I wasn't even going to take the free kick to be honest with you, in the beginning, but Jozy (Altidore)'s like 'take it' and I was like; you know what, what do I got to lose?' So I owe that goal to Jozy and I can see the keep cheating a little bit and was able to hit a good shot and I thank Jozy for telling me to go take it."
The U.S. also played clutch defensively, shutting down several dangerous attacks by Honduras. Tim Howard made a crucial save late on a shot on-goal on a low free-kick in the second half to preserve the clean sheet. The ball made its way under the wall, but Howard dove to his left and punched it away.
With Dempsey back in the lineup and playing the way everyone has seen him play before, the United States looked more like a team that's getting ready for what would be its eighth straight World Cup appearance, fourth for Dempsey. That is, if Dempsey will be on that potential 2018 World Cup squad in Russia.
"There's always the possibility that you're not going to be able to come back and be at that high level and you have to try to work hard to make sure that everything is right," Dempsey said. "You're just grateful for every day, every game you get to play in because you never know when it's going to be taken from you."
"You're just grateful for every day, every game you get to play in because you never know when it's going to be taken from you."