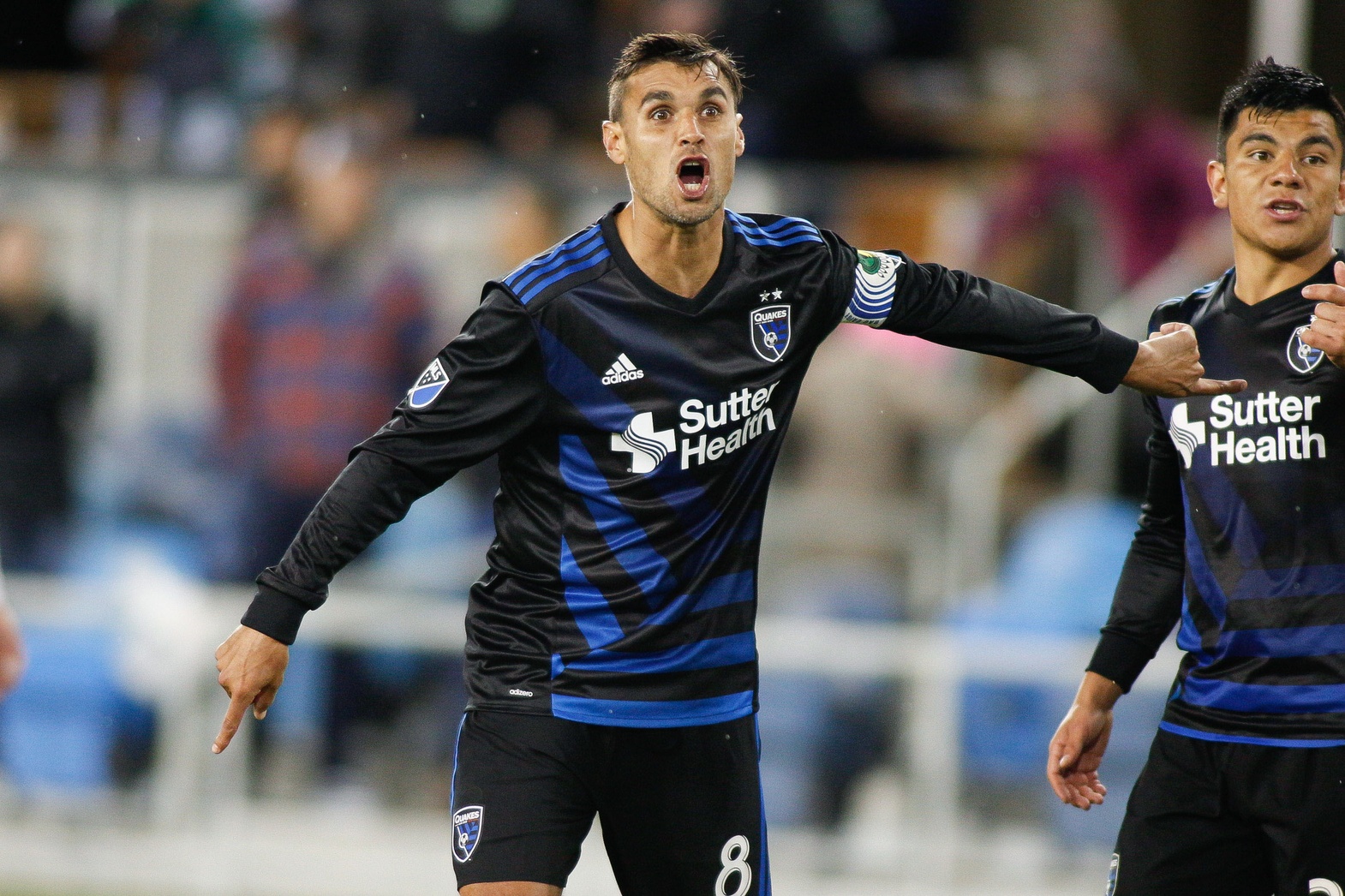 An imperfect start doesn't always mean an imperfect finish. The San Jose Earthquakes proved that at Avaya Stadium Saturday night.
The Earthquakes clawed back from an early two-goal deficit, taking full advantage of a David Ousted red card to score three unanswered goals on the way to a 3-2 win over the Vancouver Whitecaps, with their comeback capped off by a long-range winner from Anibal Godoy.
The Whitecaps opened the scoring in just the second minute of the match as Erik Hurtado beat both centerbacks Victor Bernardez and Florian Jungwirth and drilled the ball around an over-committed David Bingham to put the Whitecaps up 1-0. They doubled their lead 15 minutes later when Hurtado sliced his way past Lima on the wing and found Nicolas Mezquida, who dribbled passed the Earthquakes defense for a quick finish.
The Whitecaps appeared to be in control before a red card changed everything.
Ousted was shown a red card for his slide tackle on Wondolowski outside the penalty area in the 24th minute. Mezquida was subbed out to allow backup goalkeeper Pablo Tornaghi to enter the match.
The Quakes answered right back on a goal by Wondolowski in the 32nd minute off of a pass from Bernardez to make the score 2-1.
The Earthquakes continued to apply the pressure against Vancouver and Tornaghi in the second half. Hyka sent in a cross to Wondolowski at the far post, and Wondolowski tapped the ball to a streaking Lima, who buried the chance for his first career goal.
The pressure on the Whitecaps continued throughout the second half, with Godoy delivering the game-winning goal when he took a chance from distance and laced it into the upper corner and past Tornaghi.
The Earthquakes improved to 2-0 and will next travel to face Sporting Kansas City on Saturday. The Whitecaps are 0-1-1 and will look to rebound on Saturday against Toronto FC.
Man of the Match
Earthquakes midfielder Jahmir Hyka made an immediate impact when he came onto the pitch in the second half. He earned the assist on Lima's match-tying goal and Godoy's go-ahead goal in the 79th minute. He created numerous chances for San Jose in the second half and nearly scored a goal of his own, but the ball went just wide of net.
Moment of the Match
Whitecaps keeper David Ousted's red card in the 22nd minute turned the tables for both teams in the match. Ousted was able to keep the Whitecaps organized in the back and stopped San Jose's rare first-half chances. However, once he left, the Earthquakes turned up the aggressive play and, eventually, scored three against his backup Pablo Tornaghi.
Match to Forget
David Ousted can't be blamed for how badly the Whitecaps handled being down a man, but he must regret the decision to leave the penalty area on the fateful challenge that sent him packing.